As you build your brand and strive to enhance your visibility, would you like to:
Grow your know/like/trust factor?

Establish trust and authority in your niche?

Amplify your message across the globe?

Position yourself for high-level networking?

Welcome new people into your circle of influence?

Expand your customer/client base and transform them into loyal brand advocates?

Work collaboratively with like-minded professionals to create evergreen content that serves your brand for years?

Generate exceptional SEO benefits that drives traffic to your website?
Of course you would! And all of this (and more) is possible when you maximize the power of the podcast space.
I specialize in Podcast Guest Marketing and training, as well as comprehensive podcast consulting and coaching. Regardless of your needs and current expectations, I'm confident our partnership will help you gain traction in this rapidly growing, constantly evolving medium.
Let's get to work.

My Services
Podcast Guest Training, Coaching, & Optimization. The podcast platform has exploded over the past several years and is showing no signs of slowing down. Celebrities, athletes, comedians, companies big and small, and hobbyists are all releasing content that's being consumed by an audience that's growing daily.
With podcasts continuing to surge, the need for value-driven guests with a high level of expertise in their zone of genius is at an all-time high. This means you can position yourself as an authority in your space AND connect with new audiences from the guest seat, creating numerous opportunities for you and your brand…all without launching your own show!
In order to do this effectively, you need to be optimized. You need to have a full understanding of what a Podcast Guest Marketing campaign can do for you. This is what you'll learn when you enter Guest Accelerator. This guest optimization system is designed to bring you everything you need to create and execute a successful guest marketing campaign that serves you for years while building your network AND your brand presence to optimum levels.
Click here to learn more about Guest Accelerator

Podcast Coaching & Consulting. Establishing the right mindset paired with realistic expectations as you increase your emphasis on the podcast space is critical. As a podcast veteran with nearly a decade's worth of experience, I am proud to serve as your partner in this arena to provide strategy, mentoring, and support for your efforts.
Depending on your brand objectives and goals, starting your own podcast may not be worth your time. While many "gurus" and "experts" talk ad nauseam about the glitz and glamour of having your own podcast, I'm going to let you in on a secret: it's a lot of work. Is it rewarding work? It can be…if you do it right. But it's work nonetheless. And unless you're committed to doing what it takes to bring a podcast to life, THEN maintain it while making improvements to grow it efficiently, you should strongly consider the podcast guest strategy mentioned above instead.
That said, if starting a podcast does make sense for you AND you're ready to do it the right way, I'm here to support you every step of the way. From shaping and molding your initial idea right through podcast launch and beyond, I help you with the fundamentals of being a great podcaster. My focus isn't just on the technical side. It's on making you an optimized host so your show is rooted in value from day one.
Whether you're looking to start your own podcast or you seek continued guidance as you break out as a valuable podcast guest, I'm here to help you with your efforts every step of the way.
Ready to get started? Schedule a 1:1 consultation below. I can't wait to hear your ideas!

The first step to being a value-driven, mic-dropping podcast guest is reaching a peak level of optimization. Once you're prepared, your guest appearances can serve you and your brand for years. Start your efforts by picking up my guide '10 Tips For Becoming a Valuable, Fully Optimized Podcast Guest!'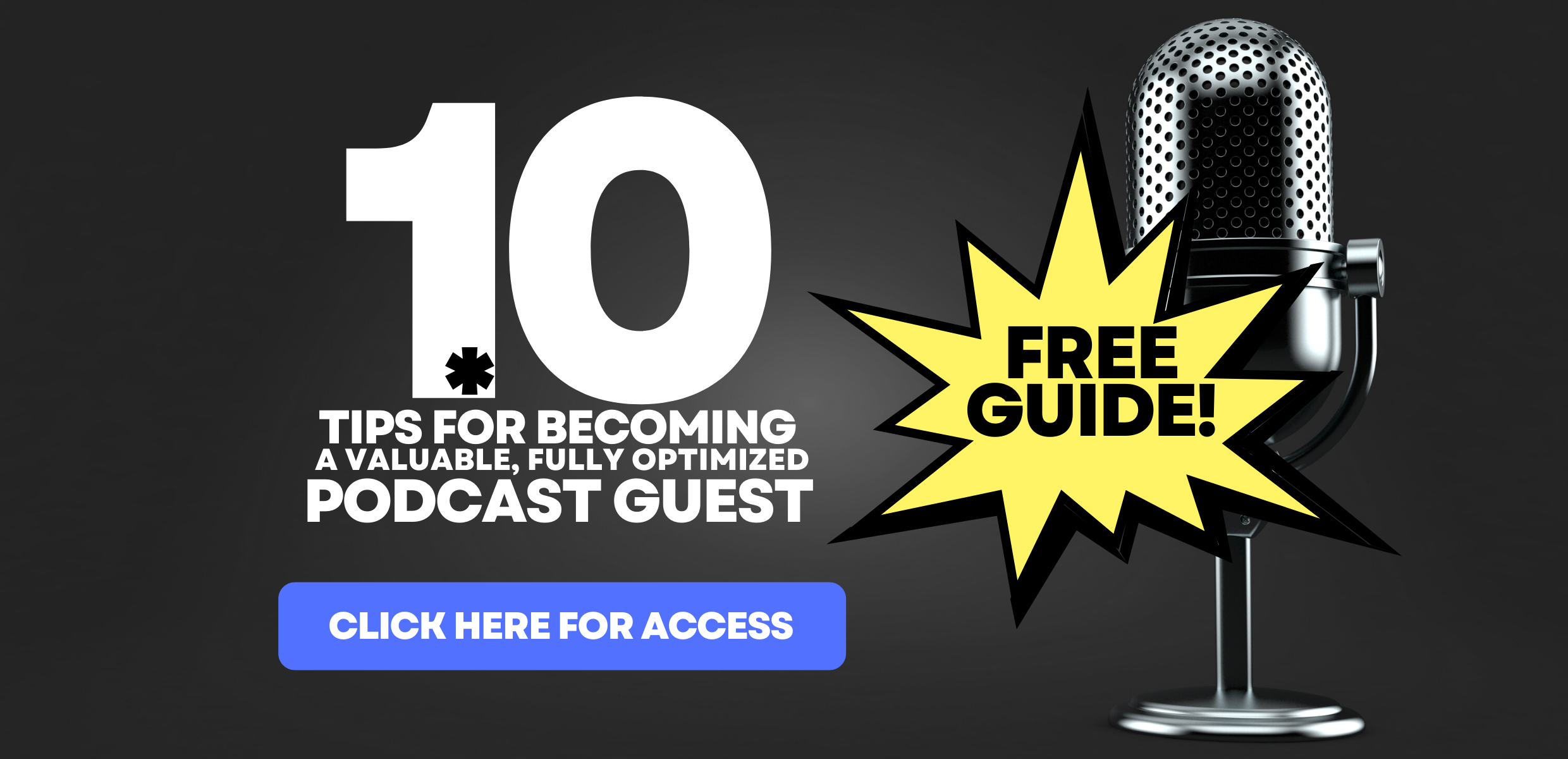 Testimonials