Welcome to the Authority Enhancer
The Authority Enhancer System was built to help you maximize your time spent on the podcast medium. This is not your typical podcast guesting program and I'm not just another "booking agency." I offer innovative podcast guesting training, strategy, communication, and ongoing support for value-driven coaches and consultants who want to establish authority and become thought leaders in their space.
I'm the only Podcast Branding Strategist who offers complete podcast guest training, helps you build a targeted attack plan, then works side-by-side with you to execute your plan so you maximize your ROI and attract new clients to your brand.
This is about more than just being a podcast guest. This is about you enhancing your thought leadership and leaving your mark on your field of expertise.
How Does the Authority Enhancer Work?
There are five components we'll emphasize so your thought leadership is established and your brand soars: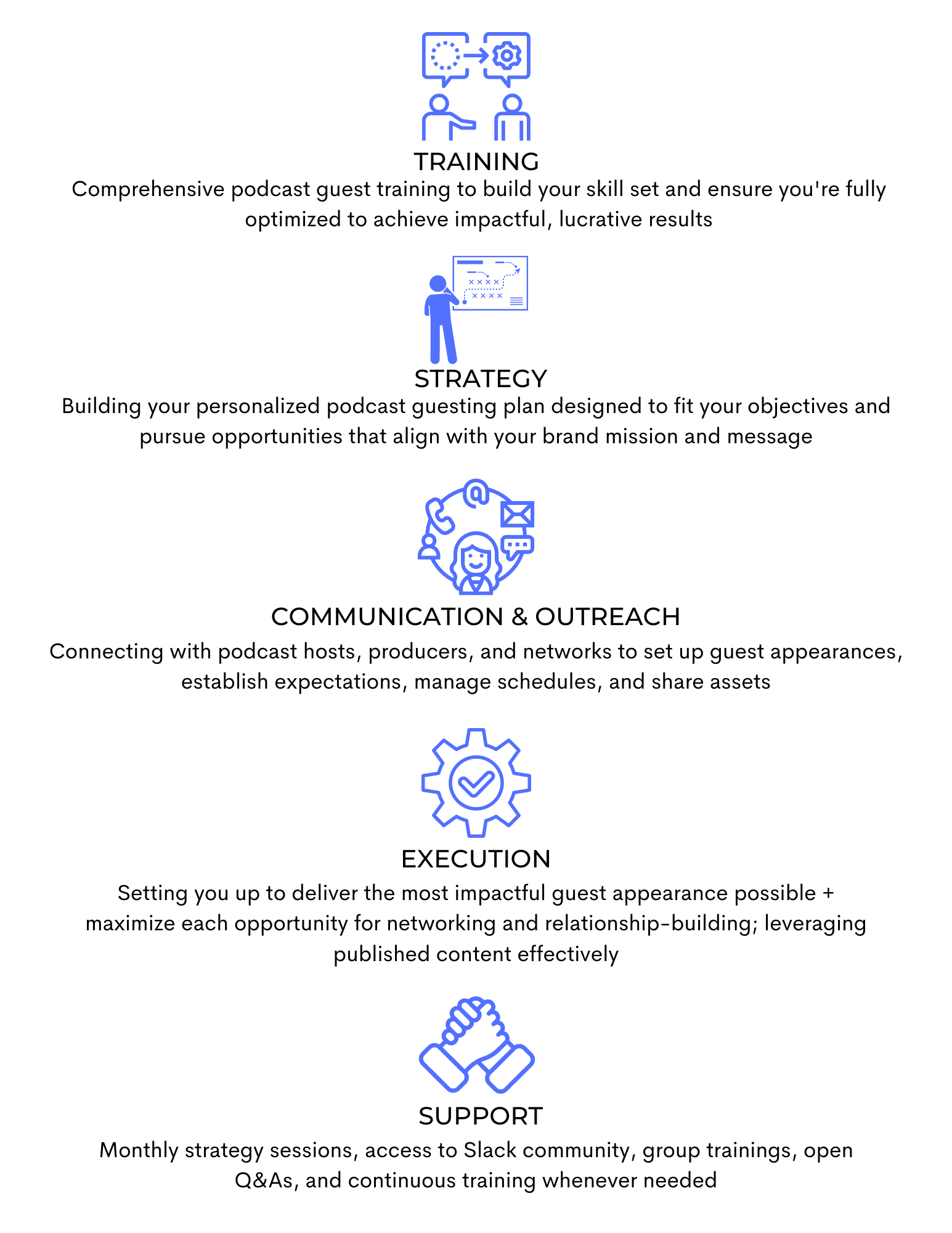 Why Will Authority Enhancer Impact Your Brand?

The Power of Thought Leadership In Your Niche
Think about the last time you were searching for a solution to a problem. Did you trust someone who seemed a tad shady or a little "off" with their advice? Or…did you choose someone with credibility and a line of people thanking them for helping them solve the same problem you have?
You chose the latter. Because that person has proven to be a source of value.
These people are known as thought leaders – engaging resources who make things easier by providing solutions and delivering the transformations we seek.
When you establish yourself as a thought leader in your niche, people start to look at your brand differently. They build a strong level of trust in who you are and what you do, and they're willing to invest their hard-earned money in the solution you provide while singing your praises to anyone who can benefit from your expertise.
To become a thought leader and put your brand on the map, you need a dynamic platform to share your story, connect with ideal clients, and showcase your expertise to the world.
And that platform…is podcasts. Positioning yourself as a value-driven podcast guest is an incredible way to elevate your brand, establish authority, and become the thought leader your industry needs. This will lead to new clients, an enhanced network, and increased visibility that will legitimately put you on the map.
My goal is to show you the right way to leverage podcast guest appearances so you maximize your time, become a thought leader in your niche, and take your brand from unknown to undeniable!
How Will Being a Podcast Guest Enhance Thought Leader Status?
Podcast guest appearances are a tremendous PR and content initiative. Each appearance offers a new opportunity to connect with like-minded professionals and create evergreen content that can serve your brand for years.
Leaders across the globe are leveraging podcast guest appearances to become thought leaders in their niche. Here are a few reasons this approach is so popular: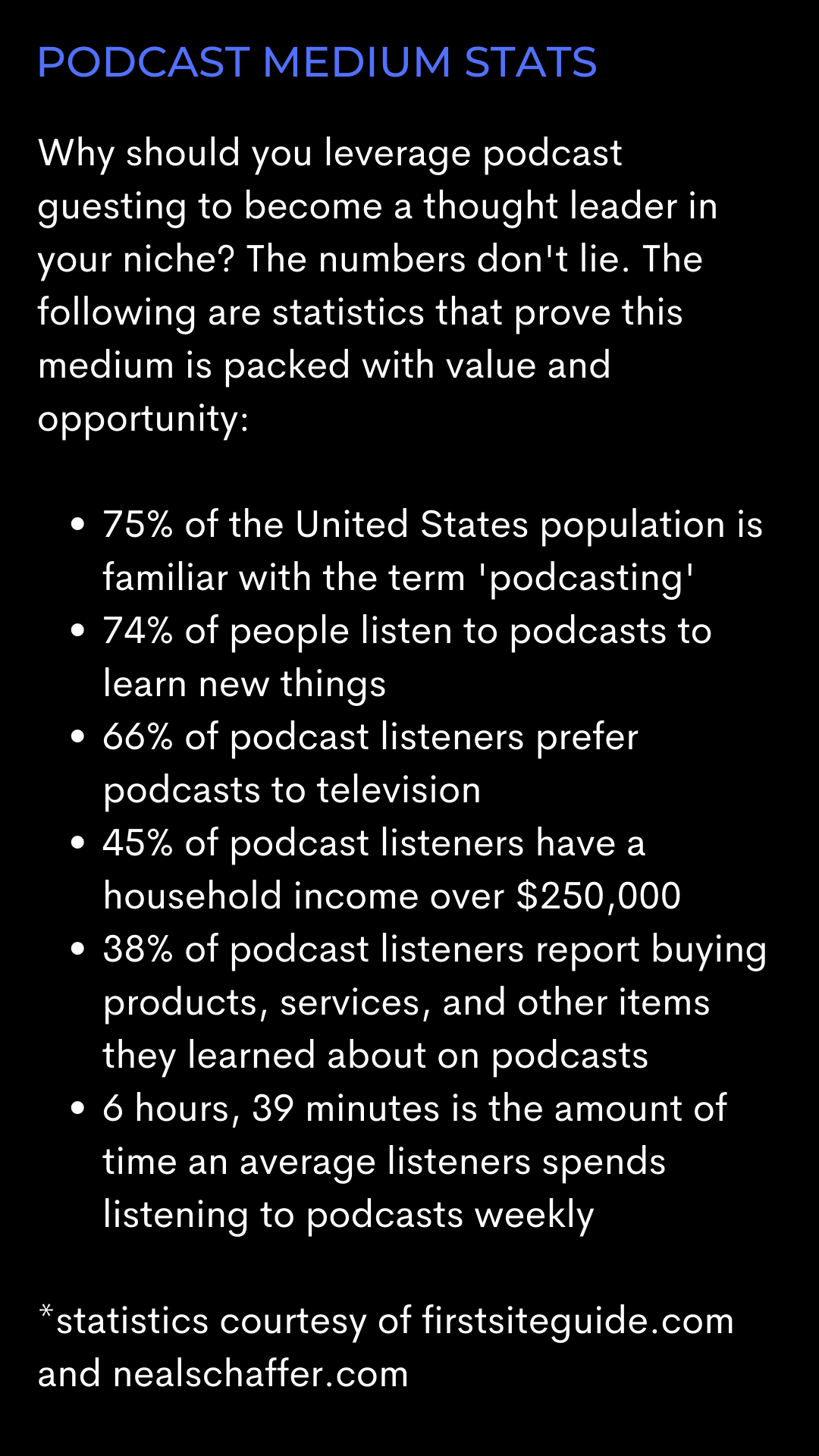 Establish Authority. Sharing your knowledge and expertise on targeted podcasts will position you as a thought leader and THE go-to resource in your niche.
Grow Know, Like, & Trust Factor. People are attracted to and buy from people they know, like, and trust. No platform other than podcasts provides a better opportunity to establish this. You are in a person's ear for an extended period of time – capturing their attention for an extended period of time, providing value, and establishing the foundation of a lucrative relationship.
SEO Benefits. When your website gets shared in show notes, podcast websites, and hosting websites, it creates high-authority backlinks to your site, thus boosting organic visibility and discoverability.
High-Level Networking. Every guest appearance you make presents a new networking opportunity with a like-minded professional that could lead to your next big breakthrough.
The Ability to Sell Without Selling. No one listens to a podcast for a sales pitch or infomercial. However, if you provide value and help the podcast host create a valuable piece of content for their audience, they'll do all the selling for you and tell their audience why they need to connect with you.
Amplify Your Message Globally. Once your guest appearance goes live, it can be heard worldwide! This expands the reach of your brand to all corners of the world.
Create New Sales Opportunities. If you approach your guesting initiatives with a plan and from a place of value, you create opportunities to make sales BEFORE THE INTERVIEW GOES LIVE.
Attract Ideal Clients. Strategic podcast guesting allows you to speak to your ideal customer and showcase why you're the resource that can help them experience the transformation they seek.
The Next Step
The Authority Enhancer is a 12-month program. This will give us ample time to develop your skill set, line up targeted podcast guest appearances that serve your brand, and work collaboratively to utilize those guest appearances to establish your thought leader status in your space, attract new clients, and open up new avenues to growth and success for your brand.
If you're ready to get started, or have questions about how our partnership will help grow your brand, let's have a conversation so we can get things in motion.
Please take a moment to schedule a free Discovery Session below, or feel free to call or email me directly.
I look forward to partnering with you on this monumental step in becoming a valued thought leader in your niche and taking your brand from unknown to undeniable!
Contact Me Directly:
412-965-8428
jason@jasoncercone.com