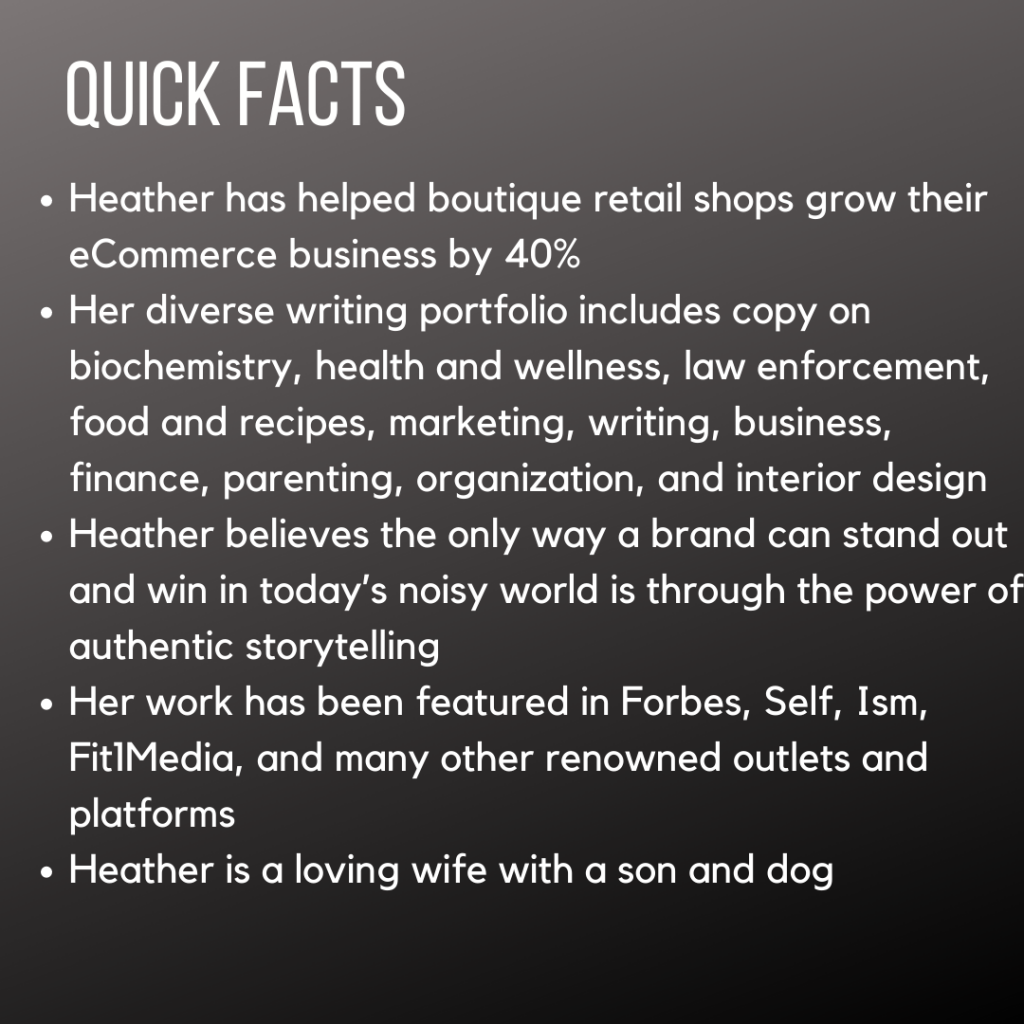 Heather Cherry is a cutting-edge entrepreneur, author, and copywriter who specializes in creating dynamic marketing copy and content for businesses of all shapes and sizes. She believes in the power of authenticity and implements this philosophy into every aspect of her daily practices, within her own business and for each of her clients.
In today's information-filled world, it's easy to get roused and sidetracked by brands, corporations, and influencers looking to score a quick sale by spreading misinformation and false claims that no one can live up to. This is where the power of authentic storytelling comes into play and why Heather has embraced this approach with open arms. Brands who authentically communicate with current and potential customers through their established platforms position themselves to increase loyalty, enhance their message, and create a long-lasting relationship with their community that stands the test of time.
Heather has been writing professionally for over 13 years and has built a wealth of knowledge on search engine optimization (SEO), content marketing, social media marketing, producing whitepapers, email marketing, blogging, interview content and business writing. Her work has been published on numerous outlets, including Forbes.com.
She also published a book called Market Your A$$ Off, an easy-to-understand marketing guidebook designed to empower small businesses with simple strategies for smart marketing. To date, Market Your A$$ Off has helped small business owners, team leaders, students, and many freelance entrepreneurs looking to operate their own full-time business or side hustle get started.
Heather has an uncanny ability to adapt to any situation or scenario and knows first-hand how important it is to make an impact with an audience. Her knowledge, experience, and skill set brings exceptional value to life for everyone she partners with.
Expert Topics
The power of authentic storytelling and why it's critical to brand growth. Nobody likes to be misled. Nobody likes putting their trust in a brand or company only to find out they've been lied to. Today, brands win because of their transparency and their authenticity. Consumers feel more comfortable buying from a brand they believe in…and that belief starts with healthy lines of communication and exceptional storytelling. This is Heather's primary focus and one she can expand upon in great detail for your audience and leave them with a solid understanding of why it pays to be authentic.
The best ways to utilize social media marketing in 2021 and beyond. There's no denying that social media is constantly changing and evolving. How can brands stay on the cutting edge of these highly-trafficked networks and truly rise above the noise and the clutter? If you choose to dive into this subject, Heather can share tips, strategies, and tactics that will help your audience maximize their time on social media and utilize each platform for a specific purpose.
How brands can establish trust, loyalty, and reach through authentic marketing practices. It's a simple fact: people buy from people. Digging even deeper, people buy from people they trust. If a brand has an inability to establish trust, there is no way they can generate long-term loyalty and repeat customers. Heather's copywriting initiatives were built around the philosophy of authenticity and tackling this subject will allow her to explain to your listeners what companies should be focused on in order to transform casual fans into loyal brand advocates.
How real, thorough, well-written content produces leads that convert for your business. In order for businesses to grow, they need leads. In order to generate leads, they need content that connects, informs, and inspires. Heather has spent more than a decade helping businesses of various shapes and missions craft content that attracts the right people. If you focus on this subject on your show, Heather can provide her approach to consistently generating quality leads that will take your listener's business to the next level.
How to truly be your authentic self in a fake world. It's hard to imagine a world where authenticity is standard practice. The truth is, society has made people accustomed to putting on their 'masks' so frequently that it's accepted as reality…especially true in the small business world. Bringing this subject to light with Heather and your audience will give you access to Heather's dynamic views on why prospective customers crave authentic businesses, why they want authentic products, content, and services, and why being your authentic self isn't always easy in a world full of phonies.
Forbes.com Features & More
How to Write An Authentic Personal Brand Story and Make An Impact Now | Read Here
How to Build Confidence and Overcome Negative Self Talk | Read Here
Discover What To Do When Your Detour Becomes Your Best Dream | Read Here
How to Spot Fraudulent Advice And What To Do When Self-Help Doesn't Actually Help | Read Here
How to Sell Yourself Without Being a Sellout | Read Here
Beat a Bad Day With These Simple Steps | Read Here
Leadership When You Have Imposter Syndrome | Read Here
How to Form Good Habits That Will Last | Read Here
The Benefits of Resting and How to Unplug In a Busy World | Read Here
Check Out Heather's Full Portfolio | Click Here
VIDEO: 10 Minutes with Heather Cherry | Watch Here
Coronavirus Is Seriously Triggering My OCD | Read Here
Podcast Appearances
"Market Your A$$ Off" – Heather on The Live Label Free Podcast | Listen Here