With almost three million podcasts and counting in seemingly every conceivable niche, genre, and space available for consumption, podcasting has firmly cemented itself as a viable platform with mainstream velocity that's attracting new eyes and ears every day. Much like social media in its early stages and video when it first hit the scene, leveraging the podcasting platform presents a golden opportunity to enhance your presence, establish authority in your market, build your know-like-trust factor, grow your network (and your audience) and amplify your mission and message to an attentive, action-taking audience.
In other words, if you are looking for a way to stand out and enhance your presence, the podcast space is the best way to make it happen.
Now, you may be thinking the only way to leverage the power of the podcasting platform is to start your own show, right? While, yes, starting a podcast does present many great opportunities for you.
But it's not the only way.
With so many podcasts already in existence, a powerful way to maximize podcasting is to build your presence through strategic, well-optimized podcast guest marketing campaign!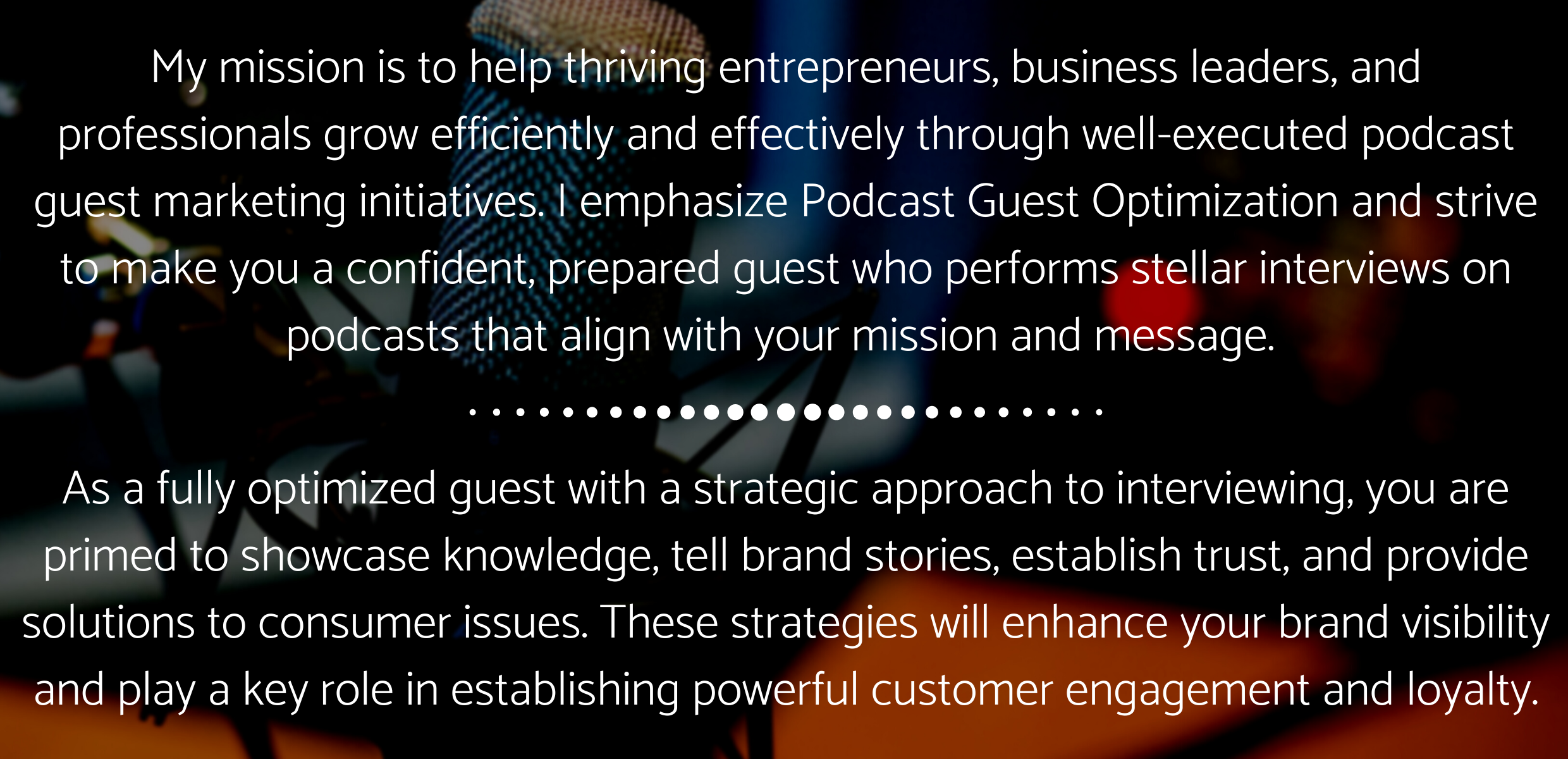 HOW CAN I HELP YOU SUCCEED?
Podcast Guest Optimization. Are you ready to make a serious impact as a podcast guest? It starts with the right mindset, clear expectations, and a thorough, strategic approach to your mission. Let's work together to ensure you are a lethal, fully-optimized podcast guest machine!
Guest Communications & Booking Solutions. Being a featured guest on the right podcasts is the most powerful way to enhance your presence, amplify your message, increase credibility, and expand your network. Together, our partnership will help you impact audiences on podcasts whose mission and message run parallel with yours. Click here to learn more
Coaching & Consulting. Establishing the right mindset paired with realistic expectations as you increase your emphasis on the podcast space is critical. As a podcast veteran with nearly a decade's worth of experience, I am proud to serve as your partner in this arena to provide strategy, mentoring, and support for your efforts.

"Jason has been great to work with! He handles everything from start to finish. I never thought I could be a featured guest on podcasts, but it has been really fun (and easy) with his help. If you're looking to expand your brand in this trendy medium, you need Jason on your team!" — Heather Cherry – Founder of Heather Cherry Consulting and Author of Market Your A$$ Off
"Jason is one of the most dedicated and hardworking business professionals I know. Over the years, he has done great things promoting the Caliente brand and I really enjoy working with him. He has served as the Executive Producer for my podcast, The Business Equation, and has played a key role in helping me develop and bring the show to life. I highly recommend working with Jason." — Nick Bogacz – Owner of Caliente Pizza & Draft House, Host of The Business Equation Podcast
"Jason has been a pleasure to work with. He makes podcasting fun, easy, and effective. I couldn't imagine doing a podcast without his guidance. I highly recommend Jason Cercone for all things podcast consulting and production!" — Sara Makin – Founder & CEO of Makin Wellness, Host of The Makin Wellness Podcast
"Working with Jason was AWESOME! I've never had the experience of working with a podcast professional who was so organized, professional and forward thinking. Making sure I was set up for success as a speaker and providing 5-star support during recording made for a great podcast interview and experience all around. Jason knows what he's doing and it shows!" — Rachel Sheerin – Motivational Keynote Speaker, Sales Trainer