Enhance Your Brand Through the Power of Podcasting. With over one million active shows and counting now available for you to consume, podcasting has firmly cemented itself as a viable platform that people utilize every day. The time has never been more right for you and your brand to utilize this medium to connect with your audience, establish authority in your market, promote products and services, and have a blast exposing your brand to the masses.
If you are looking for a way to stand out, a podcast is one of the best ways to make it happen.
With the rapid growth of podcasting over the past two years, there are still many brands not hopping on the train. What does this mean? It means more opportunity for you!
How do you leverage the power and reach of the podcast platform? I focus on two key approaches:
Building your brand, ideas, products, and services by appearing as a guest on the right podcasts
Creating your own brand podcast designed to amplify your message, enhance visibility, and establish trust & authority within your industry
With the surge in popularity podcasting experienced in 2020, I have fully dedicated myself to this medium and helping brands launch successful podcasts that shine a bright spotlight on their brand. From establishing the best way for you to adopt podcasting into your brand to helping you craft your approach to connecting you with existing podcasts to market yourself and your brand, my goal is to be your partner as you navigate your way through the dynamic, innovative world of podcasting!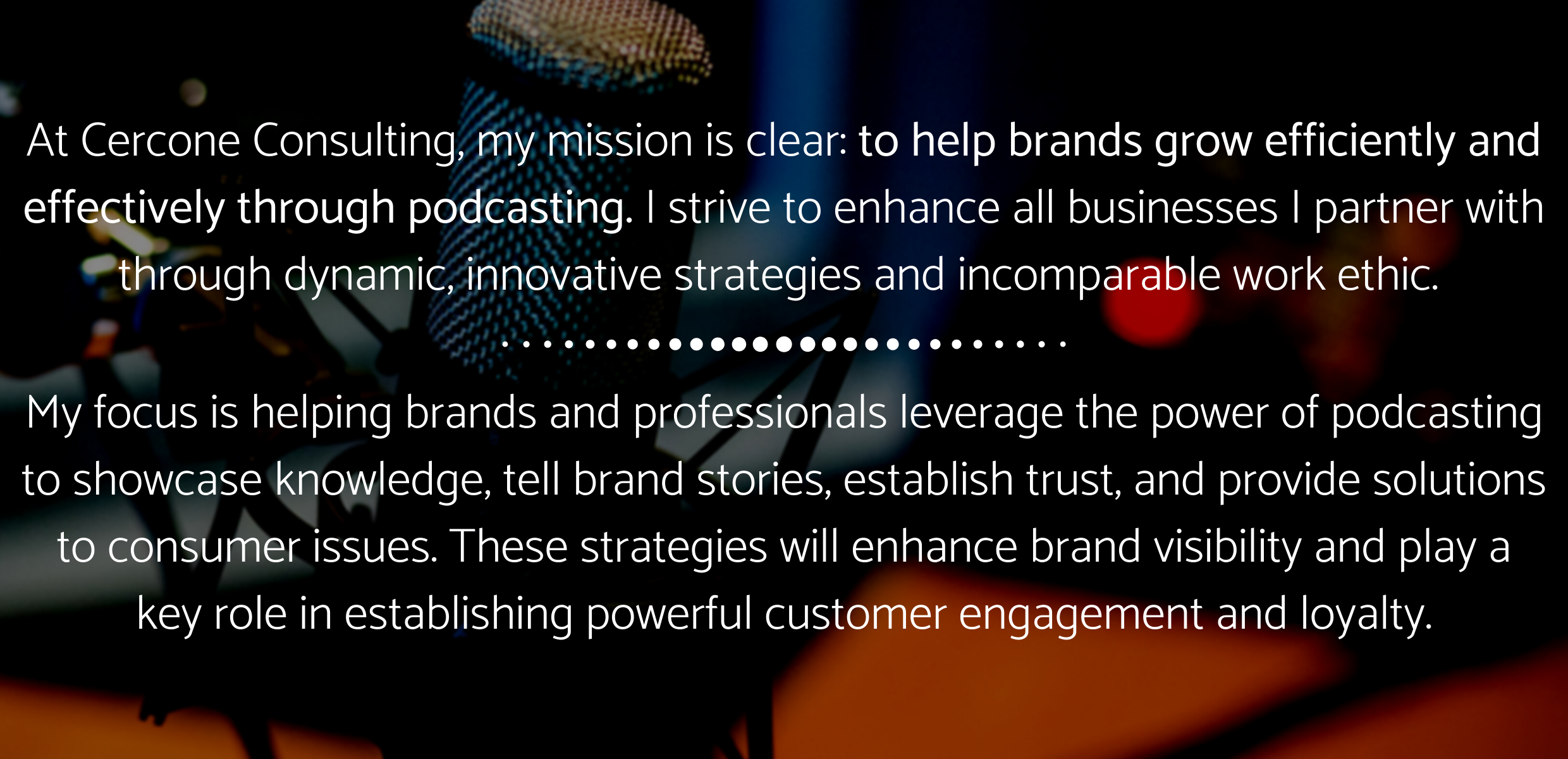 Build Your Brand Through the Power of Podcasting.
PODCASTING SERVICES
Communications. Being featured as a guest speaker on other podcasts is one of the most powerful ways to amplify your brand message, establish authority in your niche, and developing loyal brand advocates. Click here to learn more.
Consulting. Establishing a podcast mindset, brainstorming show name ideas, developing episode structure, making equipment recommendations, marketing initiatives, aiding you in ongoing decision-making processes as your show takes off.
Marketing. Developing marketing content, assisting with monetization strategies, providing marketing support as your podcast grows.
Mentoring, Support, & Strategy. Helping you establish your podcast voice, helping with interview delivery, assisting with any facet of your podcast you need.
Production. Recording, editing, providing voice-overs, show notes, building a quality final product set for publication.
"Jason is one of the most dedicated and hardworking business professionals in Pittsburgh. Over the years, he has done great things promoting the Caliente brand and I really enjoy working with him. He now serves as the Executive Producer for my podcast, The Business Equation, and has played a key role in helping me develop and bring the show to life. I highly recommend working with Jason." — Nick Bogacz – Owner of Caliente Pizza & Draft House, Host of The Business Equation Podcast
"Jason has been a pleasure to work with. He makes podcasting fun, easy, and effective. I couldn't imagine doing a podcast without his guidance. I highly recommend Jason Cercone for all things podcast consulting and production!" — Sara Makin – Founder & CEO of Makin Wellness, Host of The Makin Wellness Podcast
"I hired Jason to produce and launch my first podcast. I knew from his videos and a workshop from the Generator Conference by Marketing Pittsburgh that there's more work than you'd expect building a podcast. I was floored by the caliber of work. I've received so many well wishes and got on a call with an old client within days of the launch! Jason walks you through all the steps and makes everything look so easy. He even helped troubleshoot my tech setups. If you're thinking about launching a podcast, you should definitely talk with Jason." — Emily Bezak – Founder of Emily Bezak Writes, Host of Marketers In PJs: The Podcast
"Working with Jason was AWESOME! I've never had the experience of working with a podcast producer who was so organized, professional and forward thinking. Making sure I was set up for success as a speaker and providing 5-star support during recording made for a great podcast interview and experience all around. Jason knows what he's doing and it shows!" — Rachel Sheerin – Motivational Keynote Speaker, Sales Trainer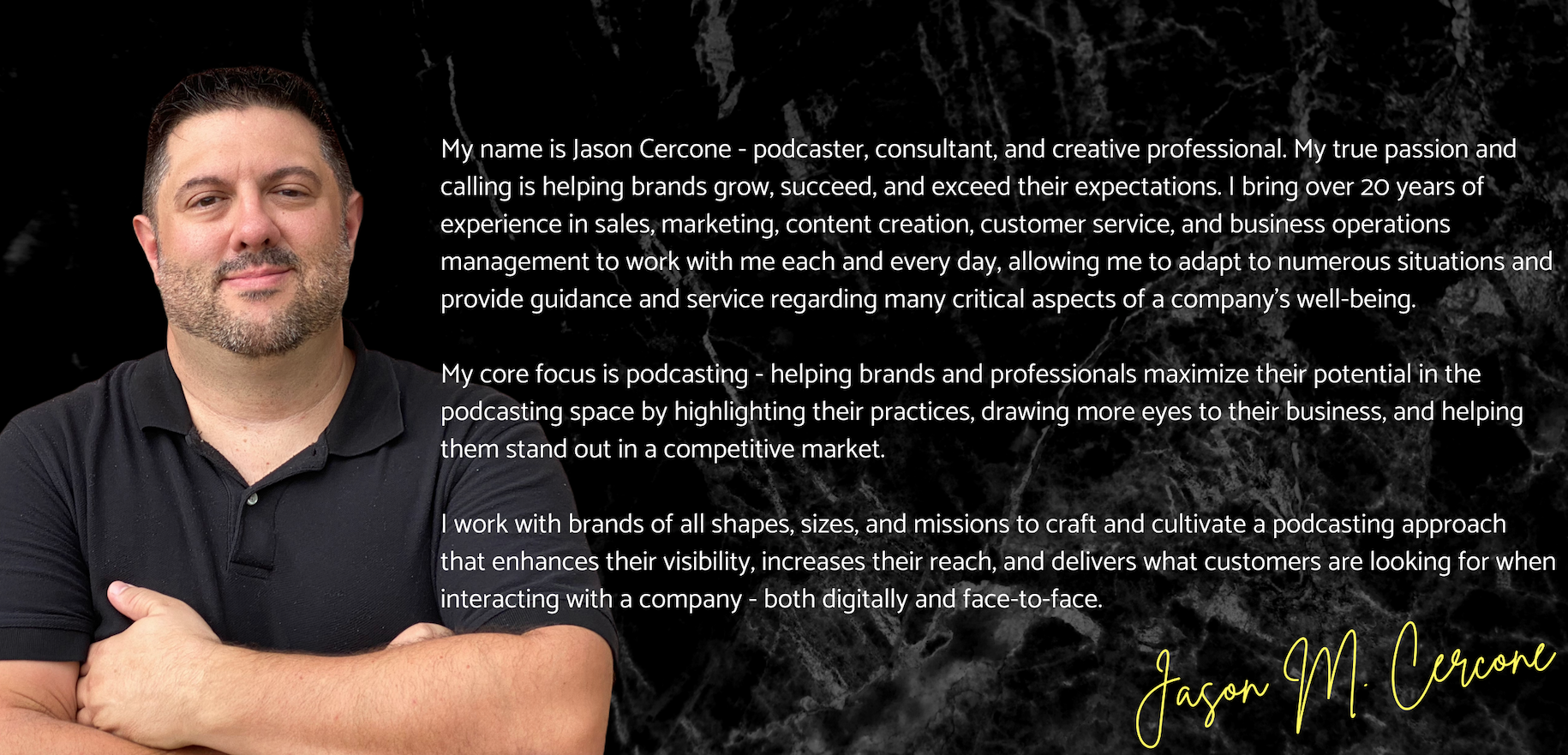 Let's Get to Work
Fill out this brief questionnaire to get the ball rolling!