It doesn't take a rocket surgeon or brain scientist to conclude that podcasting is the most dynamic, impactful, fastest-growing digital content medium on the planet today.
People are consuming podcasts now more than ever, and the number of consumers leaning on podcasts for information, education, entertainment, and solutions to their problems continues to grow by the day.
Consider these numbers: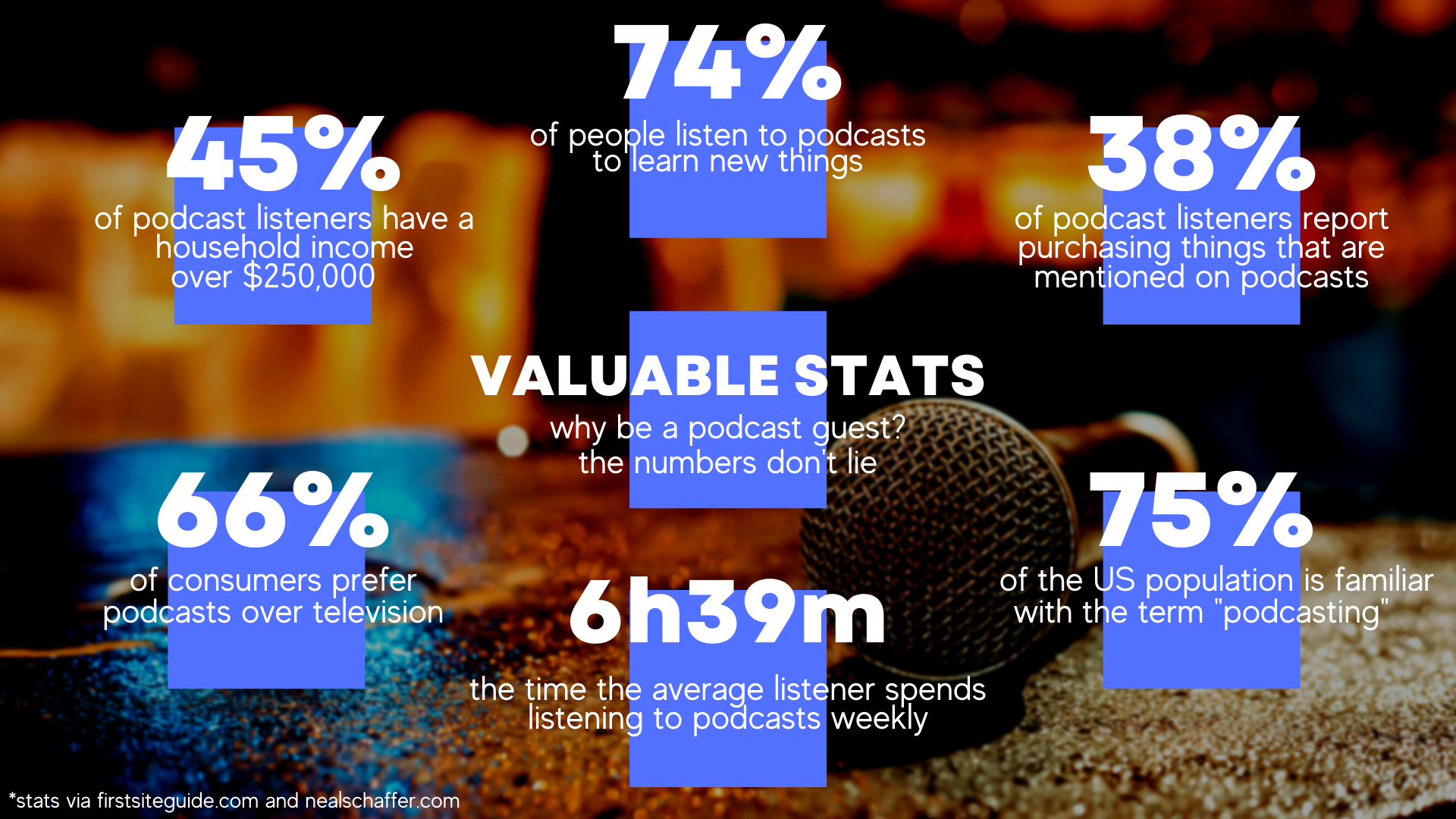 But what does this mean for you?
It means the ultimate opportunity to tell your story, build your authority, and spread the word about your newly published book is staring you right in the eyes, that's what!
This doesn't mean you need to start a podcast either. There's another way to leverage the podcast medium and find thousands of targeted customers ready to buy your book and discover what you have to say.
How can you tap into the podcasting space in a powerful, dynamic way with little to no experience?
How can you put this rapidly-growing medium to work for you, even if you have no editing or production skills?
How can you position yourself as the quintessential thought leader in your industry or niche while growing your presence and visibility exponentially?
All of this is possible when you appear as a value-driven guest on podcasts where your target audience is listening!
Guest Accelerator is a comprehensive, hands-on guest optimization, coaching, training, mentoring, and communications platform built to help you maximize the critical aspects of podcast guesting so you can promote and raise awareness for your book, as well as other brand-building initiatives. Through Guest Accelerator, we will work together to:
Clearly define your mission and message and transform you into a lethal, optimized, value-driven podcast guest

Help you find the right podcasts that will enhance your presence and put your expertise in front of the right people

Build your personal brand through authentic storytelling

Enhance your presence and bring your story to the masses

Raise awareness and increase sales for your newly-published book

Help you maximize each guest appearance you make

Position you as the go-to thought leader in your space

Take advantage of powerful Search Engine Optimization (SEO) benefits

Gain a well-rounded, intricate understanding of the power of the podcast platform

Establish you and your brand as a powerhouse in your industry or niche
MY MISSION WITH GUEST ACCELERATOR: To provide you with ALL of the tools needed to maximize the brand-building power of the podcast medium so you can establish authority, increase visibility, and accelerate growth and results.
I focus on training, mentoring, coaching and support so you can acquire and execute the skills needed to truly stand out as a mic-dropping podcast guest. The more optimized you become, the more you'll connect with audiences comprised of your ideal clients and customers, thus taking your book AND your brand to levels of success you never imagined and
It's not just about getting booked on podcasts. It's about getting booked on the RIGHT podcasts. The more guest appearances you make on podcasts that align with your mission, message, and objectives, the more opportunities you have to position yourself as a valuable resource and thought leader in your space.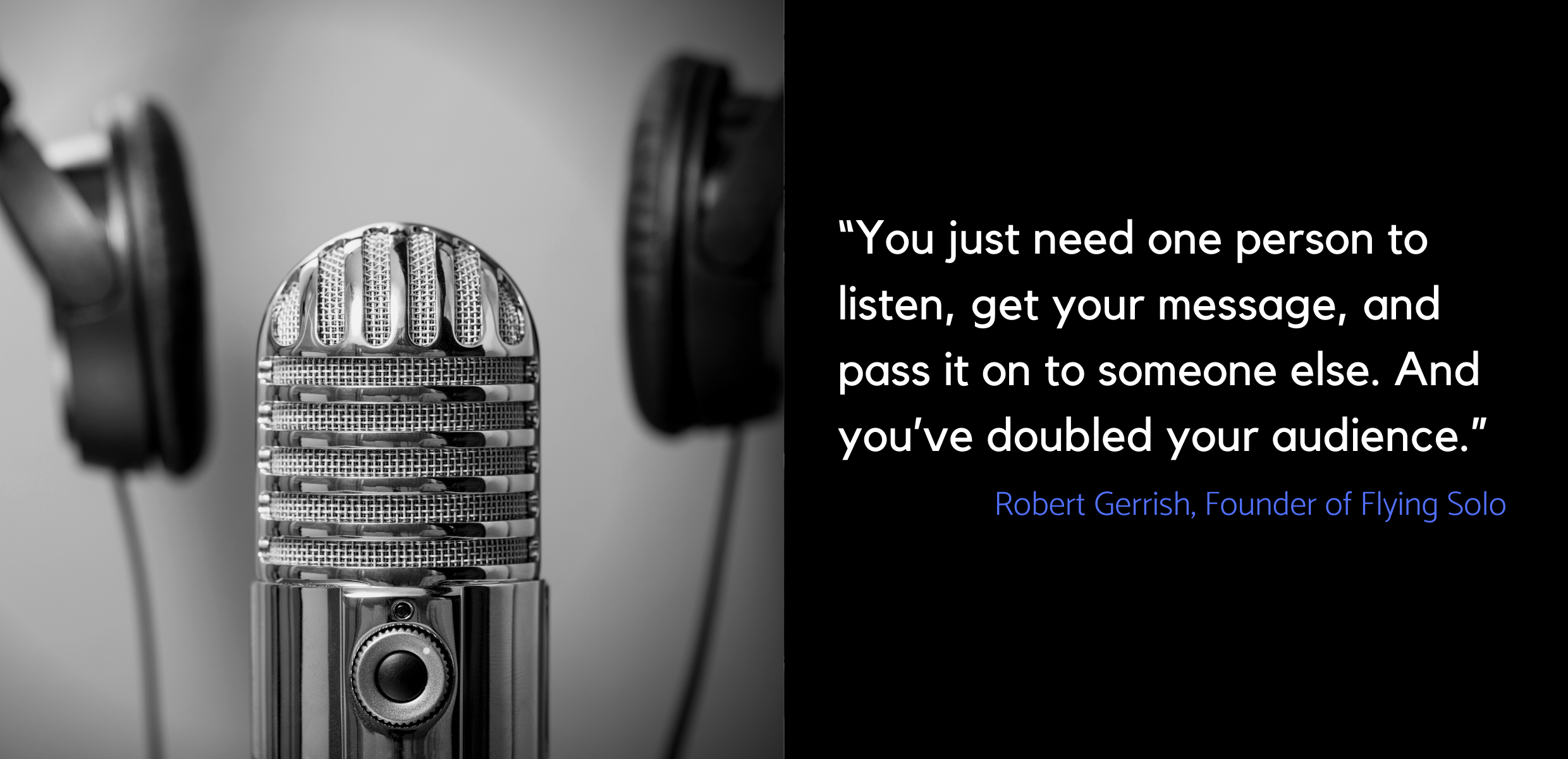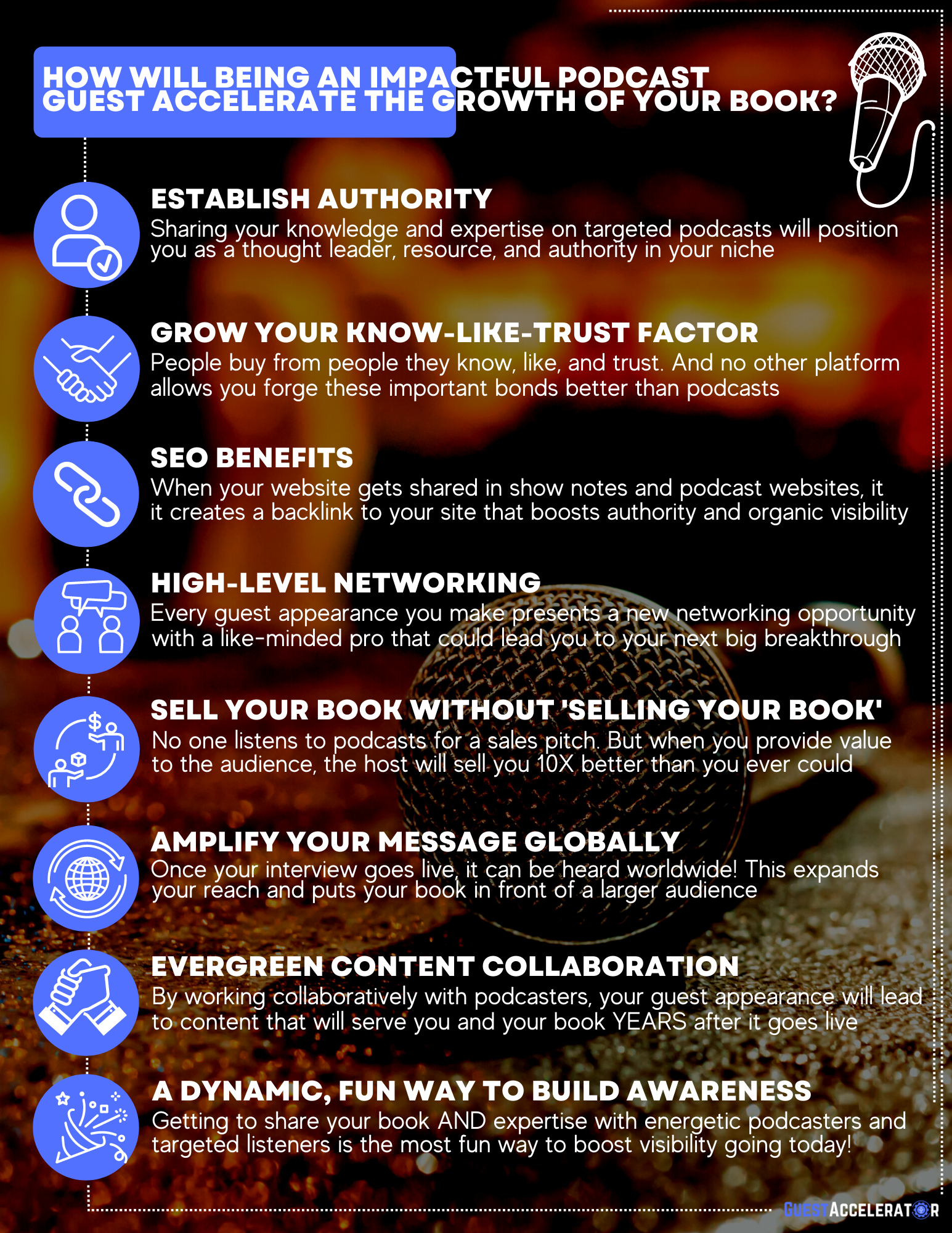 How Does Guest Accelerator Work?
As I mentioned above, I believe in a top to bottom approach that gets you the best return on your investment and helps you maximize every guest speaking appearance you make. Here's what you'll be a part of with Guest Accelerator: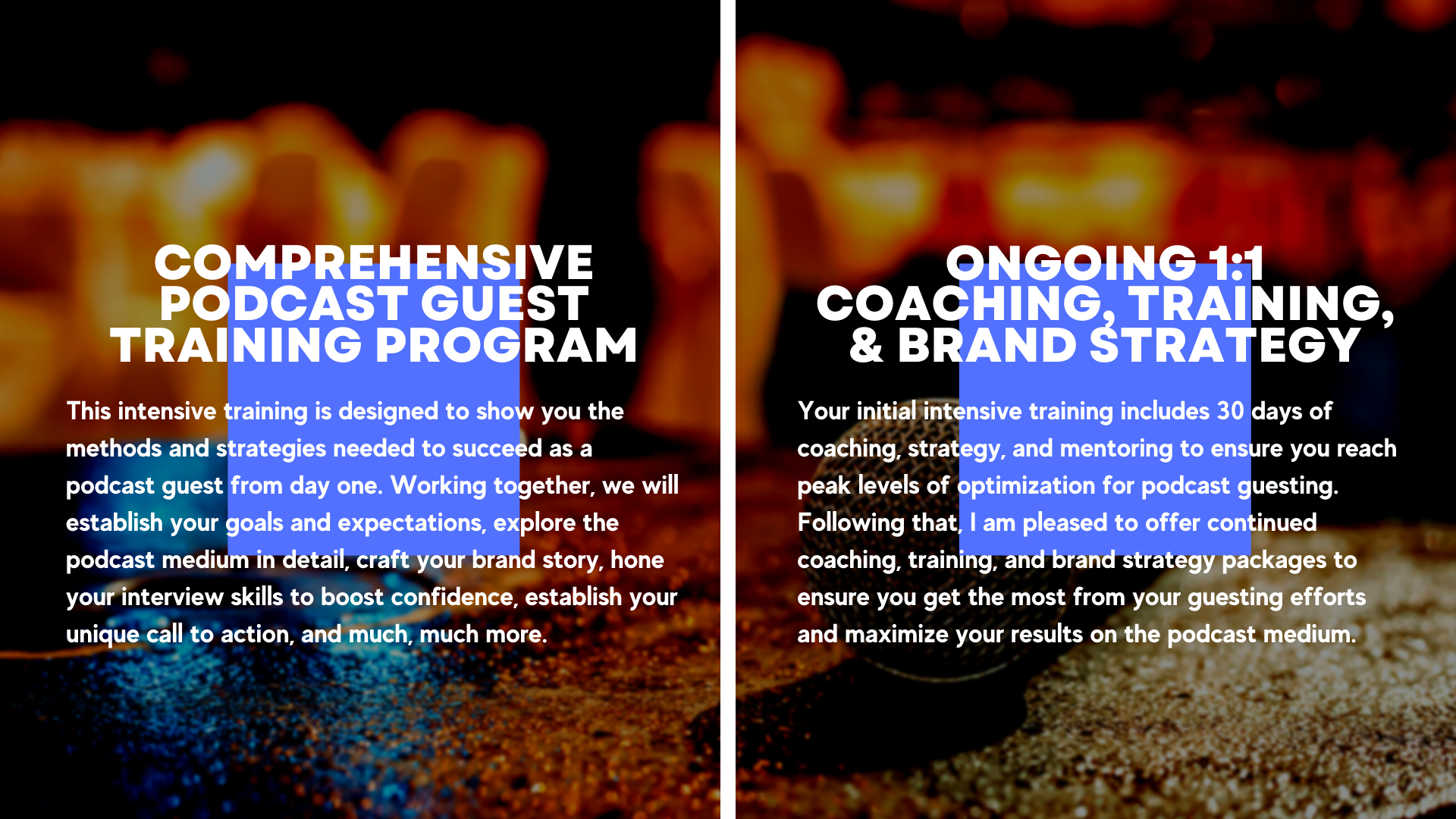 My Comprehensive Podcast Guest Training Program is where it all begins. In order to ensure you maximize your time, effectively make an impact on your interviews, and achieve results with your podcast guesting initiatives, you need to be 100% optimized. You need to set realistic goals and expectations. You need to craft your story and know how to tell it with power and confidence. Working together, we will check off all those boxes + more and ensure you're at a level of peak performance before you start promoting your book on established podcasts.
As your podcast guesting campaigns begin, as well as grow and evolve over time, you may feel the need for continued 1:1 coaching, training, strategy, and community learning opportunities to discuss your progress, work on vocal quirks, or simply debrief your experience in the space. THAT'S what I'm here for. I don't believe in just selling you a training program, then sending you on your way. I firmly believe in community and ongoing communication in a group or 1:1 setting and that's what you'll experience as a valued member of Guest Accelerator!

What Will You Learn In My Podcast Guest Training?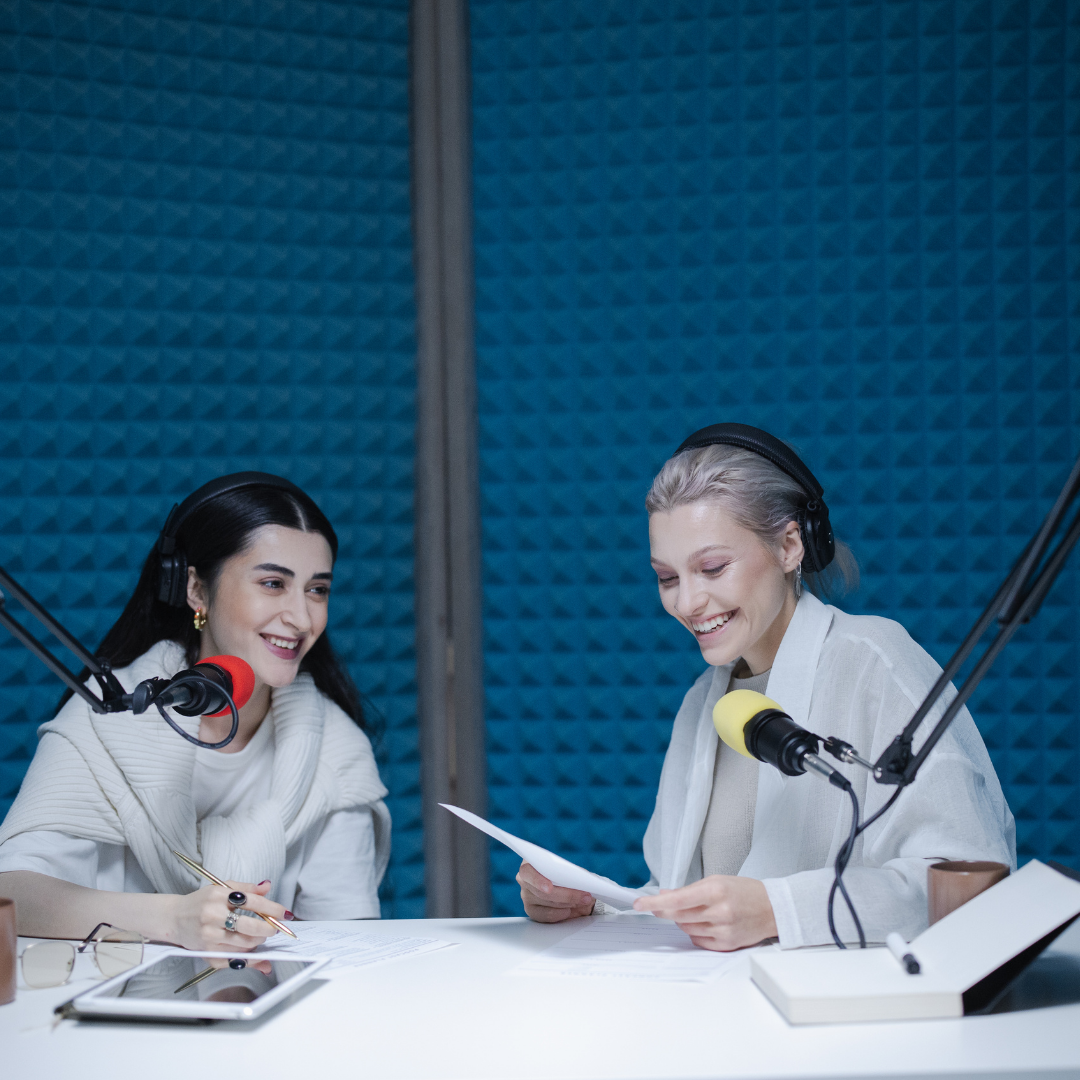 "Dare to rise, when all voices behind you say you can't get there, ignore them and move on… it's not about the talents and gifts you have; it's about how wise you optimize them!" ― Israelmore Ayivor, Leaders' Watchwords
Taking action on any endeavor in life feels better when it's done from a place of confidence and optimization.
My podcast guest training will teach you the fundamental tools, strategies, and knowledge necessary to promote and sell your book, as well as elevate your brand with confidence as a podcast guest.
This training was built to help you fully understand what you can achieve as a value-driven podcast guest while giving you and I time to work together to hone your skills and develop your strengths, thus transforming you into a mic-dropping podcast rockstar who makes a significant impact with every guest appearance you make!
In this training, you'll learn:
Why promoting your book and building your brand as a podcast guest is so powerful

How to set realistic goals and expectations for your guest marketing efforts
💥 The anatomy of a podcast and why the guest spot is so vital to a podcast's success

The art of conversation and why it's so important to podcast content

How to establish authority in your niche as a value-driven guest

Why quality always beats quantity in the podcast world

How to craft and tell your unique brand story

Steps to building an effective media kit that will position you as a valuable asset

How to find podcasts that fit your brand and align with your mission, message, and initiatives

Why most guest presentations (pitches) SUCK and how to make yours overflow with value

Secrets to honing your interview skills and speaking with confidence

How to market your guest appearance and communicate with podcast hosts before, during, and after your interview

Ways to monetize your interview BEFORE it goes live

How to track results and get more listeners to find you after the show using a Unique Call To Action

….and much, much more!
PLUS…
Unlimited access to support throughout the program

Practice interviews to help elevate confidence and pinpoint areas for improvement

Assistance discovering podcast guesting opportunities that will serve you and your brand

So…What Happens Now?
The next step is up to you.
Are you ready to:
📚  Accelerate the growth of your book AND your brand as a value-driven, mic-dropping podcast guest?
📚  Unleash the strength of your expertise on podcasts across the globe?!
📚  Be recognized as an expert and thought leader in your industry?
📚  Go on a guest speaking tour that will drive book sales through the roof?!
📚  Confidently elevate your brand through the power of your own voice?!?
If you answered YES to any or all of these questions, it's time to get to work. Schedule a consultation today to take the next step!