Podcasting is the hottest content medium on the planet and an engaging, entertaining, and informative podcast can be an absolute game changer for any brand. Before you get started, you need to develop a plan to maximize your results. This Podcast Primer will familiarize you with some stats about podcasting and help you build the foundational plan that'll carry your podcast to success for years to come.
Important Statistics
Over 1M active podcasts, over 30M episodes, over 150M listeners, and content in 100 languages as of Aug. 2020
70% of the US population are familiar with the term 'podcasting'
51% of the US population have listened to a podcast
32% of the US population listen to podcasts at least every month
22% of the US population listen to podcasts weekly
6% of the US population are 'avid podcast fans' and listen to podcasts daily
Smartphones are the #1 medium for podcast consumption
54% of the US smartphone audience is on the Apple iOS ecosystem, 43% Android, 3% others
49% of podcast listening is done at home
22% listen while driving
11% listen while at work
4% listen while riding public transportation
4% listen while working out
3% listen while walking around
7% listen in other situations
80% of listeners listen to an entire podcast episode or most of the episode
*data collected and shared by musicoomph.com/podcast-statistics/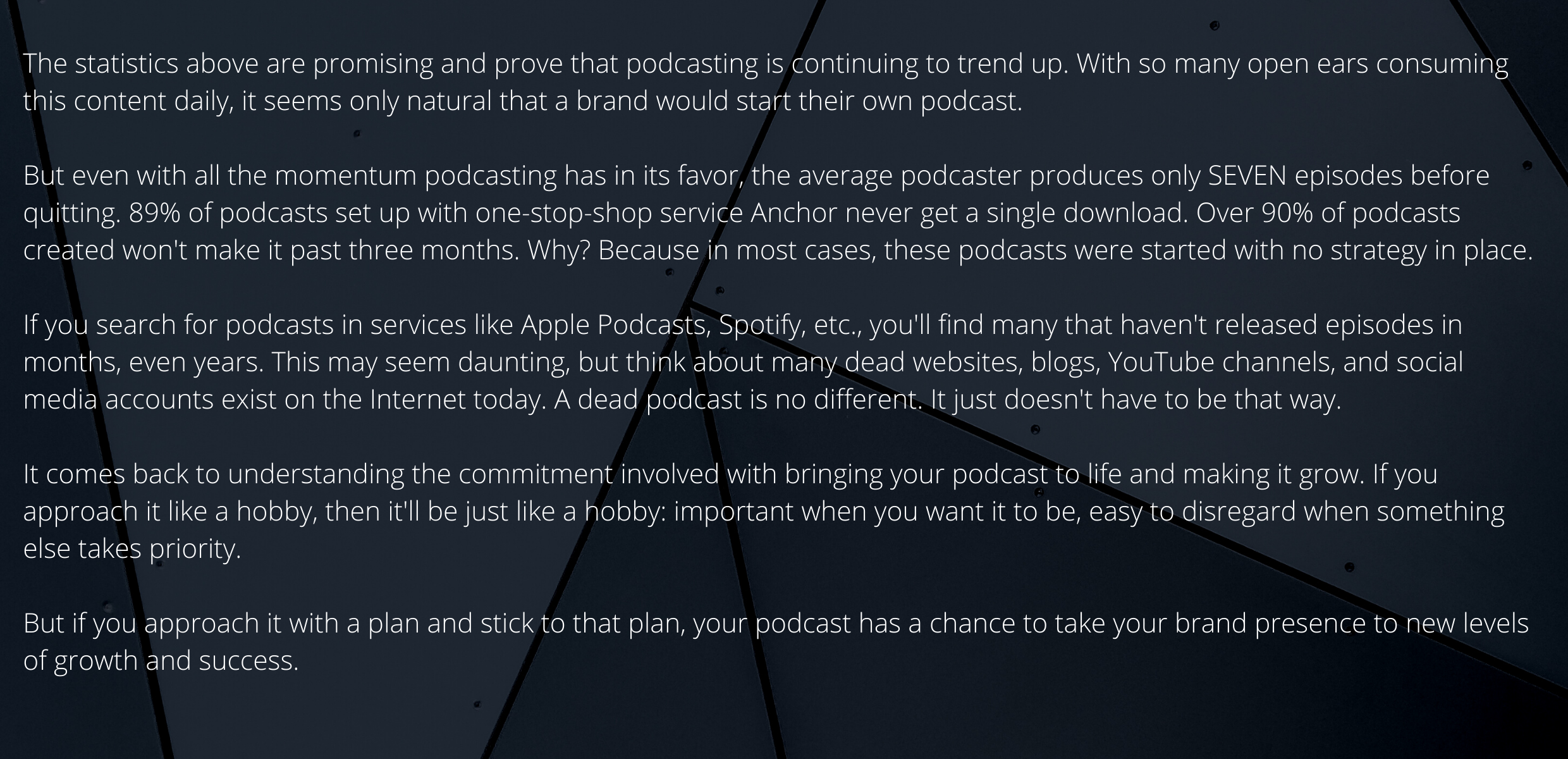 Quick Tips & Recommendations
FOR RECORDING: Zoom H6 Handy Recorder
MICROPHONES: Behringer XM8500 Ultravoice
HOSTING SERVICE: Buzzsprout.com << Sign up via this link and receive a $20 Amazon Gift Card
EDITING SOFTWARE: Audacity
RECORDING TIP: While you may not have an official studio at your disposal, capturing quality sound is still attainable. Record in a quiet environment and sound test your equipment before recording to ensure everyone on your show is properly mic'ed. Avoid rooms without noise reducers – no carpeting, blank walls, hard floors. Use natural noise reducers like furniture, carpet, and drapes whenever possible.
Steps to a Successful Podcast
The execution of these initiatives is contingent on your format, but each of them are typical activities you'll need to complete with each episode you produce:
Determine Subjects/Topics
Determine Approx. Episode Length and Format (solo, interview, roundtable, etc.)
Line Up Guest and Schedule Recording Time/Location
Research Topics and Guest's background
Prepare Questions and Speaking Points
Record Podcast
Post-Production (editing your show)
Market and Promote New Episode (ads, teasers, etc.)
Publish
Market Published Episode
Repeat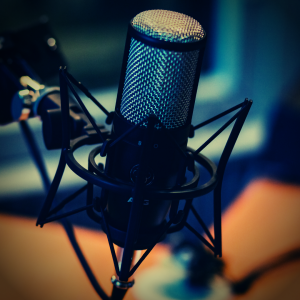 Are You Ready to Start a Podcast? Not So Fast…
Before you can build your show, you need a foundation. And that foundation is built by answering questions that are critical to the growth and evolution of your show.
The longevity of your podcast will result in how much care and attention you give it before it's born. Before you go any further, get yourself primed for success by answering The Essential Podcast Primer Foundational Questions!
DOWNLOAD THE PODCAST PRIMER FOUNDATIONAL QUESTIONS WORKSHEET HERE