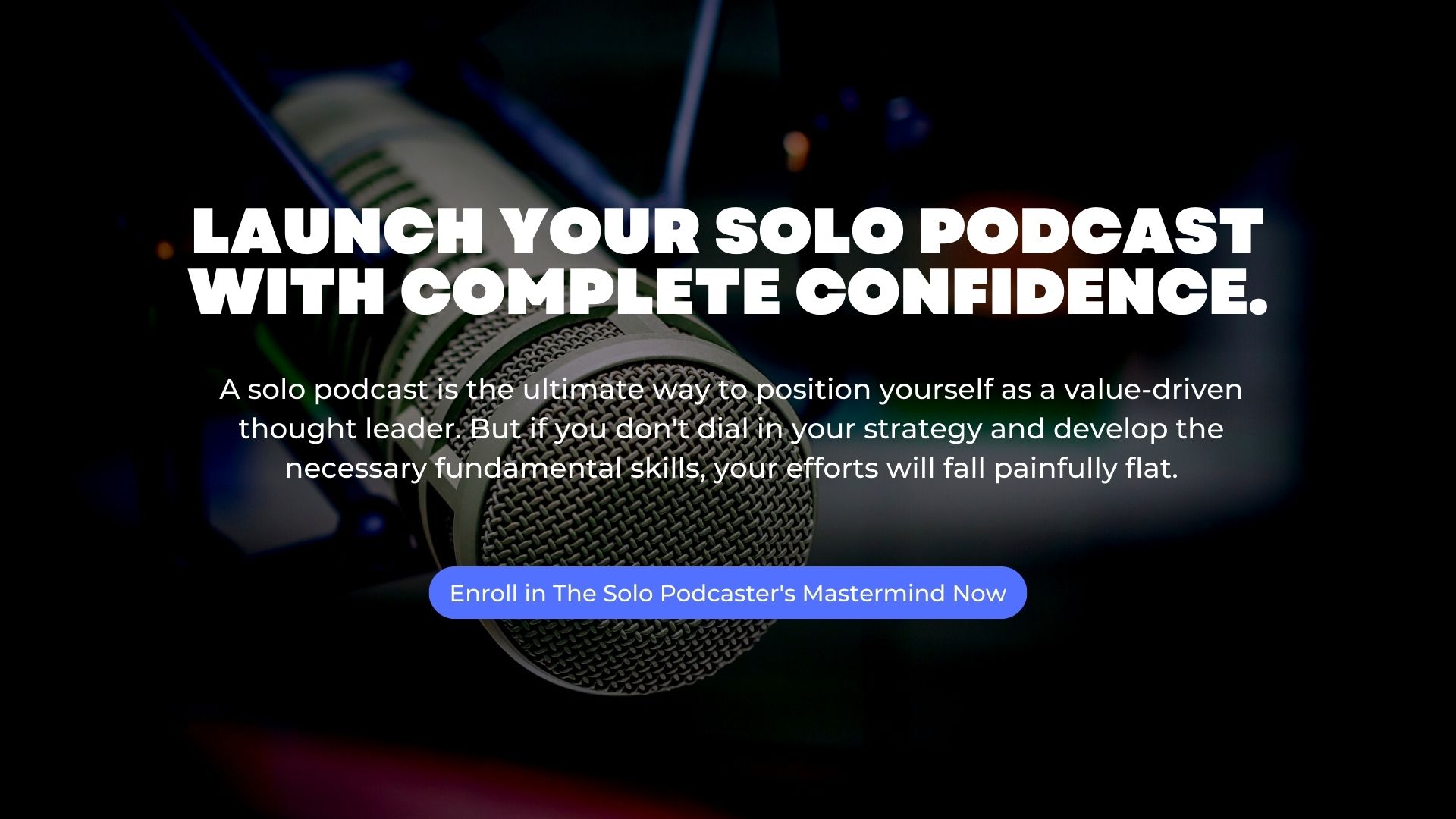 Don't Stumble Before the Race Begins.
The benefits an impactful, engaging solo podcast can bring your brand are truly hard to duplicate on any other medium. By strategically leveraging the podcast medium with a solo format, you can:
Position yourself as the sole thought leader on your show without sharing the stage with a guest

Create podcast content on your schedule, not someone else's

Build an undeniable connection with your listeners, growing your know, like, and trust factor at the same time

Batch record episodes and allow yourself a break to recharge

Keep listeners in your ecosystem with your Calls To Action
And that's just the tip of the iceberg.
But many aspiring solo podcasters derail the train before it leaves the station because they don't build a foundational plan and have no clear vision for the purpose and direction of their podcast content.
The numbers don't lie. According to reliable resources, of the approximately 4 million podcasts listed (as of January 2023), 44% of them have less than THREE episodes and only 720,000 have more than 10 episodes.
And while not all of those podcasts are solo-based, those numbers are scary.
I want you to be on the right end of the equation.
That's why I created The Solo Podcaster's Mastermind.

The Solo Podcaster's Mastermind is a fully interactive mastermind community designed to set you up for maximum success in all your solo podcasting endeavors.
Along with nine other leaders and professionals, we will embark on a results-driven 60-day journey that will see you:
✅Develop fundamental skills that will support your podcasting efforts AND overall communication with others

✅Build a solid foundation on which your podcast can grow over time

✅Set up a podcasting infrastructure for production, marketing, and communications that will simplify your efforts

✅Literally have your podcast launched and available on all major podcast platforms and ready for your audience to consume before this Mastermind concludes
Within The Solo Podcaster's Mastermind community, we will work collectively to ensure your podcast is set up to impact your audience and elevate your brand efforts with each episode you publish.
And once the 60-day Mastermind concludes, you'll remain part of the community so your knowledge base continues to expand!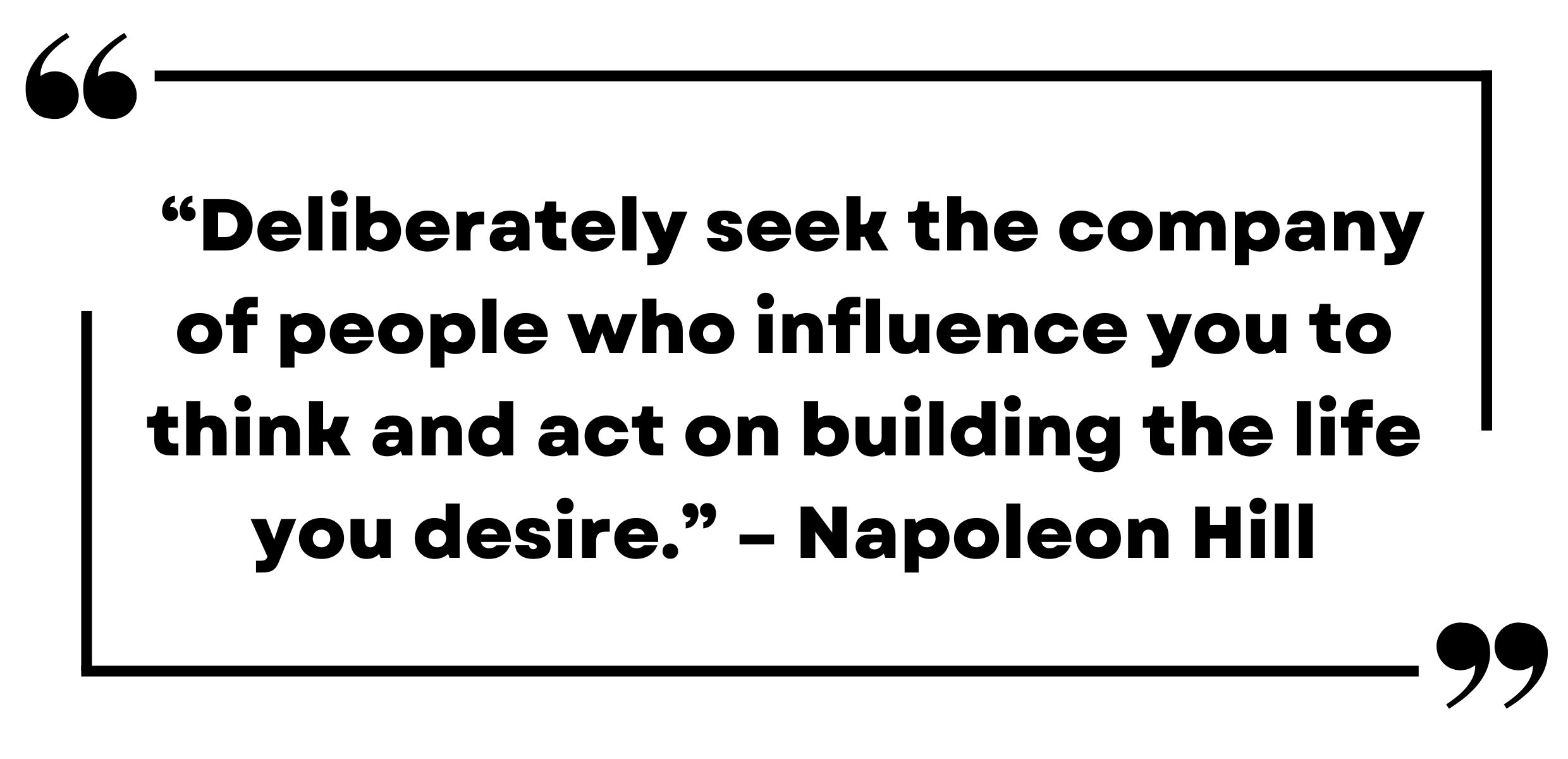 ---
Here's What You'll Get In The Solo Podcaster's Mastermind:
8 1.5-hour Mastermind Group Calls (fully recorded for lifetime access)

Access to The Solo Podcaster's Mastermind Official Playbook + other resources

Unlimited support through Slack

Automatic entry into The Solo Podcaster's Mastermind Alumni Slack Group once we hit 60 days *This mastermind is built on the philosophy of community and will continue in that mission long after our 60-day journey is complete

Access to any additional Q&A sessions or digital group trainings I conduct in the future

One complimentary 60-minute 1:1 Strategy Session with me

Your initial episode content created during the Mastermind fully edited and produced by the team at iRonick Media at no additional charge *If you'd like to hire Marc and his team to continue your production work once the Mastermind concludes, you may do so at a discounted rate.
---
Learn More About The Solo Podcaster's Mastermind On EP005 of Solo Podcasting Simplified!
---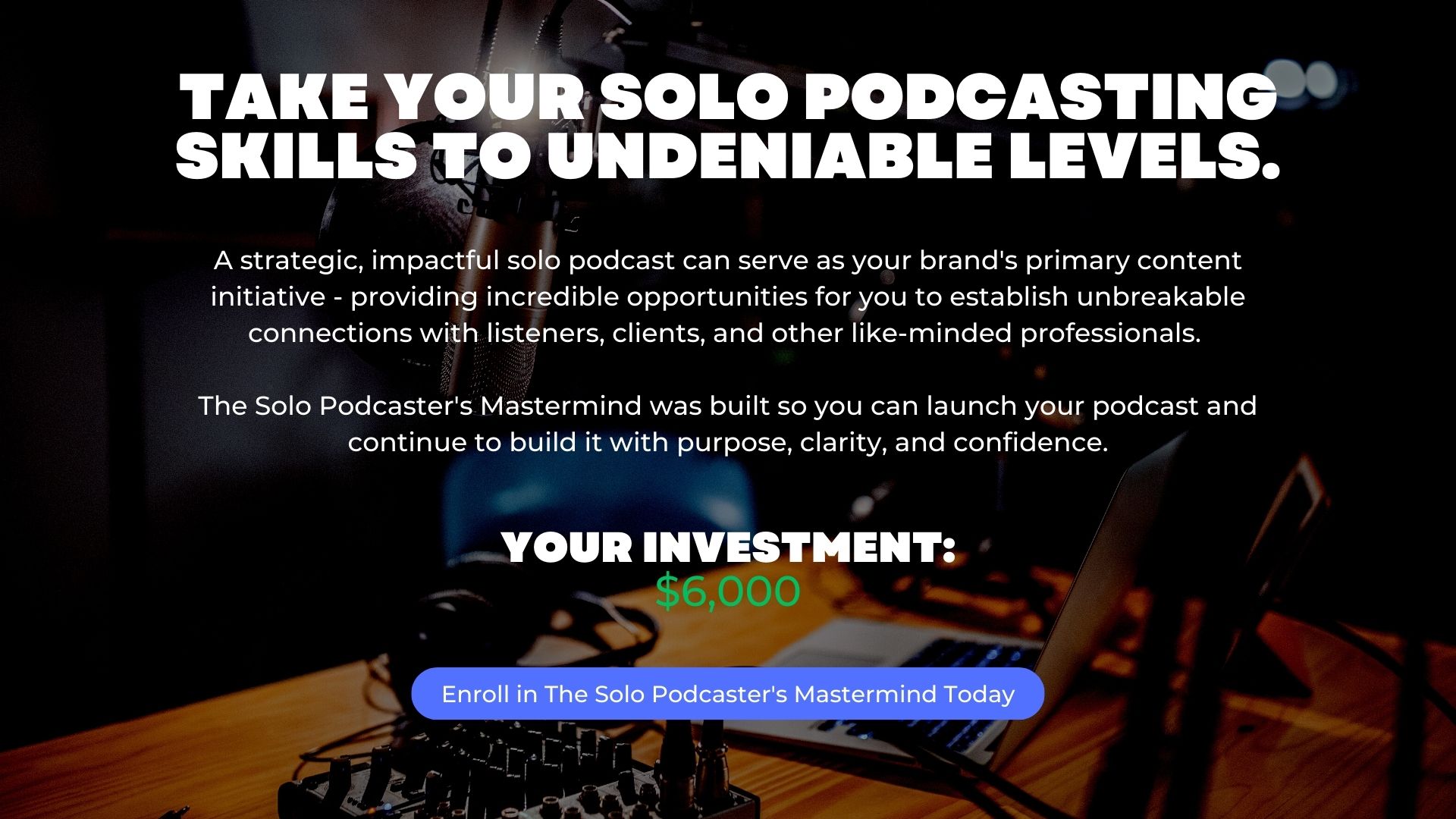 Don't Become Another Podcasting Statistic.
The podcast medium has experienced a meteoric rise over the past several years and shows no signs of losing momentum anytime soon. As more consumer turn to podcasts for information, education, and entertainment, the demand for insightful, next-level podcast content continues to rise at a staggering rate.
This is where you can sizzle.
In order to build a podcast that not only impacts listeners, but stands the test of time, you need:
💥A thorough understanding of the benefits solo podcasting delivers to you and your brand

💥A strategy that guides your efforts with purpose and clarity

💥An infrastructure that simplifies your recording, production, and marketing initiatives

💥A community of like-minded professionals supporting your efforts at every turn
In The Solo Podcaster's Mastermind, you'll get all of this and more.
Building, launching, and maintaining a podcast with no game plan all by yourself will put you on the wrong side of the stat line.
Don't let this happen. Join The Solo Podcaster's Mastermind today!
---
Want to learn more before registering? Book a Free Discovery Session.