If you listen to my podcast, Evolution of Brand, you've heard me talk about how this show is an amalgam of all my years of podcast experience. I combined my (at that point) seven years of experience and self-education in podcasting together with inspiration I drew from podcasts I consumed daily to build something entrepreneurs and professionals seeking their own transformation would find valuable.
I put roughly a year into planning out the long-term vision and direction of the project, and early in the launch phase, I knew I needed a resource that would allow me to connect with individuals who had a story to tell and value to bring the audience I was building. 
It was at that point that I remembered an email exchange I had with Alex Sanfilippo, the Co-Founder of PodMatch, and the rest, as they say, is history.
Here's a quick clip from the 1-year Anniversary Episode of Evolution of Brand where I share how PodMatch has helped me build my own little podcast community: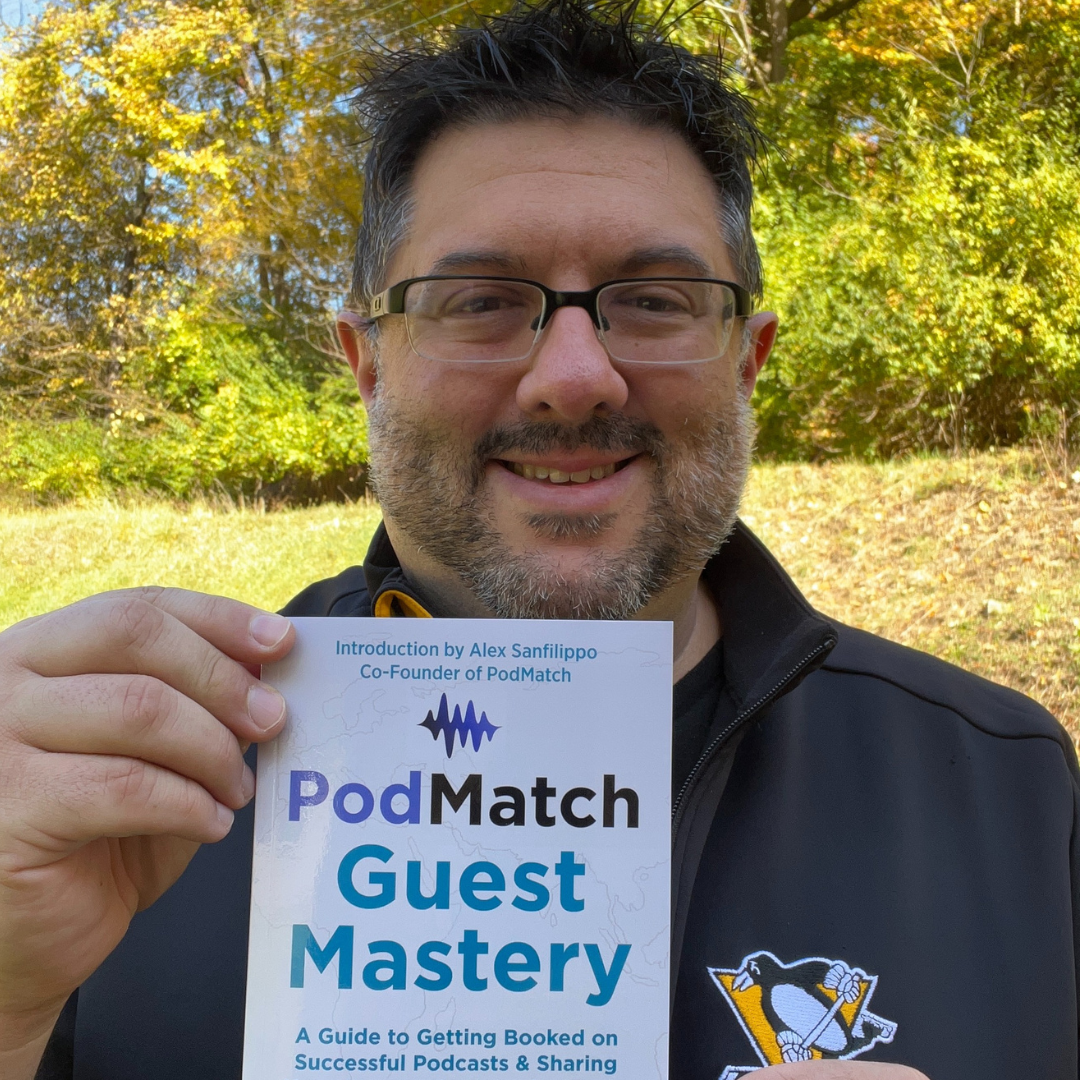 Since joining PodMatch, I've maximized my time on the platform on both the host side, as well as the guest side. An added benefit of joining PodMatch was the ability to connect with podcasters to generate my own guesting opportunities to continue building my brand (practicing what I preach!).
Fast-forward to late summer 2022 when the opportunity of a lifetime presented itself: getting the opportunity to co-author the now best-selling PodMatch Guest Mastery book! 
Having spoke to several authors on Evolution of Brand, I've learned the value a book provides when it comes to positioning yourself as a resource in your space. I jumped at the chance to contribute my knowledge and expertise to this book to bring even more value to the podcast community and help professionals looking to leverage podcast guesting as a growth strategy in their brand understand the best way to approach the initiative.
As the book came together, I discovered I was collaborating with many people I'd already collaborated with on Evolution of Brand, as well as several others that I connected with thanks to the project. I also discovered the entire group shared a common mission: to further enhance the quality of the podcast medium.
If you want proof of that, crack open the cover of this book and tell me this collection of highly-reputable professionals doesn't have value in mind!
What is PodMatch Guest Mastery All About?
This book is a one-stop reference that will not only help you learn best practices for leveraging PodMatch to the best of your ability, but give you a closer look at the seemingly endless list of benefits available to you when you set up effective, value-driven podcast guesting campaigns. 
The contributions of all 19 co-authors in this book serve as a living, breathing blueprint of how we each of us utilizes podcast guesting to collaboratively create valuable content, foster lucrative relationships, attract new clients, network with like-minded professionals, showcase our expertise, tell engaging stories, and achieve authority status in our niches.
Each contributor shares their own experience and unique insights to provide you, the reader, with a well-rounded perspective on not only why you should be utilizing podcast guesting in your brand-building initiatives, but the foundational steps on how to do it well.
FROM THE BOOK'S BACK COVER: PodMatch is the premier site for entrepreneurs, thought leaders, and influencers to find some of the world's top podcast shows and be a featured guest. Inside this book, you will meet and learn from some of the most successful PodMatch Guest Members who are finding podcasts, getting booked, and sharing their message with hundreds of thousands of podcast listeners.
If you're building a brand, the podcast stage is the world's most powerful platform for making connections and telling your story. PodMatch Guest Mastery is a great first step to helping you proceed with impact.
And, if you're looking to learn more about being a better podcast host, the PodMatch community collaborated on a PodMatch Host Mastery book as well!
Important Links