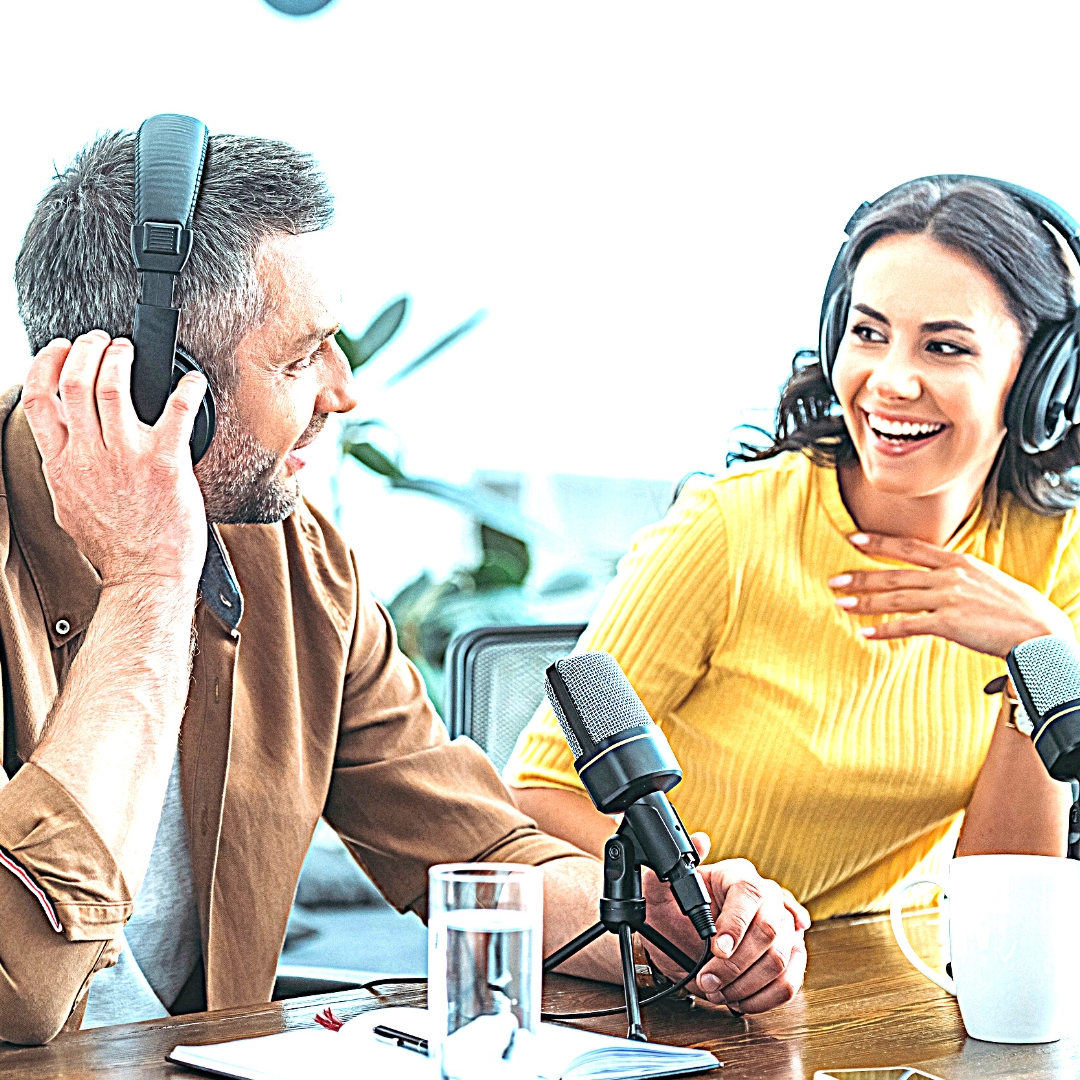 So you want to start a podcast.
Congratulations! Many, many brands and professionals in numerous niches are right there with you, looking for the best way to leverage the medium and bring quality content to their audience.
But make no mistake about it: podcasting is not easy. 
The barriers to entry may be small (you can get everything you need to podcast on Amazon and have a show live by tomorrow). But there's still a lot to understand about mindset, consistency, and the overall workload that's required to get a podcast off the ground.
Yes, many people start podcasts…
But only a small fraction of those people experience success with their podcasting efforts. The majority throw in the towel and cease production of their show (known in the podcast industry as "podfading") before achieving any significant breakthroughs.
In fact, according to this thread on Reddit, 90% of podcasts don't get beyond three episodes!
That's mind-blowing.
There's a number of reasons for that ugly stat, including but not limited to:
No set goals; no purpose

No plan of action

Not building a podcast around one's passions

Not understanding the work that's involved

Getting too consumed with low download metrics
To help you avoid becoming another statistic, I'm proud to present to you this Comprehensive Guide to Podcasting Success!
I recently collaborated with Jay Franze and Jenny Wick for a full series on podcasting tips, strategies, methods, and tactics on Jay's show, Franze and Friends, and compiled all the episodes here for you to consume. Of course, you can also subscribe to Franze and Friends on your favorite podcast app for future episodes of the show as well (highly recommend).
While these episodes were geared towards musicians and artists, the content wound up being 100% applicable to any podcast endeavor that lays in front of you…regardless of your industry, niche, or podcasting genre.
Enjoy!
*NOTE: All notes below are courtesy of Jay Franze and can be found on his website, jayfranze.com.
---
Episode 1: The Power of Podcast Guesting
During the episode, we discuss the benefits of being a podcast guest, such as increased visibility, credibility, and networking opportunities for artists. Jason shares tips and strategies for finding suitable podcasts to appear on, preparing for an interview, and making a lasting impression on the host and audience.
We also delve into the role of podcasting in today's media landscape and how it has become an essential tool for artists to reach a wider audience and build their personal brand. Jason discusses how he has leveraged his experience as a podcast guest to grow his career and develop his brand.
---
Episode 2: Studio Needs For Podcasting In 2023
We dive deeper into the technical aspects of podcasting, discussing studio set-ups, equipment, editing software, and distribution platforms. The team shares their top picks for microphones and recording software and their tips for editing and post-production.
Throughout the episode, Jason emphasizes the importance of authenticity and consistency in podcasting. He shares his experiences and lessons learned from his years in the industry and provides practical advice for aspiring podcasters looking to start their own show.
---
Episode 3: Stand Out With Creative Podcast Titles and Artwork
Jason shares his insights on the importance of a catchy title and eye-catching artwork in attracting listeners and building a brand identity. He also highlights the role of show notes in enhancing the listener experience and improving search engine optimization.
The conversation then shifts towards the use of AI in podcasting, with Jay and Jenny sharing their experiences and opinions on the use of AI for generating podcast titles and artwork. They discuss the benefits and limitations of AI and how it can be used to enhance the creative process and improve efficiency.
---
Episode 4: Mastering the Art of Remote Calls On Podcasts
With the increasing popularity of podcasts, remote calls have become a common way for hosts to connect with guests who cannot physically be present in the studio. Jason and your hosts, Jay Franze and Jenny Wick, share their insights on the different platforms that allow for remote calls, recording, and even streaming the episode.
We discuss the advantages and disadvantages of using Zoom, Skype, and Squadcast for remote interviews. We also explore the features and capabilities of each platform, such as the ability to record and edit the audio and the ease of use for both the host and guest.
As we delve deeper into the topic, we touch on the importance of ensuring high-quality audio for remote calls and the different tools and techniques that can be used to achieve this. We also discuss the challenges of conducting remote interviews, including dealing with technical glitches and ensuring the conversation flows smoothly.
---
Episode 5: Live Streaming, Editing, and Hosting Strategies
If you've been wondering how to take your podcast to the next level, this is the episode for you. Jason Cercone has a wealth of experience in podcasting and has helped many podcasters achieve success. He will share his expertise on live-stream podcast episodes, which can be a great way to engage with your audience and create a sense of community around your show.
We will also discuss episode editing techniques, which can make a massive difference in the quality of your show. Jason will be sharing his insights on making your episodes sound professional and engaging and ensuring that your content flows smoothly.
Finally, we will discuss different podcast hosting platforms and which are best suited for your needs. Jason will share his insights on other hosting platforms' pros and cons and which are the most reliable and user-friendly.
---
Episode 6: Maximizing Your Podcast's Online Presence
In this episode, we'll discuss the elements of a successful podcast website, including how to create a great landing page, what information to include, and how to optimize your website for search engines. We'll also delve into the world of social media, including which platforms are best for promoting your podcast, how to create engaging content, and how to leverage social media to build your audience.
Jason will share his insights and experiences from working with various podcasters. Whether you're a seasoned podcaster or just starting out, this episode is packed with practical tips and strategies to help you build a solid online presence for your podcast.
---
Episode 7: Podcast Growth Strategies
We start the conversation by examining the importance of having clear goals and identifying your target audience. Jason emphasizes understanding your listeners' interests and preferences and tailoring your content to meet their needs.
Next, we delve into the critical role of branding in podcast growth, exploring how to create a consistent, memorable brand that resonates with your target audience.
We also talk about the importance of engagement in building a loyal following. Jason shares tips on increasing listener engagement through effective call-to-actions and audience interaction.
As we move into the second half of the episode, we discuss the value of building an email list and gathering testimonials from satisfied listeners to showcase your podcast's credibility and quality.
Jason also provides valuable insights on leveraging industry events to network and promote your podcast and shares his thoughts on the benefits and challenges of podcast advertising.
Finally, we wrap up the conversation by highlighting the importance of consistency in building and maintaining your podcast audience, discussing best practices for creating a regular content schedule, and staying committed to your podcasting goals.
---
Episode 8: How to Monetize Your Podcast
In this episode, we'll dive into the different ways to monetize a podcast, from sponsorships and advertisements to affiliate marketing and merchandise sales.
We'll also discuss the importance of building an engaged audience and creating valuable content that resonates with your listeners. Plus, Jason will share his top tips and strategies for growing your podcast and increasing your revenue.
Whether you're a new podcaster looking to monetize your show or an established host looking to take your earnings to the next level, this episode is packed with insights and inspiration.
---
Episode 9: Optimizing Your Podcast Workflow
In this insightful conversation, Franze, along with his co-host, Jenny, pick Jason's brain on various aspects of podcast workflow management. They explore strategies for planning and organizing content, optimizing recording techniques, and implementing effective editing practices. Jason shares his expert advice on leveraging technology and tools to enhance productivity, ensuring seamless collaboration among team members, and meeting deadlines without compromising quality.
Throughout the episode, Franze and Friends also discuss the challenges podcasters commonly face in maintaining consistency and finding a balance between content creation and marketing efforts. Jason draws from his experience working with both seasoned and aspiring podcasters to offer practical tips on developing a sustainable workflow that suits the unique needs of each show.
---
Episode 10: Listener Q&A Part 1
In this special episode of the Franze and Friends show, we bring you the highly anticipated finale of our 10-part podcasting series. Join your hosts, Jay Franze and Jenny Wick, as they welcome a special guest, podcast strategist Jason Cercone, to answer all your burning questions about the world of podcasting.
Have you ever wondered how to create engaging content that keeps your listeners returning for more? Or maybe you're curious about the secrets to growing your podcast audience and reaching new listeners. Well, now's your chance to get expert advice and insights from seasoned professionals.
Franze, Wick, and Cercone have explored the podcasting landscape in-depth throughout this series, covering equipment, recording techniques, content creation, marketing, and monetization topics. But this final episode is all about you, the listeners!
---
Episode 11: Listener Q&A Part 2
In this special episode of the Franze and Friends show, we bring you the highly anticipated finale of our 10-part podcasting series. Join your hosts, Jay Franze and Jenny Wick, as they welcome a special guest, podcast strategist Jason Cercone, to answer all your burning questions about the world of podcasting.
We've received an overwhelming response from our dedicated listeners who sent in their questions, and Franze, Wick, and Cercone are ready to tackle them head-on. From practical advice on improving audio quality to strategies for engaging with your audience, no question is too big or too small.
Join us for an entertaining and informative discussion as Franze, Wick, and Cercone share their personal experiences, professional insights, and practical tips to help you take your podcasting journey to the next level. Whether you're a seasoned podcaster or just starting, this episode promises to be a valuable resource for anyone interested in podcasting.