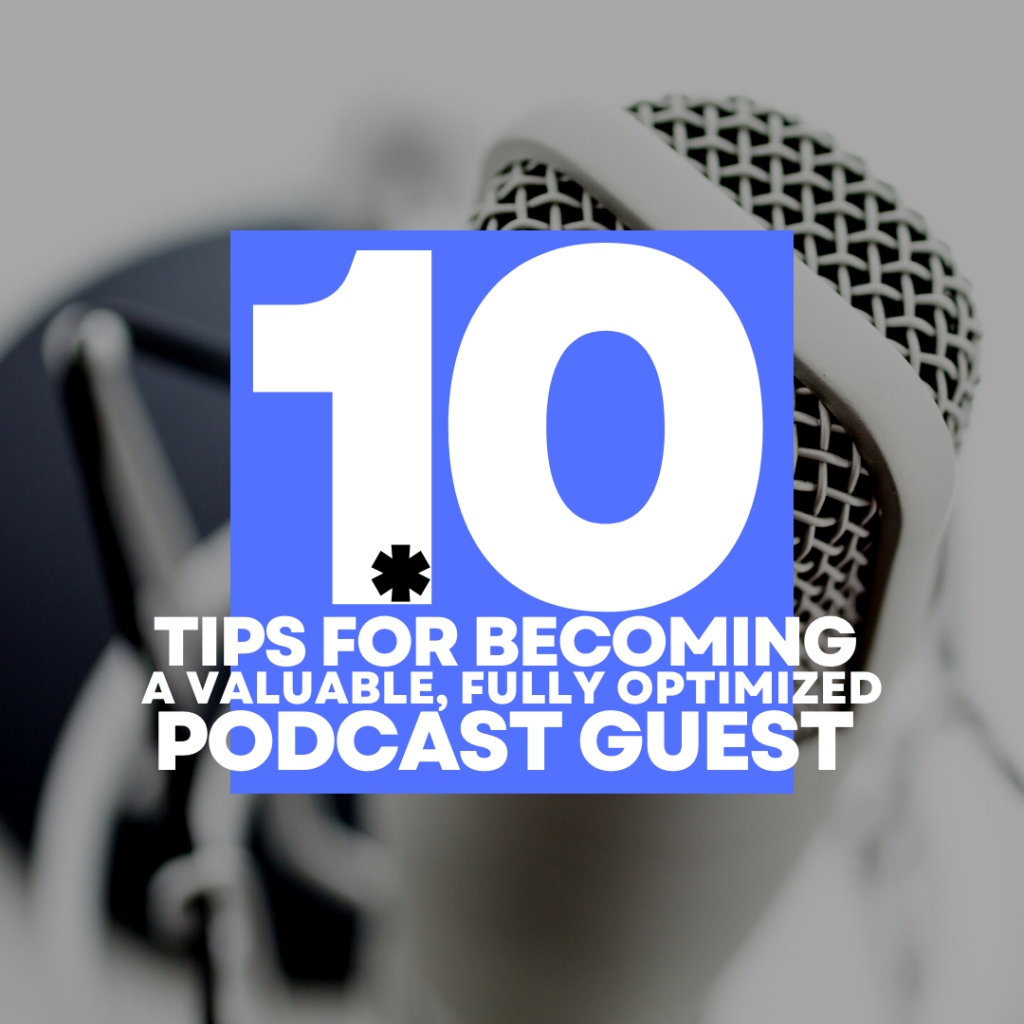 There's no denying that podcasts have gained full-on mainstream velocity. At this point, it's hard to imagine a world without them. Every day, people are turning to podcasts of seemingly endless genres for news, information, entertainment, and education. And thanks to the passive nature of podcasts, meaning they can be consumed while taking part in activities like driving, walking the dog, or working out and the message within can still be absorbed, more people are making their favorite shows a part of everyday life.
Think about the consumption of a podcast for a moment. For 30 minutes, 60 minutes, whatever the length an episode clocks in at, a listener has voices in their ear talking about a subject they're passionate about for the entire duration. Talk about impactful!
The great thing about the podcast platform is you can jump in and make a tremendous splash…without starting your own show. While launching a podcast is most definitely a valuable, innovative way to connect with your audience, it's A LOT of work.
But there's another way to be impactful in the podcasting space: by being a value-driven, provocative guest.
As podcasters strategize their next big show, they're constantly on the lookout for guests who can grab the mic, drop some serious value, and make an impact so big, the audience comes back for more.
You need to be that guest. Because when you are, you win, too.
When someone brings real value to your world, what's your first instinct? To seek them out for more value, right?
The podcast platform gives you the ultimate platform for showcasing your expertise, establishing your know-like-trust factor, positioning yourself as a resource and thought leader, and being someone who leads with value.
Your voice and your message on the right podcast can be the quintessential game-changer you've been looking for. And it all starts with Podcast Guest Optimization.

Being a guest on established podcasts that align with your mission, message, and brand philosophies is the best way to build presence today. It makes you an active contributor to the podcast platform and saves you all the time you'd invest building your own show.
Each time you join a podcast for a guest appearance, you get to make an impact on a new audience. And when you do, they'll seek you out because they want MORE!
Creating and executing a podcast guest marketing campaign is all about proper planning, clear expectations and vision, and proceeding with a game plan that allows you to maximize your time invested on the platform.
Do you want to maximize the power of podcasting without starting your own show?
Do you want to enhance your presence, put your product or service in front of people actively searching for what you offer, and position yourself as a thought leader in your space??
Do you want to be the guest that EVERY podcaster in your niche wants to feature because you bring the value to every single interview?!?
Then it's time for you to get optimized and learn the secrets to building a dynamic, innovative podcast guest marketing campaign.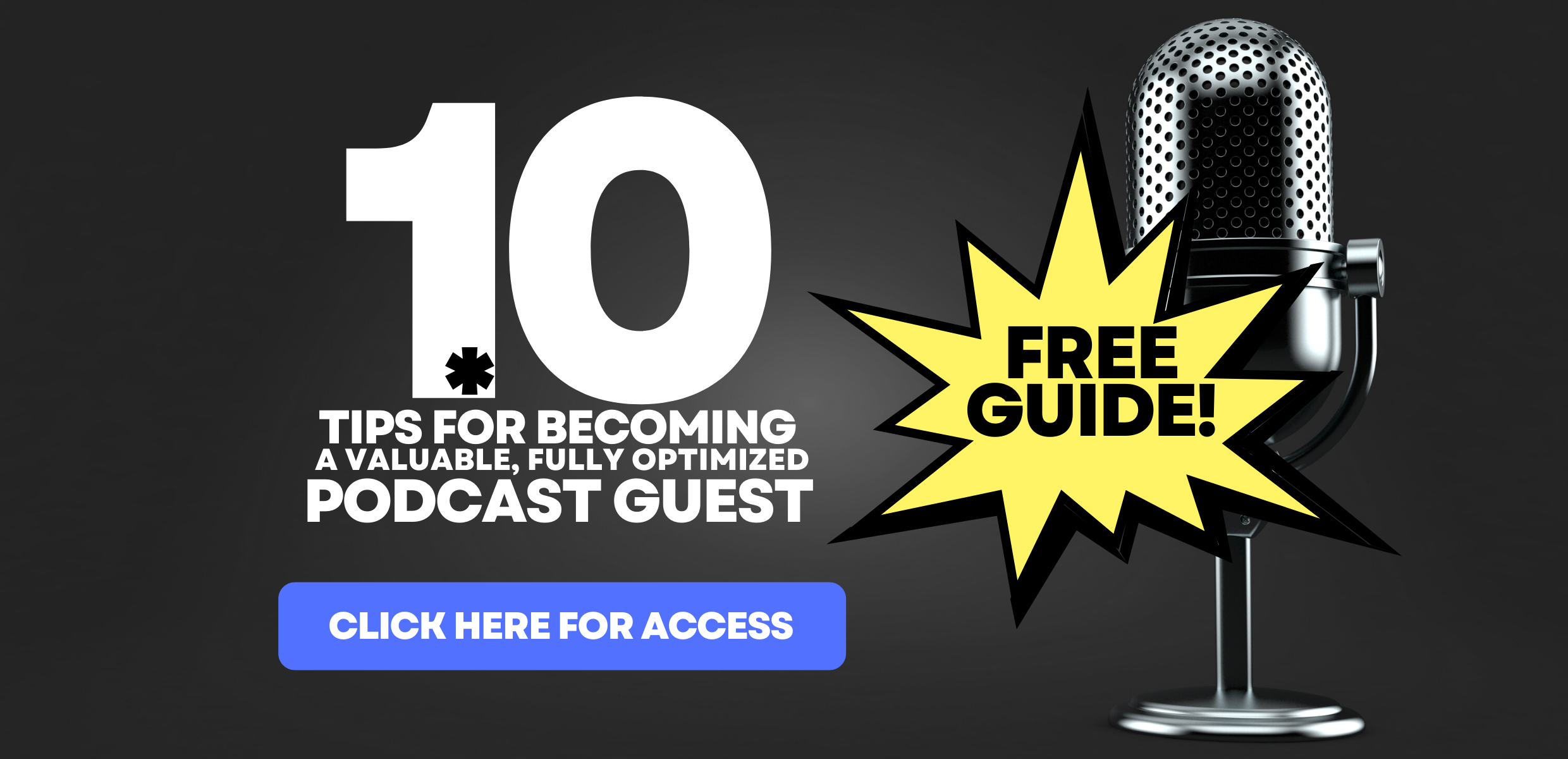 10 Tips For Becoming a Valuable, Fully Optimized Podcast Guest is a thorough, tactical blueprint that will help you construct your podcast guest marketing campaigns. This guide is designed to bring the key components of an efficient guest marketing campaign center stage so you can design your campaign, approach podcasts that make sense for your brand, and experience results once your interviews go live.
This blueprint takes you from the most important elements of Podcast Guest Optimization (making sure you understand the podcast platform and how it can serve you, setting proper expectations, focusing on quality over quantity, etc.) to crucial steps that will bring you closer to landing a guest spot on the podcasts you know fit your mission and message.
In 10 Tips For Becoming a Valuable, Fully Optimized Podcast Guest, you will learn:
Why setting proper goals and expectations for your guest marketing campaigns is critical

How to become a value-driven, optimized guest BEFORE you go on a podcast interview

Why an audience of 150 people can deliver better results than an audience of 40,000

Why most guest presentations suck and how you can do way better with relative ease

How to deliver a clear, succinct Call To Action that allows you to gauge traffic from each guest appearance you make

How to build relationships with podcast audiences BEFORE your interview takes place

And much, MUCH more!
10 Tips For Becoming a Valuable, Fully Optimized Podcast Guest is the first step in launching a guest marketing campaign that will serve your brand for years. That's right…years!
Podcast content is evergreen. That means a value-packed interview that goes live today could bring attention to you and your brand one month, six months, one year, FIVE years down the road!
Not many other mediums have THAT kind of staying power.
Podcast guest marketing is an innovative way to grow your brand and enhance your presence. But just like anything else, it needs to be done with purpose and with clarity. It needs to be done right.
Take the first step to doing things right…