Find Evolution of Brand On Your Favorite Podcast Platform
Spotify | Apple Podcasts | iHeartRadio | Amazon Music | Stitcher | Podchaser | Google
The Goods From Jeremy Slate
Top 3 Takeaways From This Value-Packed Conversation
Podcast Guest Marketing is not a form of "paid advertising." Being a guest on established podcasts is all about providing value, positioning, branding, and high-level networking

Do not get hung up on vanity metrics when seeking shows to guest on. Download numbers are irrelevant. So is audience size. Focus on the content and if it aligns with your mission, message, and values, and determine if you can make a significant impact on that audience when your interview goes live

Being a guest on podcasts is excellent for search engine optimization (SEO). Your link will appear on highly authoritative websites, thus pointing people towards your website. The more links you have to your site, the more authority it will gain, thus helping boost your authority score and overall organic rank
Show Notes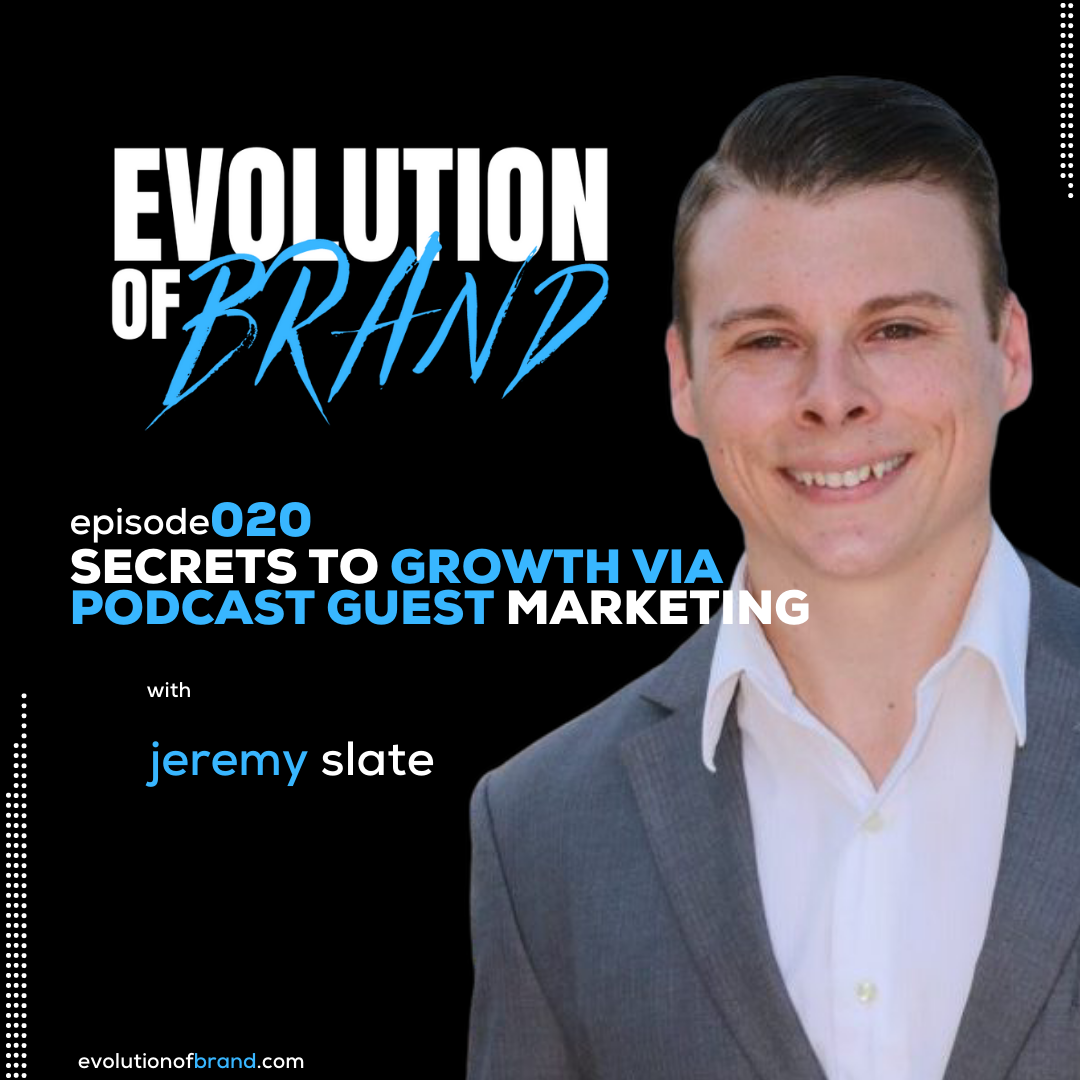 1:34 – A moment in Jeremy's life when he listened to himself instead of what others told him was right and it led to a major accomplishment
3:11 – Jeremy's experiences in the network marketing space
7:19 – How Jeremy developed his podcast and his overall skill set in the space
– Started with a show called "Rock Your Life" in 2014 and, as Jeremy puts it, it was "the worst thing that any human being has ever created"
– From there, started the Create Your Own Life show and continues to host that show today
– Jeremy made a list of the top 100 people he admired and reached out to them to join him on his show. Many times, we fear the silence or the rejection and, because of that, we miss a lot of opportunities. Don't be afraid to take chances!
12:00 – What is Command Your Brand and how does it help professionals and leaders succeed in the podcast space?
– Started as a fully done-for-you podcast service – creating, producing, launching, and marketing podcasts
– Shifted focus to helping people find the right podcasts to make an impact on. They became the PR Firm of the Podcast Space
14:16 – Challenges that Jeremy has overcome with his podcast and helping others leverage the podcast space as a guest
– Do not go into podcast guest marketing thinking it's "paid advertising" and JUST a lead generator. Yes, you'll get business from it. But guest marketing is all about positioning, branding, and high-level networking
– With his podcast, getting comfortable with his voice and doing some things to differentiate his podcast so it would stand out and scale. He focused on having great conversations and talking about things he cared about
– Focus continued to shift to "talking about things that matter." Having that type of value in your content will ensure people will gravitate to, consume, and become an advocate for your content
17:30 – A major problem Jeremy solved in the evolution of his brand that added value to his community
18:13 – What aspects of a podcast should you look at when determining if it's the right show to make a guest appearance on?
– Eliminate vanity metrics from the conversation immediately! Download numbers don't matter. Being on the biggest podcast in the world won't help. Focus on niching down and finding podcasts that align with your mission and message. Look for the best audience fit so they respond to your value and your Call To Action
– Find shows where you can make an impact!
– Don't disqualify smaller podcasts because a) you could miss out on a great conversation AND opportunity to impact the audience, and b) if that podcast takes off, you're part of that portfolio and stand an even bigger chance to get discovered!
– This same principle applies to starting your own podcast as well. Have a long-term vision and be prepared to put in the reps
21:38 – What are some more distinct advantages to being a guest on established podcasts?
– Branding positioning
– Clarity on your own story and messaging (the more you tell your story, the more clear you become on it)
– Networking
– SEO Benefits
24:43 – Are there any trends that tell how many guest appearances it takes to find success in podcast guest marketing?
– Jeremy has discovered that success is more related to time versus number of episodes
– Clients they work with for a full year have more success because people listen to podcasts over time. Also, because podcasters plan ahead, an episode you record today may not go live for a few months. Spending more time in your campaign will allow the results to unfold in a positive way
28:13 – Is it better for a brand to start their own podcast or be a guest on podcasts?
– If you're an established organization that's been around for a long time and people know about you, being a guest on established podcasts can help keep the awareness up
– If you're a newer and/or smaller organization, start your own show to build your audience and amplify your message. But, at the same time, use podcast guest marketing to go on other podcasts similar to yours to amplify your message and attract new listeners
– Have realistic expectations of what you want to accomplish in the podcast space, regardless of whether you start your own show or establish yourself as a high-quality guest
29:41 – Focus on how you start your day
– Start your day with a win – gym, cold shower, focus on yourself – and your day will go much better
– Let's talk about cold showers!
– "You will never be more awake than you'll be after a cold shower." — Jeremy Slate
– Helps burn more body fat
– Very good for the immune system