Find Evolution of Brand On Your Favorite Podcast Platform
Spotify | Apple Podcasts | iHeartRadio | Amazon Music | Stitcher | Podchaser
The Goods From Heather
Learn more about Heather and Certify My Company at certifymycompany.com
Email your diversity certification questions and inquiries to info@certifymycompany.com
Connect with Heather on: Facebook | Instagram | Twitter | YouTube | Linked In
Top 3 Takeaways From This Value-Packed Conversation

Diversity Certification has many advantages and can help your company generate more opportunities and revenue along the way

Many company leaders walk away from the application due to its complexity. This is where a partner like Heather and Certify My Company can help you complete the process with efficiency and confidence

Companies that are able to easily identify their certifications will make themselves much more desirable to consumers who are shopping intentionally
Show Notes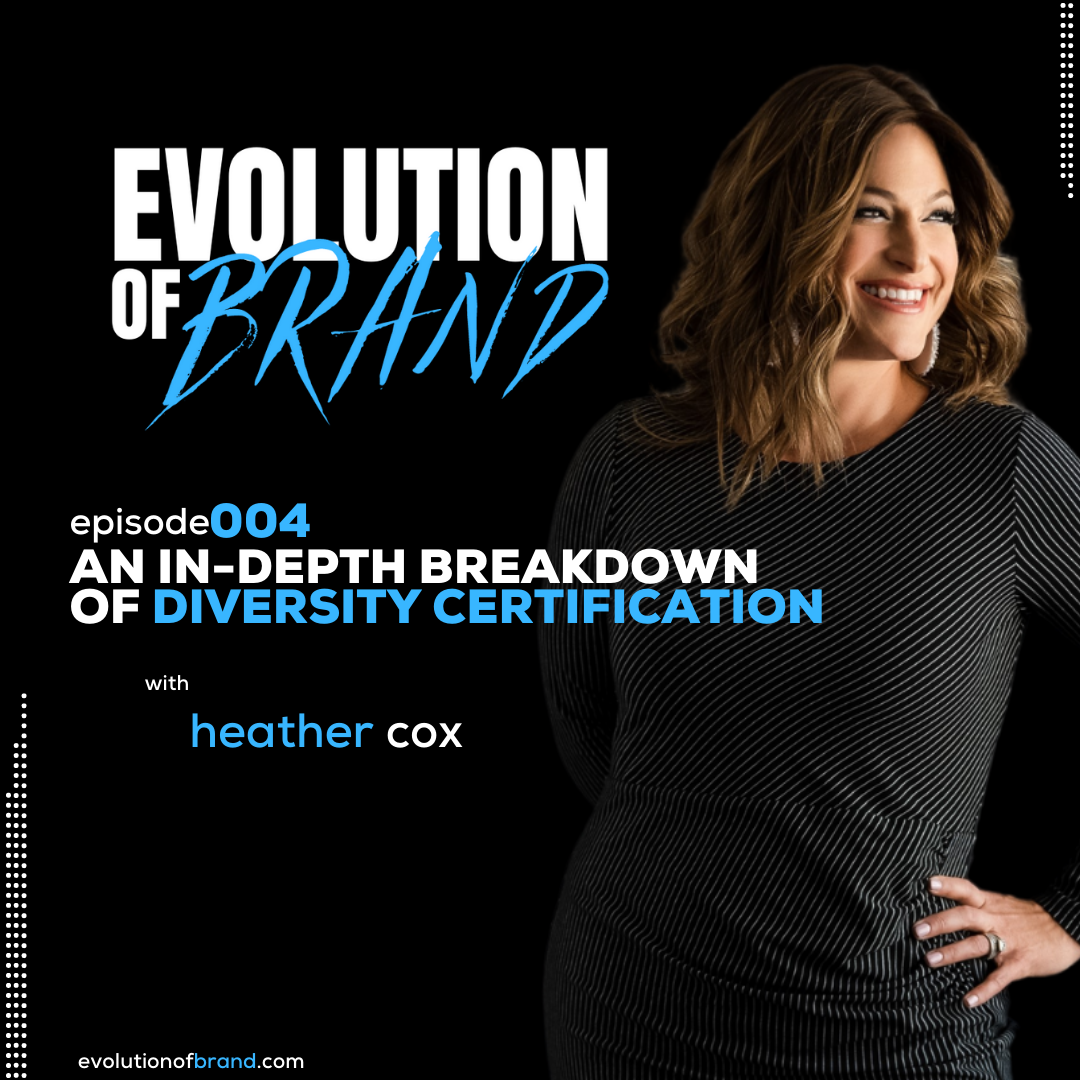 1:22 – A moment in Heather's life where she listened to herself instead of what others told her was right and it led to a major accomplishment
2:54 – How Certify My Company grew, how she expanded her client base, and the one major transition that allowed her brand to explode
6:51 – What is Diversity Certification and why is it valuable to eligible businesses?
– Five main demographics that can get certified as a diverse-owned business: woman, ethnic minorities (Black, Asian Indian, Asian Pacific, Native American, Hispanic), LGBTQ, Veterans and Service-Disabled Veterans, and Disability-Owned
– There are many certifications available to companies who fall into one of these categories. Certify My Company evaluates each company and determines which certification will give them the most return on their investment
– A Wal-Mart study found that 90% of women would purchase a shampoo that was easily identified as "woman-owned"
– A Wine Intelligence study found that 90% of women would purchase a wine from a company that was easily identified as "woman-owned" as well
– In short, diversity certified companies make more money!
– If 2020 had a positive, it made people more aware of small businesses and led more people to support those businesses
14:19 – Why do so many companies overlook these certifications?
– Many business leaders simply don't know about it. There is ZERO DOWNSIDE to being certified
– Some leaders think they're putting themselves "in a box" by certifying themselves
– Having your certification opens up new marketing opportunities and helps consumers who shop more intentionally, a practice that's growing stronger by the day
– The certification process can be challenging, which is why Certify My Company exists. The application is not easy and has many moving parts, leading to many business leaders tapping out in the early parts of the process
21:51 – Are companies finally making a true conscious effort to emphasize diversity within their organizations?
24:48 – Success stories that have come to life because company leaders took the initiative to get certified
28:36 – How does a company know they're eligible for certification?
– Eligibility requirements are the same across the board. The only difference is that the demographic changes
– Company must be 51% owned, operated, and controlled by a woman, minority, etc.
– Does a female, minority, etc. run the company on a day-to-day basis and does she have the highest ranking title per the governing documents of the corporation (by-laws)?
– Per your governing documents, control of the company has to fall to the demographic you're seeking to certify
32:45 – What are you in for if you attack the certification process without the assistance of Certify My Company?
– The average time investment of doing the certification process unassisted is 26 hours
– The average time investment of doing the certification process with the assistance of Certify My Company is 2 HOURS!
– Having professional assistance in this area not only gives you the benefits and advantages of being certified, it literally saves you a day's worth of time in the application process
34:32 – After you get certified, what comes next?
– What is Diversity Masterminds?
– How do you ensure you're getting the most out of your certification?
35:57 – How will continued emphasis on Diversity, Equity, and Inclusion impact the growth and evolution of companies going forward and what should leaders do to ensure it continues getting the attention in needs?