Find Evolution of Brand On Your Favorite Podcast Platform
Spotify | Apple Podcasts | iHeartRadio | Amazon Music | Stitcher | Podchaser | Google
The Goods From Laura Kelly
Top 3 Takeaways From This Value-Packed Conversation
Attacking issues with your income and revenue early will lead to clarity, balance, and sanity within your business. The longer you put things off, the harder the issues become to manage and could potentially lead to worse problems in the future

Outsourcing important initiatives in your business will free up more time for you to spend in your zone of genius

Establishing a system to manage income and revenue at the earliest stages of your business will position you to find success sooner. It will also help you identify key sales trends, allowing you to pivot where necessary
Show Notes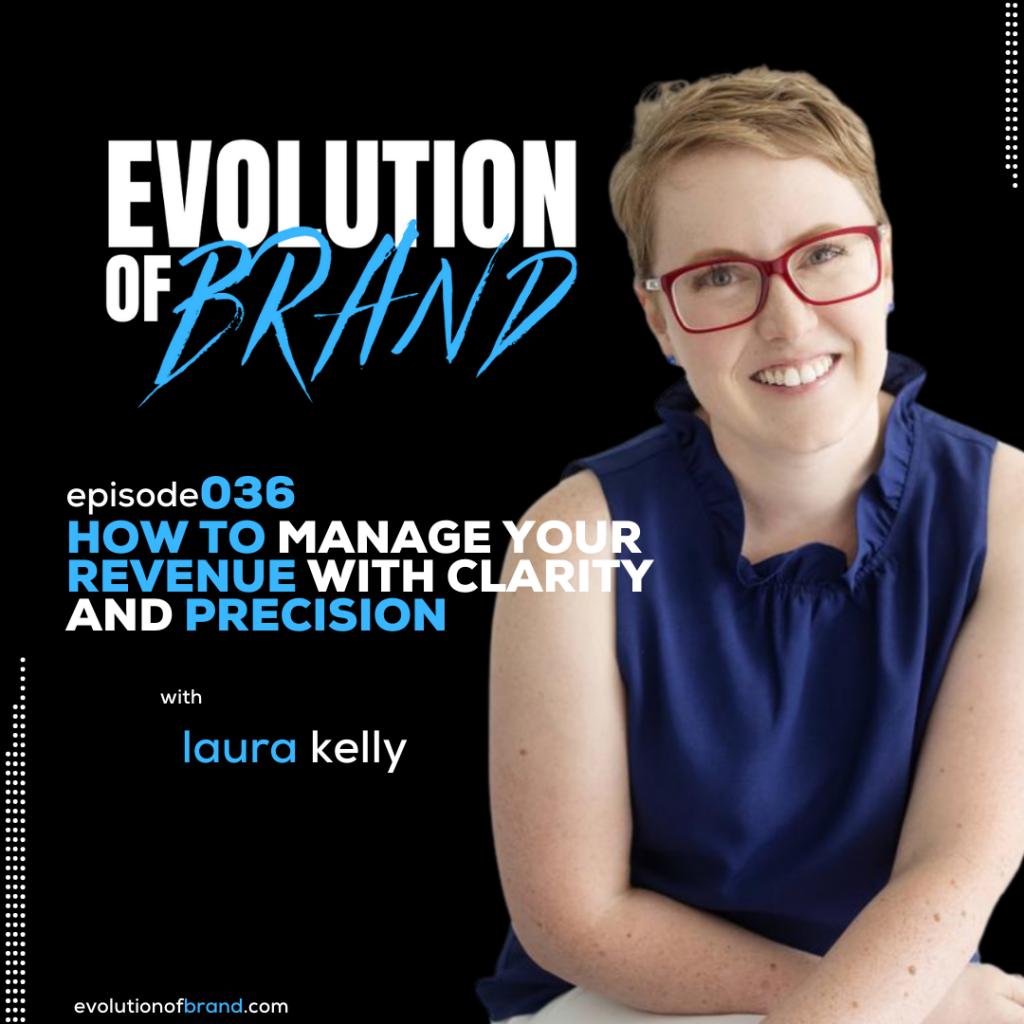 1:21 – A moment in Laura's life when she listened to herself instead of what others told her was right and it led to a major accomplishment
2:28 – How Laura took her years of experience and applied it to the launch of TulaBooks, a company that brings balance to your business by helping you manage revenue and bookkeeping
6:12 – The importance of outsourcing important initiatives in your business that aren't in your zone of genius
– If bookkeeping isn't in your wheelhouse, outsource it to an expert
– Outsourcing items that don't speak to your strength will get you out of the weeds and give you more time to focus on items that are your specialty
9:47 – Are you creating a business that will truly provide you freedom or are you creating a job that limits freedom?
– You need to be intentional with how you grow to ensure you're setting yourself up for a freedom lifestyle in the long run
– Many entrepreneurial ventures fail because of a lack of intentionality – people see and hear others talking about all the freedom they've gained from running their own business and, if they're not experiencing that, it's easy to say "this sucks" and close shop before potential can be tapped
12:01 – Laura coined the credo "Accountants with heart who merge numbers with soul." This is a very humanistic approach to bookkeeping and brings a new layer to this initiative
– Laura and her team bring empathy to their client work
– This helps put their clients at ease as they hold their hand and help them do things right
17:09 – Guidance that Laura provides that informs businesses why they need to put emphasis on their finances from day one
– If you tackle something early, the issue doesn't become as big. If you keep putting it off, the fear (and the issue) grows
– Set up systems to manage revenue activities early. Don't wait!
– When you address things early, you'll learn things about your business that will aid in making improvements and pivots
23:07 – How does a fresh brand get started with building a solid infrastructure right from the start?
– Open a business bank account that's separate from your personal account
– How are you going to track your numbers? Spreadsheet, Wave, Freshbooks, QuickBooks, etc. Get into a system like this as soon as possible because it brings clarity early
– Implement a system and strategy to track your cash flow
26:00 – What should an established brand do to ensure their house is in order with their bookkeeping?
– Book an intensive call with Laura at TulaBooks!
– Run a reconciliation within your bookkeeping software (QuickBooks) to match up your business transactions with what's in your system
– Connect third party tools that you use to track sales (Shopify, etc.) to your QuickBooks for more superior tracking
– If you identify problems from your revenue evaluations, seek help early to ensure things don't spiral too far out of control
29:22 – What is a brand's practices are serving their growth? Is there more they can do or should they not rock the boat?
30:56 – Long-term issues you may face if you don't manage your finances properly and solutions TulaBooks can offer you
– "You don't know what you don't know." Seek clarity on issues so you aren't clouded by them
– Potential tax filing issues
– Hard to grow and scale if you don't have clarity around your income
– Help from the smallest issue right up to your greatest struggle is what TulaBooks is all about!