Find Evolution of Brand On Your Favorite Podcast Platform
Spotify | Apple Podcasts | iHeartRadio | Amazon Music | Stitcher | Podchaser | Google
Episode 058 Sponsor
Episode 058 of Evolution of Brand is sponsored by Bonjoro! Discover how you can connect with leads, customers, and colleagues in a unique, dynamic, impactful way with personalized videos. Click here to learn more
The Goods From John DeMato
Top 3 Takeaways From This Value-Packed Conversation
No matter what space or niche you exist in, you are in the business of building relationships. And powerful imagery can tell current and potential customers/clients who you are, who you serve, problems you solve, how you solve them, and why you do what you do

While heavy emphasis is placed on video in today's digital world, eye-catching imagery remains equally as important. Even if a video is short-form, it takes longer to consume than a powerful image

In order to have the best experience with a professional photographer, be sure you like them so you have rapport! If your photo sessions lack rapport, you won't be present and your images simply won't turn out the way you want. Photographers do more than just shoot pictures, so make sure you like who you're working with so they can bring the greatest images possible to life
Show Notes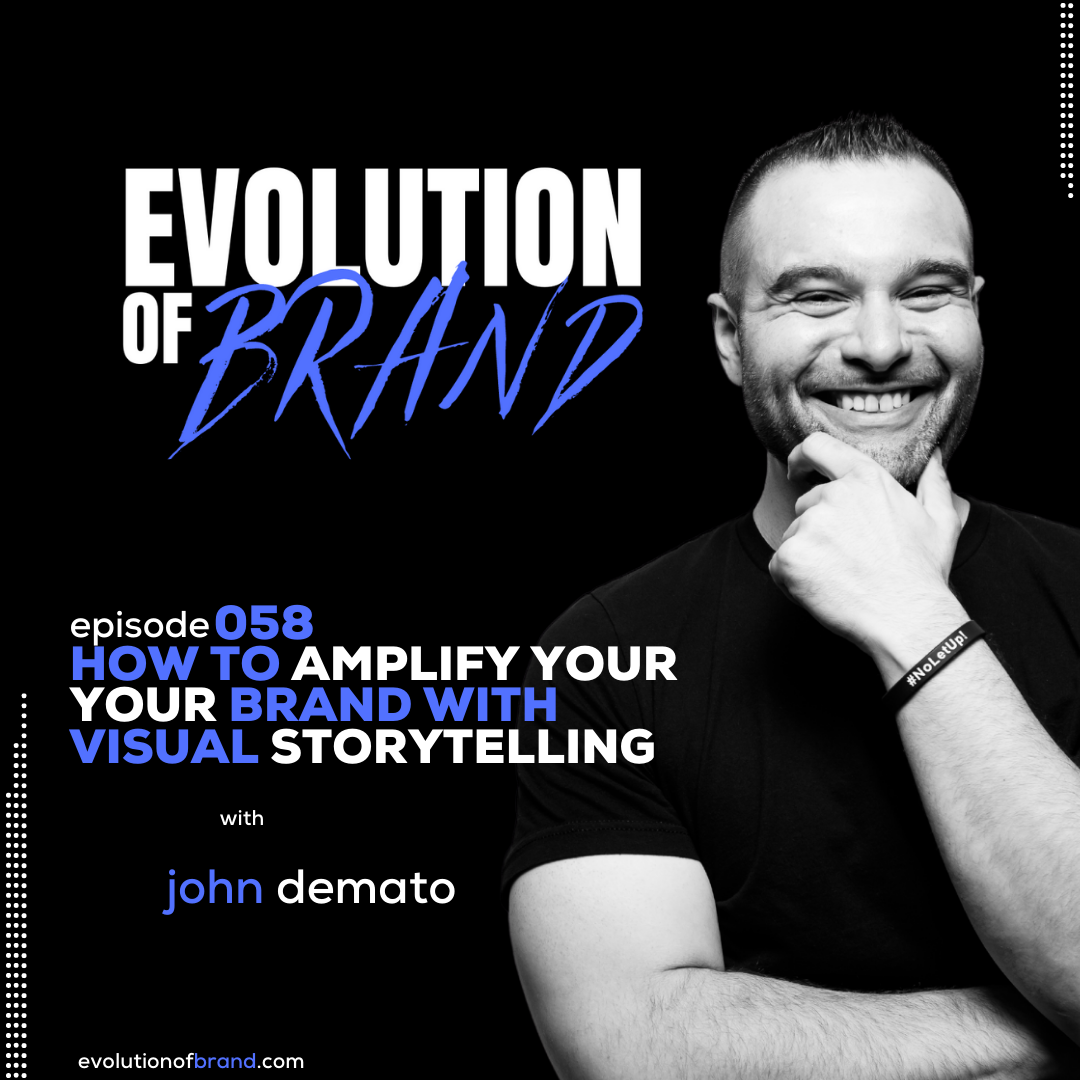 1:48 – A time in John's life when he listened to himself instead of what others told him was right and it led to a major accomplishment
2:48 – How John's professional career got started and happenings that unfolded as he evolved over the years
5:29 – How simple things can come across our paths and completely transform the trajectory that our lives are headed…
– For John, it was a photography class taken as an elective for an easy grade that sparked his eventual career path
– For me, I rekindled my love for radio when I started podcasting 12 years after hosting my radio show in college
– Are you willing to take the step, as scary as it may be, that changes your life and makes you happy when you reach the end?
7:22 – Why clear, powerful imagery is vital to brand-building practices at every juncture
– We are visual beings. We make meaning from the visuals we see
– No matter what space or niche you exist in, you are in the business of building relationships. And powerful imagery can tell current and potential customers/clients who you are, who you serve, problems you solve, how you solve them, and why you do what you do
– This can be visually illustrated through a variety of photos and images on platforms where your target audience is spending time
– Imagery provides an entry point into your life so customers feel the sense of connection they need to take the next step to becoming part of your world
– What is the "hook" that's going to catch someone's eye and begin to get them invested in your brand? Almost exclusively, that hook is visual
– To take it beyond catching someone's attention, powerful imagery also positions you as an authority in your space when they're shared with consistency and artistry. When done correctly, this imagery will tell the story that you're worth every penny that you charge
11:32 – What are major gains you'll experience when you incorporate eye-catching photos into your practices?
– The ability to create and tell better stories
– Visual punctuation
– The ability to establish and maintain your know, like, and trust factor
– When your photography looks aged and dated on your website, it's going to impact the impression people have of you and your brand
18:27 – Is there more emphasis put on videos over still images?
– To some degree, yes. But that doesn't mean visual images don't still hold vital importance
– A video takes longer to consume and digest, even if it's short form like we are seeing more of today. However, a photo only takes seconds to consume and digest and can help someone arrive at a decision to move forward to with communicating with you at a faster rate
– You need a healthy mix of photography AND video in your brand
– Having a mix of both will help you establish that ever-so-important authority in your niche
22:47 – What are some aspects you should be aware of before you ever step foot in front of a camera?
– Ask yourself, "How do I serve? What are the aspects of my personality that I want to project to my audience?"
– Identify the gaps between what you want and what you have out there already. You may discover some of the items you have out there are exactly what you want while other items need to be replaced
– "Is this the best image that's going to enhance the copy that accompanies it?"
24:46 – What's the biggest no-no when it comes to creating imagery?
25:21 – A major problem John solved in the evolution of his brand that added value to his community
28:20 – The Four Visuals that John established and why each plays a critical role in visual storytelling
– Visual Credibility: reaffirms your knowledge and expertise with current and potential customers
– Visual Punctuation: ensuring imagery accompanies stories in a powerful way
– Visual Variety: creating a portfolio of imagery that keeps things fresh and avoids redundancy
– Visual Storytelling: clarity with your imagery. Be intentional and focused with how you share your images
32:52 – Are there ways entrepreneurs and professionals can do carry out the process of visual storytelling if they're not in a position to hire a professional photographer to assist them?
36:45 – How can someone maximize their investment in working with a professional photographer?
– Be sure the intention is to actually use the photos!
– Be on the same page as your photographer
– You need to like the person behind the camera so you can have rapport