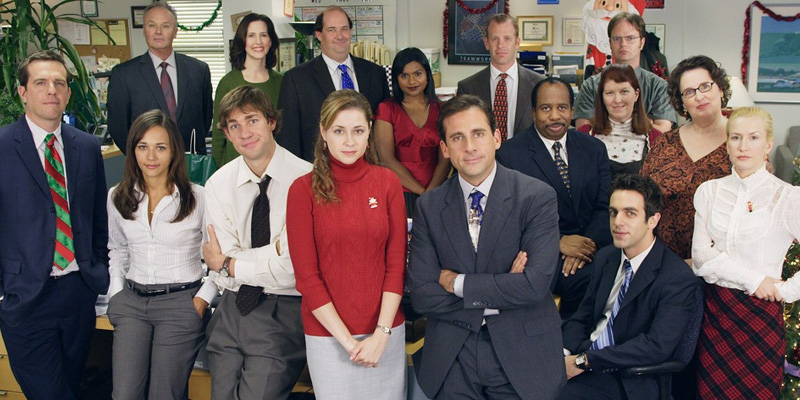 When you think of the former hit NBC comedy The Office, you're normally not drawn to the element of customer service. After all, this is a sitcom. It's the colorful characters that capture your attention. Like pun-drunk Regional Manager Michael Scott turning the mid-range paper supply office into his own personal counterproductive improv. Or "there's-one-in-every-office," yes-man Dwight Schrute claiming superiority over the rest of his co-workers and going the extra mile to fulfill his fictional role of Assistant to the Regional Manager.
Perhaps it's the payoff to the suspenseful three-season relationship build for Jim and Pam, or any of the other random Office romances that heated up the Scranton Business Park. Or Ryan defrauding the company in an attempt to legitimize a failing website. Whatever it is, there's no denying The Office changed the way the situation-comedy is made. They proved you don't need a laugh track to "get over" as funny.
And thanks to Netflix, I recently binged the series for the 107th time and caught an additional layer to one the best TV shows of all time.
Underneath the comedy and the storylines is a business model that actually works. Despite evidence that would make you think otherwise, like Michael holding diversity meetings, funerals for birds, and several other non-work related activities, Dunder Mifflin's Scranton branch was the most successful and financially viable office in the company.
Why? Because they created an incredible customer experience.
Here are 5 customer experience lessons that can be taken from The Office…even if a couple of them happened by accident:
1) What you lack in size, make up for in customer service. This credo of Michael Scott speaks volumes. It doesn't matter if you're the biggest company in the world or just opened your doors this morning. Providing an excellent customer experience should always be a cornerstone of your business efforts. Customers will remember their encounter with you and keep coming back if you treat them well. This may sound like a no-brainer, but you'd be surprised how often the ball is dropped in this area. Utilizing social media platforms to the best of your ability allows you to directly connect with your customers and build an efficient experience machine that translates to your operations. Once you reach that point, show you truly care for your customer and they'll be loyal to you going forward.
2) Have a good time…as long as the work is getting done. Just about every episode of The Office made you wonder when they were accomplishing ANYTHING productive. However, Office jokester Jim Halpert managed to pull a prank on Dwight, organize the first-ever Dunder Mifflin Olympics, and close two sales at lunch.
The point is, it's 100% OK to enjoy what you're doing and have a good time…so long as you ensure your work is getting completed. Shirking your responsibility to your customer by having TOO good of a time can lead to disastrous happenings down the road.
3) Give away a little to get a lot in return. In one episode, Michael placed five golden tickets a la Willy Wonka in five boxes of paper that gave a 10% discount to the lucky recipient. However, Michael did not limit the tickets to one per customer and all five were found by Blue Cross of Pennsylvania, Dunder Mifflin's biggest account. Now, Dunder Mifflin is forced to give them a 50% discount, which, as accountant-extraordinaire Oscar explained, "That's going to hurt."
Michael's head was in the right place, but his implementation was off-target. However, what started as an impending disaster turned into a victory as Blue Cross decided to make Dunder Mifflin their exclusive office supplier for all their office supply needs! This is proof that a little can go a long way. Customers appreciate small gestures that show you genuinely care for them. Give them some flexibility (to an extent) and support their buying decisions and they will become a customer for life.
4) When you make a mistake, go public! When Quality Assurance Rep Creed Bratton skipped his weekly quality spot check at the paper mill, then explained "the one year I don't do it, this happens," Dunder Mifflin went into crisis mode as a large shipment of paper went out with an offensive image of two lovable cartoon animals "doing it." Instead of ignoring the problem, Michael did everything in his power to rectify the problem, including a Public Service Announcement that no one would ever see and inviting the Scranton Times in for a press conference that no one attended.
With social media at the fingertips of everyone on earth, customers have a platform to share any displeasure they may have. Instead of hiding, you have a great opportunity to address the problem publicly and explain how you're going to fix it. The fact that you care enough to address a problem and do everything your power to rectify it will carry a lot of weight in customer retention.
5) People never go out of business. Despite Dunder Mifflin getting slammed from all sides by the likes of Office Max, Office Depot, Staples, and other paper supply chains, Michael Scott kept his office viable because he realized, regardless of his product, he's in the PEOPLE BUSINESS. And, as Michael says, "People will never go out of business."
You have an opportunity to do great things. But greatness can't come until you realize the service you provide your customers is Priority One…ahead of any product or promotion you have. If you treat your customers like human beings, provide the information they seek, listen to their concerns and solve their problems, you'll build a customer base that will help you overcome the toughest of obstacles.