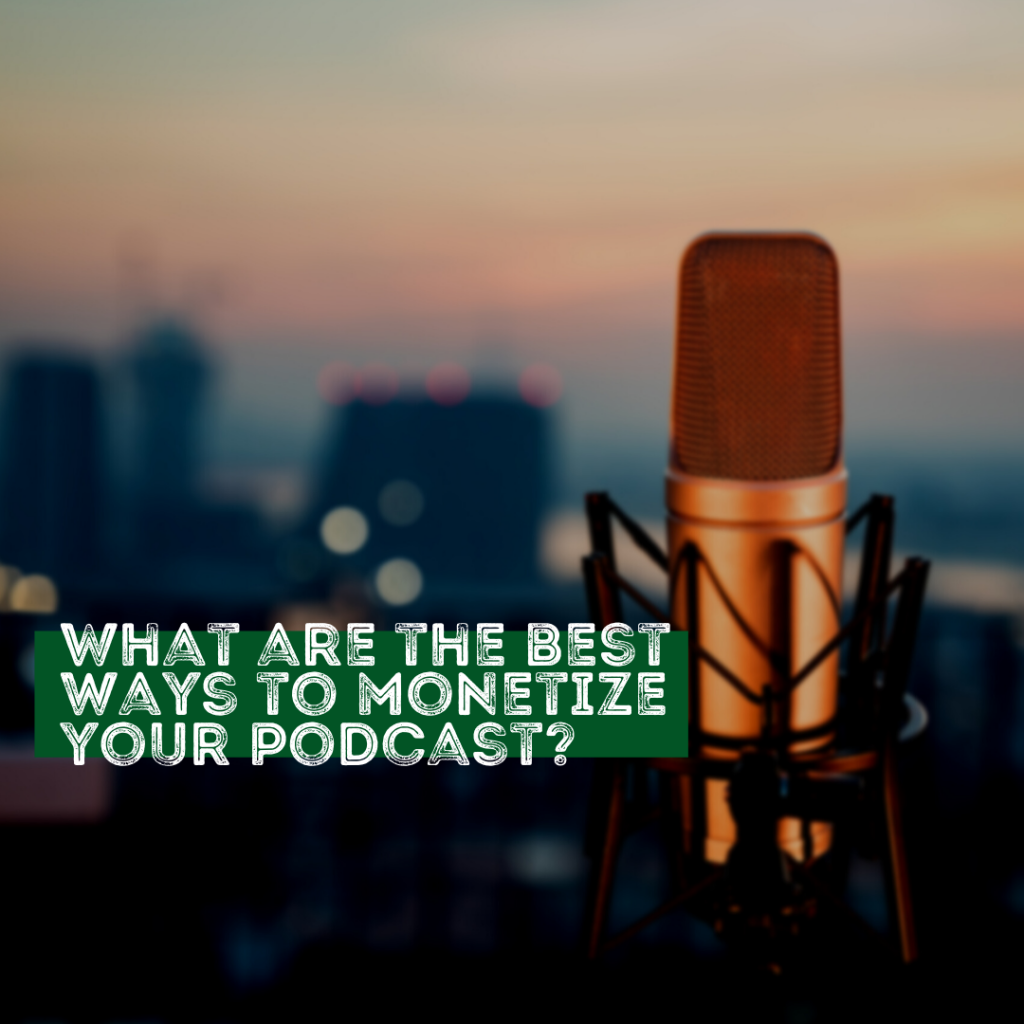 Finding a way to generate revenue from your podcast is a big motivator for podcast creators. However, it's important to understand that podcasting is not a get rich quick scheme.
It's important to crush the thought that millions of dollars are going to fall in your lap just because you launch a podcast.
Like so many digital initiatives, some people think this is possible. And when it doesn't happen quick, these people move on to something else and try the same thing…and get the same result. It's a vicious cycle.
That said, there are definitely ways to generate revenue with your podcast. There are three important points to keep in mind as you add monetization strategies to your efforts:
Focus on delivering value every episode you publish. This will make monetization easier as you grow.

Be patient and deliberate with your strategies. Don't get discouraged if an initiative doesn't work right away.

Put emphasis on building your audience. The more listeners you have, the more opportunities you have to monetize.
So what are the best ways to monetize your podcast? There are a lot of routes you can take.
One of the easiest ways to get started at the very beginning is to establish some affiliate relationships. This is when a brand offers a commission for any purchases that were generated from your advertising efforts.
EXAMPLE: I'm an affiliate of Buzzsprout and any time someone signs up for their service using this link, I get an affiliate commission and they receive a $20 Amazon gift card. Everybody wins. Buzzsprout also has a few other affiliate opportunities built right into their program, making it easier to get started. But there are always brands out there willing to pay a commission for you sending business their way.
YOU MAY ALSO LIKE: Best Practices For Strong Guest Communication
Another strategy is to ask your audience for donations. I've never personally done this, but if you want to explore this potential path to revenue, you could supply your PayPal or Venmo info or set up a GoFundMe page.
A popular way to monetize your podcast content is to set up a Patreon account and offer exclusive content for your audience. You can tier your content on various membership levels and give your audience additional material to consume. In order to gain access to said content, your listener will need to pay a small fee for it. If you provide solid value through your free content, you'll make that decision much easier for your listener.
Of course, the most common and popular (and difficult, in my humble opinion) way to monetize your podcast is to sell advertising packages to other brands. In order to do this, you'll need to have download numbers that justify a company investing in ad space on your show. If they're not going to reach a significant audience with their message, they won't see a return.
One thing to keep in mind when you execute this strategy: reserve your ad space for brands that are relevant to your audience. If you have a show that offers financial advice, running an ad for sporting goods most likely won't resonate. Listeners will tune out or fast-forward the ad altogether, your advertiser will not be happy with the results, and they won't come back to advertise again.
Selling advertising spots on your show is where the patience I mentioned before comes into play. Make sure your audience is large enough to incorporate this strategy into your practices.
You can also offer your products and services to guests who appear on your show. I don't recommend hard-selling them, especially when they've agreed to take time out of their schedule to appear on your show and help you create something great for your audience. But through the relationship-building experience your podcast provides, you may find collaboration opportunities…or they may be in need of what you offer. Be sure to maximize the opportunity if it presents itself!
A more indirect way to monetize your podcast is to create and sell merchandise. Not only is this a great monetization tool, it's a smart way to market your podcast, too. T-shirts, hats, keychains, stickers, hoodies…it's all fair game and a spectacular way to amplify the awareness of your podcast plus generate additional revenue from your efforts.
For brands using a podcast to amplify their message and grow, producing valuable content that engages the audience and solves their problems is the best monetization strategy you can utilize. If you do your job correctly, your listeners will become customers. Plus, they'll become brand advocates. That type of engagement is priceless and can lead to many long-term gains for your brand.
There are more options you can explore. I came across an informative article on podcast monetization strategies from our friends at Castos. Click here to discover their recommendations.
Whatever strategy, or strategies, you plan to implement, be sure to plan accordingly for how you want to execute your plan. And…move forward with patience. If your efforts don't pan out immediately, make adjustments where necessary, but don't give up on the approach altogether.
Monetization will happen if you provide value…so always keep that as your primary focus.
I covered this in Episode 114 of Pod Theory. You can listen below and subscribe to the show wherever you listen to your favorite podcasts!