Find Evolution of Brand On Your Favorite Podcast Platform
Spotify | Apple Podcasts | iHeartRadio | Amazon Music | Stitcher | Podchaser | Google
Episode 052 Sponsor
Episode 052 of Evolution of Brand is sponsored by Guest Accelerator! Discover how to build your brand and enhance your visibility as a fully-optimized, value-driven podcast guest today. Click here to learn more
The Goods From Terry Begue
Connect to Terry, his book, his course, and much more at

terrybegue.com
Top 3 Takeaways From This Value-Packed Conversation
Listen to your customers and show them the respect they deserve. In order for your brand to grow, you need customers who are genuinely connected to you. The only way to make that happen is to deliver an experience that wows them AND puts you in a position to be recommendable

Having a firm grasp on "the abilities (likability, believability, trustability, and WOWability)" will provide a framework on which you can build all of your customer experiences and become an asset for everyone you do business with

Developing people skills is free!
Show Notes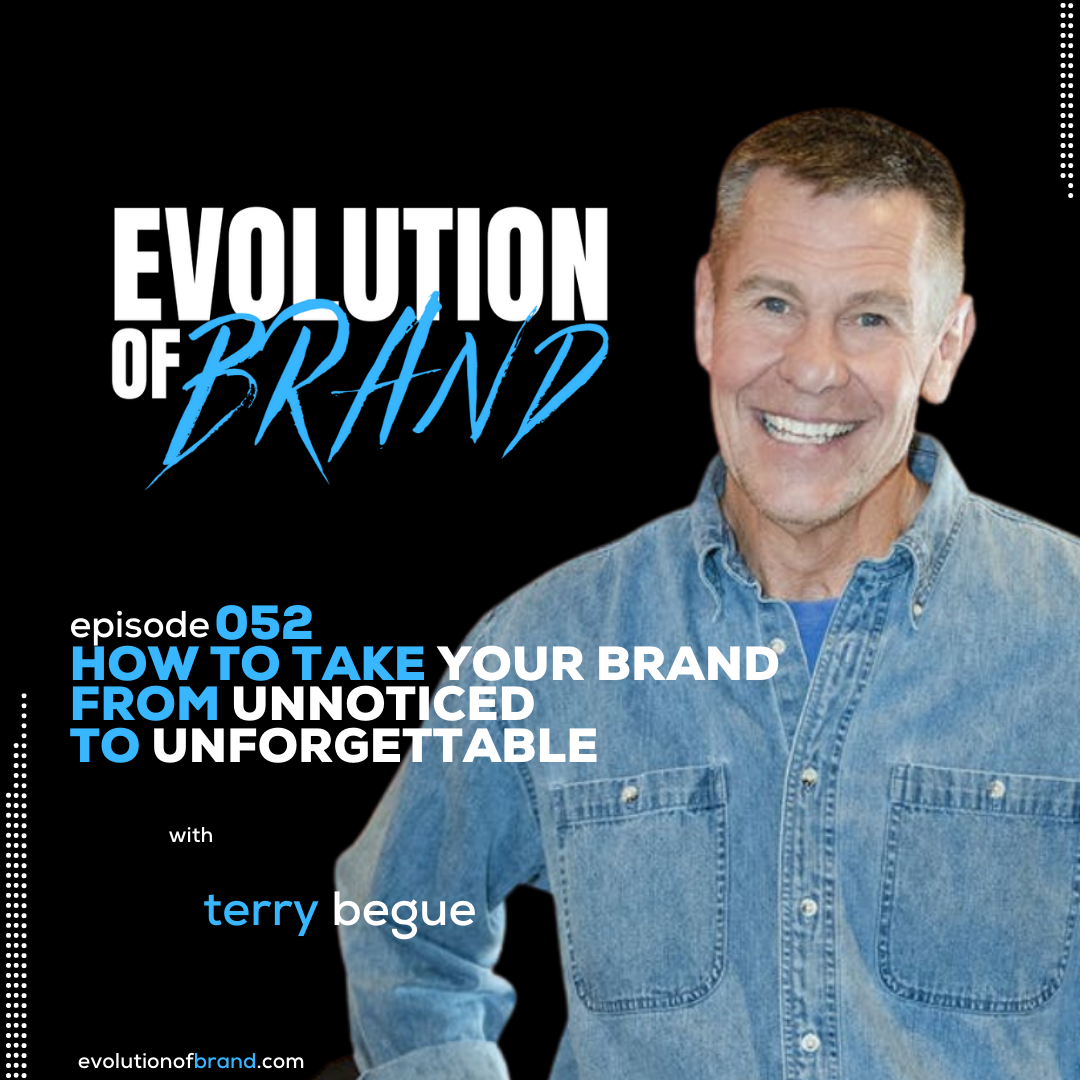 2:10 – A time Terry listened to himself instead of what others told him was right and it led to a major accomplishment
3:15 – A walk down Terry's entrepreneurial path and how he's built his brand over the past 40+ years
5:24 – Why have we seen such a downslide in customer service over the past several years?
– Companies aren't spending enough time talking to their customers
– Not trying to just SELL to a customer, but to genuinely provide help that furthers your relationship
– It's more than just selling a product or service. You need to show your customer respect!
– You need to go "beyond the transaction" to build a meaningful relationship and deliver a memorable customer experience
– One bad customer service experience can lead to someone putting their guard up, making it harder for anyone to break through and help them where they need it
– Small things that stand out are easy to do, but also easy to skip. Be thorough and consistent with how you deal with your customers!
11:50 – A story from Jason's past where finding common ground regarding a customer issue helped solve the problem and earn respect
13:45 – Has evolution and development of technology stifled our ability to deal with people on a personal level?
– YES!
– Social skills and people skills make all the difference in the growth and evolution of your brand
– Technology is helpful, but humans do business with other humans
– Developing people skills is free!
17:05 – If Terry had to put an overarching theme over everything he's accomplished over the past 40+ years that's led him to the success he's experiencing today, what would it be?
18:37 – How important are testimonials to the growth of your brand?
– People make buying decisions based off what other consumers have to say
– A positive review is harder than getting a negative one. If you've built a list of positive reviews, you've done your job well!
– A person is 86% more likely to buy from a brand that has reviews than someone who doesn't
19:54 – A major problem Terry has solved in the evolution of his brand that added value to his community
22:53 – The Four Abilities that Terry teaches that help brands go from unnoticed to unforgettable
– Likability – Building your know-like-trust factor is HUGE. A few ways to do that are to be on time, call if you'll be late, listen to the customer when they're talking, find commonalities with your customers
– Believability – Presenting yourself in a way that people believe in who you are and how you can help them solve their problems
– Trustability – The Golden Ticket! When you're trusted, you're in a great place. Items like reviews and testimonials can help take trustability to the next level
– WOWability – As Terry puts it, "referrals on steroids." Going the extra mile to showcase your value and truly stand out. Testimonials help with WOWability as well
31:36 – What are some major factors within Terry's course that makes it stand out amongst other courses you can get your hands on?
– Accessibility. Terry is always willing to have a call to help you whenever he can if you have a problem while navigating the course
– Supplemental information regarding important resources that Terry covers throughout the course are prevalent and easy to access
34:23 – The biggest piece of advice Terry can give to help you improve your customer service and how you deliver a quality customer experience