Find Evolution of Brand On Your Favorite Podcast Platform
Spotify | Apple Podcasts | iHeartRadio | Amazon Music | Stitcher | Podchaser | Google
Episode 063 Sponsor
Episode 063 of Evolution of Brand is sponsored by Bonjoro! Discover how you can connect with leads, customers, and colleagues in a unique, dynamic, impactful way with personalized videos. Click here to learn more
The Goods From Saul Colt
Top 3 Takeaways From This Value-Packed Conversation
A lot of advertising has gotten derivative and brands that are willing to take a risk will truly stand out, even if what they're doing is not 100% edgy

Humor is human. People remember humor over all other forms of entertainment

If you're not ruffling any feathers, you're not doing anything interesting
Show Notes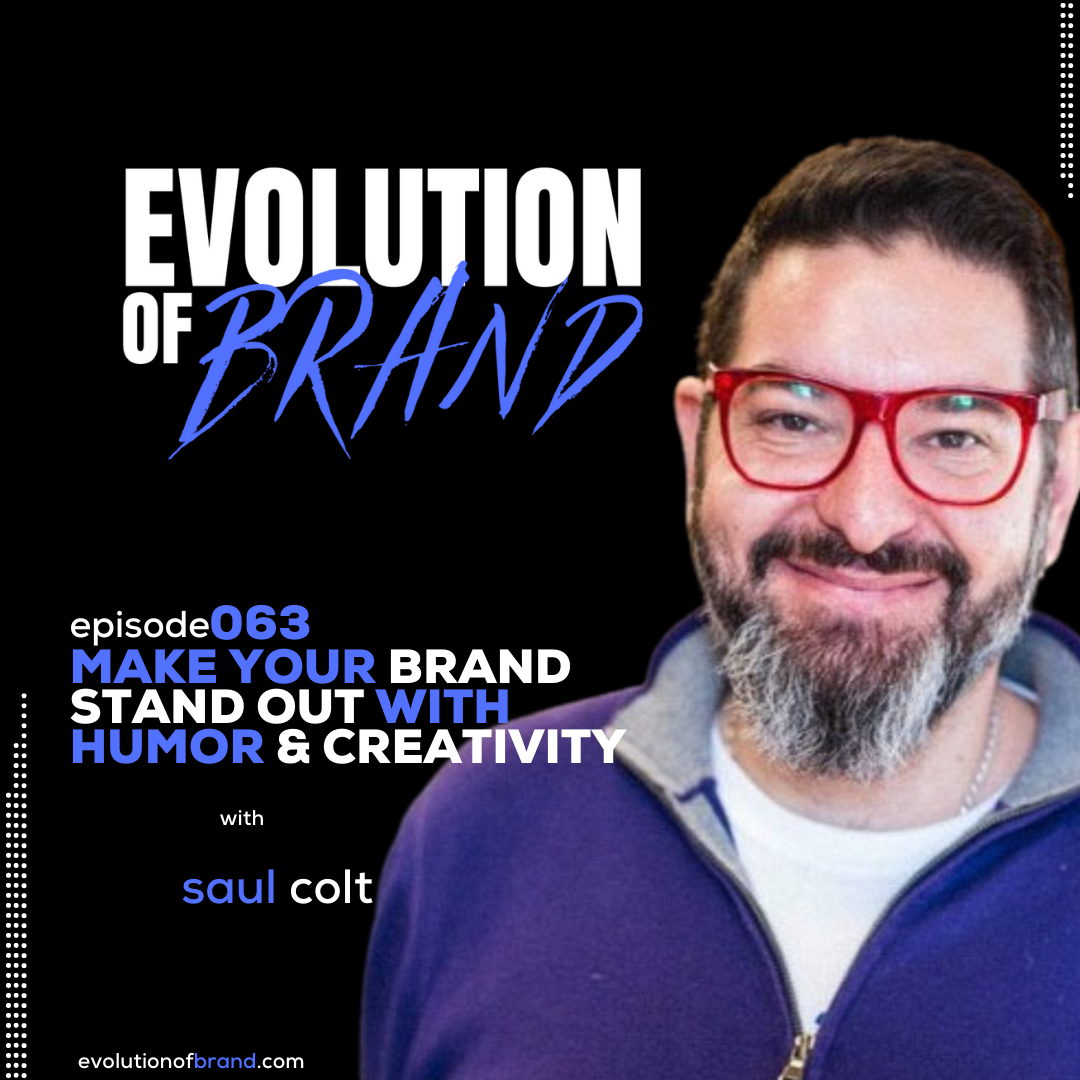 1:46 – A time in Saul's life that he listened to himself instead of what others told him was right and it led to a major accomplishment
2:26 – A look at Saul's entrepreneurial journey, some of the major events that have unfolded, and how all of his experience has gotten him where he is today
5:37 – How has advertising changed over the years and, on a large scale, gotten boring?
– A lot of advertising has gotten derivative and that could stem from brands being afraid to take chances
– The use of stock photography can lead to a lot of ads looking the same because there's only so much stock to go around
– Standards have definitely declined as to what people feel is a "great ad"
– Most advertising is safe and uninteresting. When someone takes a chance, it stands out
– Customer appetite for ads is not matching what's being delivered
– Great work does get seen and will still sell product
9:50 – Does cancel culture impact advertising and will we ever be able to overcome it?
16:12 – An industry that is using humor extremely well in their advertisements
17:23 – Why is injecting humor important and why aren't more brands utilizing it more in their ads and overall promotions?
– Humor is human and should be in all communications!
– People remember humor far more than other forms of entertainment. It's something people share and try to impress their friends with
– Humor also elevates your emotions and makes you feel happiness
– It's all about association. If people associate your brand with humor and happiness, they'll think of you first when a buying decision presents itself
21:22 – What's the most talked about marketing stunt that Saul has ever pulled?
23:09 – What are some of the vital steps brands need to emphasize as they build humorous, memorable advertising campaigns?
– Be yourself!
– Humor is human, therefore add a human element to your content
– For funny to truly work:
1. You add it to EVERYTHING. Make it part of your brand, your voice, your conversational style
2. You use it as an exclamation point and to shock people from time to time (risky if you go too far at some point)
– Start small and talk to people like the humans they are, then slowly start to inject humor in at points throughout your communications
– Talk as if you're speaking to one person at a time and not a broad audience. Use "you" and "your" often
27:44 – Our thoughts on the Will Smith/Chris Rock Oscars situation and how brands jumped on it for memes almost immediately
30:53 – How important is timing in the execution of a quality comedic ad?
33:23 – What should someone who wants to use humor do if they feel they can't produce humorous content?
– "If you're not ruffling any feathers, you're not doing anything interesting"
– To find out if something will be received as funny, talk to the audience that's going to receive it
– Know your customers enough to know what you can get away with
– Let your audience serve as your focus group so you can keep them happy and laughing
– Don't worry about trying to keep everyone happy because that's absolutely impossible