Find Evolution of Brand On Your Favorite Podcast Platform
Spotify | Apple Podcasts | iHeartRadio | Amazon Music | Stitcher | Podchaser | Google
Connect with Episode 059's Sponsor…
Episode 059 of Evolution of Brand is sponsored by Bonjoro! Discover how you can connect with leads, customers, and colleagues in a unique, dynamic, impactful way with personalized videos. Click here to learn more
The Goods From Lindsay Sutherland
Top 3 Takeaways From This Value-Packed Conversation
Having solid passive income strategies in your business will allow you take time away from your business without your income being impacted AND allow you to start planning for your future, i.e., retirement

Pinterest is not a social media platform. It is a search engine. There are a ton of great benefits available to brands who utilize it properly

If you want to implement affiliate marketing strategies into your efforts, it's important to have a solid understanding of how each affiliate partnership works and to be prepared for potential changes that may present themselves, thus impacting your income
Show Notes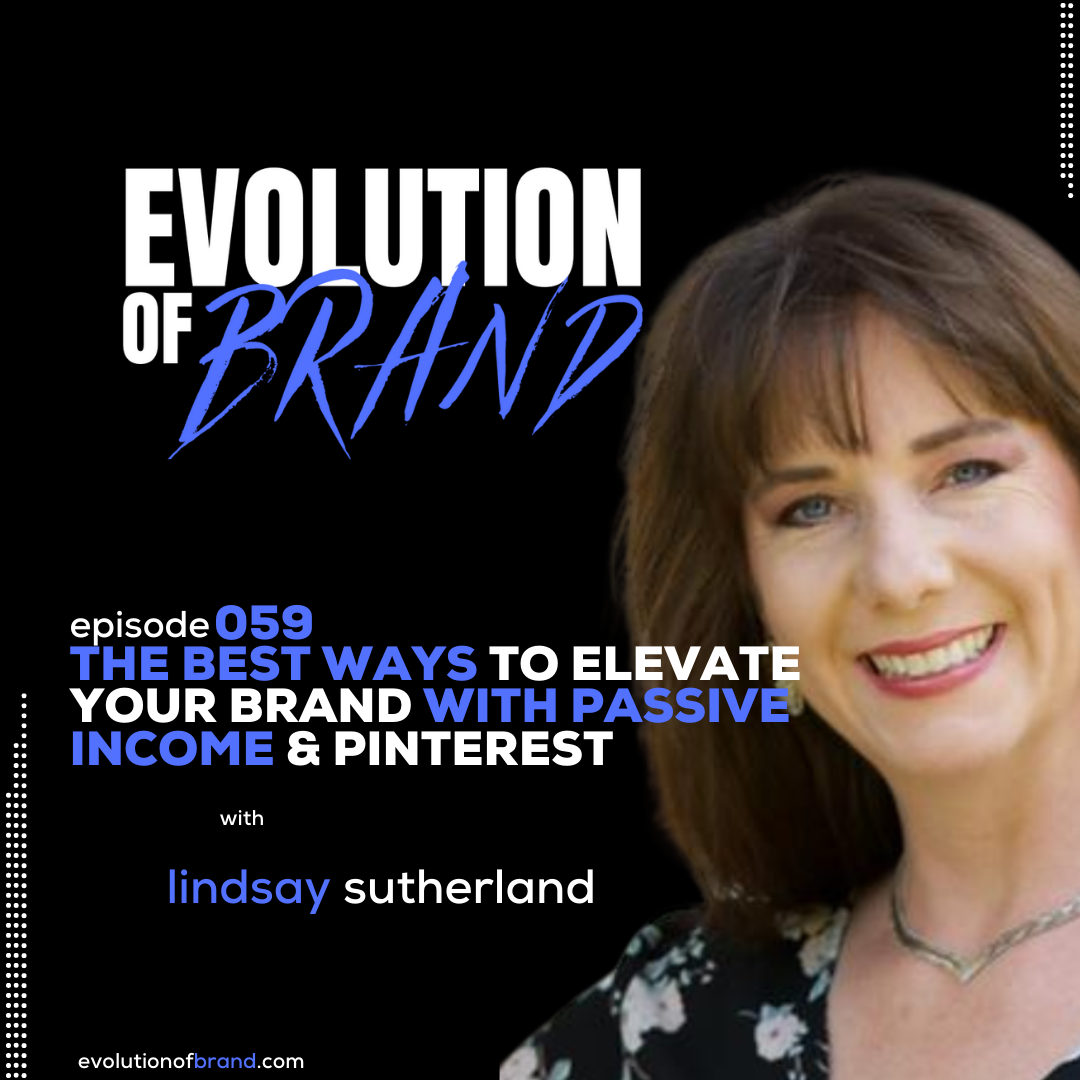 1:50 – A time when Lindsay listened to herself instead of what others told her was right and it led to a major accomplishment
4:19 – Some background on Lindsay's entrepreneurial journey and when it hit her that focusing on passive income was the best move she could make
7:01 – There's no way around it: scams are everywhere. Lindsay and Jason share stories and commentary on some of the internet scams they've encountered along the way
– Are you allowed to add an email to a distribution list without their permission?
10:24 – What is passive income and why do we need to make it part of our day-to-day operations?
– Passive income allows you take time away from your business without your income being impacted
– You can generate additional revenue that will allow you to plan for the future, such as retirement
12:42 – Has Lindsay encountered any passive income strategies that didn't work and, ultimately, should be avoided?
14:49 – How much emphasis does Lindsay put on affiliate marketing with the people she works with?
– Affiliate marketing can work, but there's a lot of work involved to make it work well
– Some people use ads versus organic strategies to promote affiliate products
– Algorithm changes can impact your ads, thus impacting income streams from any affiliate offers you have
– Additionally, a company may change their commission structure or do away with their affiliate program altogether, also impacting your income
– When utilizing affiliate marketing, it helps to have several partnerships in case one happens to change or go away. In addition, offering products that are congruent with your content and relevant to your audience can also help boost sales
– Information-based products and courses may lead to better results in your affiliate offers as well
18:58 – How to create a passive income stream that aligns with your brand and drives traffic back to your primary business
23:01 – The good news for brands and business owners is that listeners tend to listen to ads on podcasts in their entirety much more than on any other platform
23:57 – How has implementing passive income strategies changed as the business and digital world have evolved over the years?
– Today's implementations compared to even as little as 10 years ago is night and day
– Lindsay's prediction: In the next 5-10 years, a passive income business will be able to run without you completely!
27:53 – How can Pinterest help add new layers to brand-building and passive income strategies?
– Pinterest is NOT a social media network. It is a search engine. You can find information on everything…just like Google
– Pinterest is all about keyword relevancy. Therefore, it's a powerful source of information
– Google search queries also provide Pinterest pins as well
– For every piece of long-form content you produce, create five pins to promote
– Don't push EVERY link to your website because it'll come off as spammy. Deep link to your blog, podcast, etc
32:20 – Looking forward, TikTok is another platform that is transcending social media and becoming rich with information for consumers and searchers of all ages
– TikTok has major plans to go after YouTube and Google with their search engine capabilities
34:18 – Lindsay's simple strategy for passive income
– First, establish the right mindset
– Next, build out the right product and marry it with the right process
– Finally, the content effect – how do you market your passive product?
36:10 – As you increase the number of passive income strategies you add, how do you track it to ensure it's serving you?
– Know, evaluate, and track your numbers
– A/B split tests
37:44 – Why has Lindsay subscribed so strongly to the important mindset of "beginning with the end in mind?"