Find Evolution of Brand On Your Favorite Podcast Platform
Spotify | Apple Podcasts | iHeartRadio | Amazon Music | Stitcher | Podchaser | Google
Connect with Episode 042's Sponsor…
Episode 042 of Evolution of Brand is sponsored by Bonjoro! Discover how you can connect with leads, customers, and colleagues in a unique, dynamic, impactful way with personalized videos. Click here to learn more
The Goods From Krishna Mohan
Top 3 Takeaways From This Value-Packed Conversation
Your brand gives people a reason to care and provides an inlet to discover what a brand's core values and principles are all about. Without your brand, establishing relationships becomes increasingly difficult…sometimes impossible

Building strategic partnerships allows you to take your relationships with your customer to new levels. It removes the feeling of transaction and positions you as a trusted advisor

When it comes to your brand building initiatives, it's all about doing things strategically!
Show Notes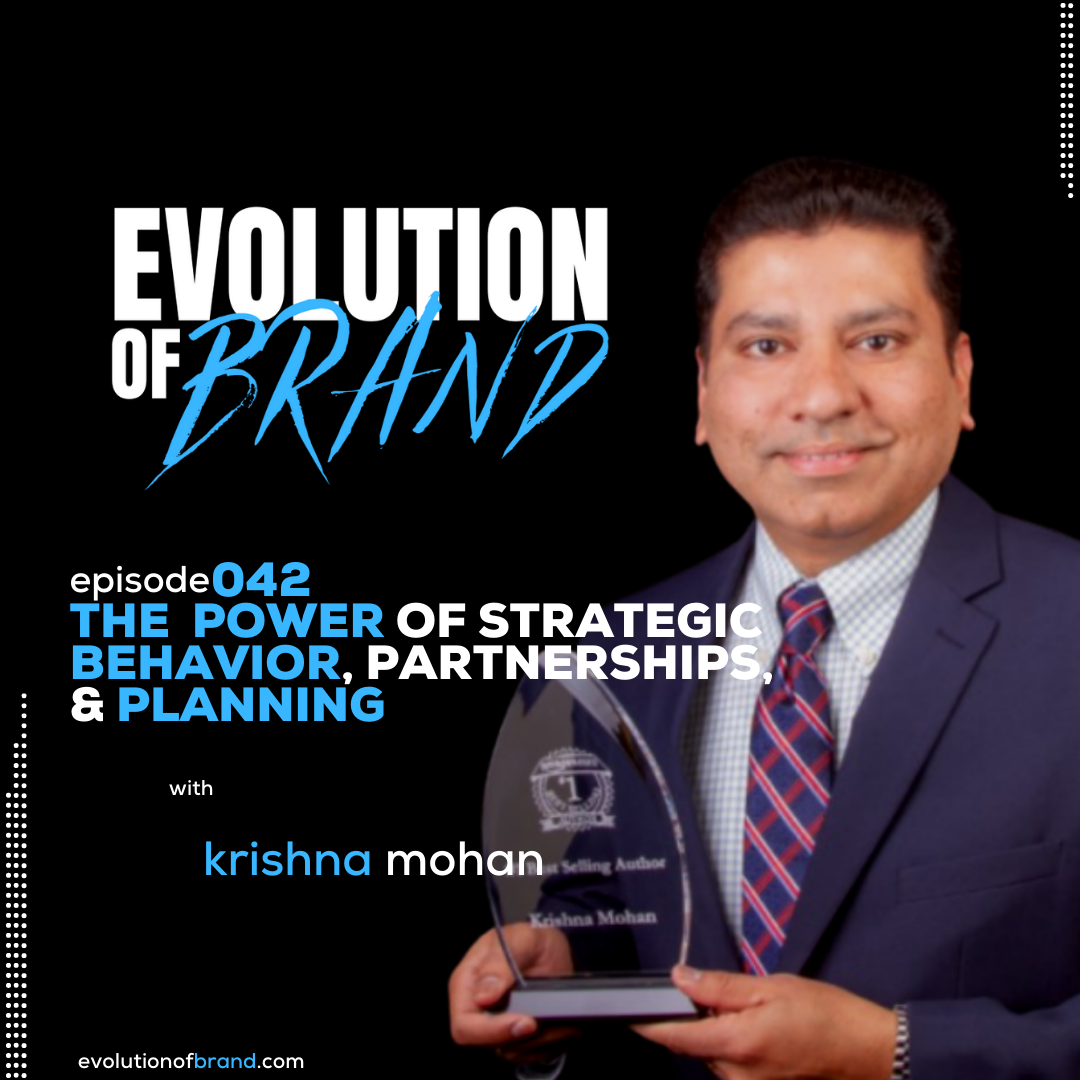 1:55 – A moment in Krishna's life when he listened to himself instead of what others told him was right and it led to a major accomplishment
2:30 – An inside look at Krishna's evolutionary path and what kept him motivated to achieve more AND build a powerful brand at the same time
7:24 – Your brand gives people a reason to care and provides an inlet to discover what a brand's core values and principles are all about
8:15 – If you don't have your messaging right, how do you build a connection between you and your prospects and customers?
– Once the connection is built, there is a powerful association created. This leads to discussions on how to further build upon the relationship
– Progressive Insurance is a prime example. Flo has been the face of that brand for years and she immediately makes you think of Progressive whenever she's mentioned
9:40 – What are some of the philosophies that have helped Krishna evolve as he continues to work with new team members?
– There is nothing "expensive" or "cheap." It's a perception. If a product is worth it to a customer, then the customer will pay the price they feel it's worth
– You can build a solid relationship through the product and/or service you offer
12:22 – The power of strategic partnerships
– You may not offer something that your customer needs, but if you have a strategic partnership, you can connect your customer with your partners and vice versa
– Leverage the strengths of your company and your partners to ensure your customers receive the best possible experience. This will further the relationship you have with your customers
– In the end, everyone is happy!
17:05 – Strategies for building strategic partnerships
– If you are recommended a doctor, you don't even question it. You know whoever recommended that doctor wouldn't have done so unless they fully trusted that doctor with your care!
– Once you get to a point where you have a strong relationship with your customer, it doesn't feel like business anymore. It feels like family
– Become a trusted advisor for your clients. Go beyond the transaction and put legitimate effort into building and cultivating the relationship
20:36 – Everything is a strategic effort!
21:00 – If you can build a relationship, a customer may buy from you 100 times. But if you don't, they may buy once and you'll be forced to continue looking for new customers
– One of the biggest mistakes companies make is not nurturing their existing customer base and generating repeat sales. They constantly chase new customers instead of building relationships with ones that have already purchased
– We look passed what we already have because we want more. But…why wouldn't you tap into your existing customer base to discover why they see value in what you do and how you can make improvements that will attract MORE customers
– Don't get so consumed by growth and acquiring customers that you don't pay attention to how many customers that you can actually service!
– It's not just about the activity you perform throughout the day. It's about what you accomplished and were you able to execute for your customers
– Do you know how to get to your customers? Do you know who they really are? Have you identified who your ideal customer is?
29:16 – What can you expect in the first 30 days if you become a client of Genius Visionary?