Find Evolution of Brand On Your Favorite Podcast Platform
Spotify | Apple Podcasts | iHeartRadio | Amazon Music | Stitcher | Podchaser | Google
The Goods From Samantha Lee Wright
Top 3 Takeaways From This Value-Packed Conversation
Focus on mastering one thing. If you try to take on too much and become a master of every single platform, you'll spread yourself too thin and end up mastering nothing. As Ron Swanson says, "Don't half-ass two things. Whole-ass one thing."

Success on the podcast platform is not about the number of downloads you get. It's about the quality of content you produce and the quality of listener that content attracts

Building a podcast does not happen overnight. Even if you have a built-in audience from social media and email lists, it still takes time. But keeping your focus on solid content that's geared towards a specific audience will not only help your audience grow, it will keep you engaged in the process
Show Notes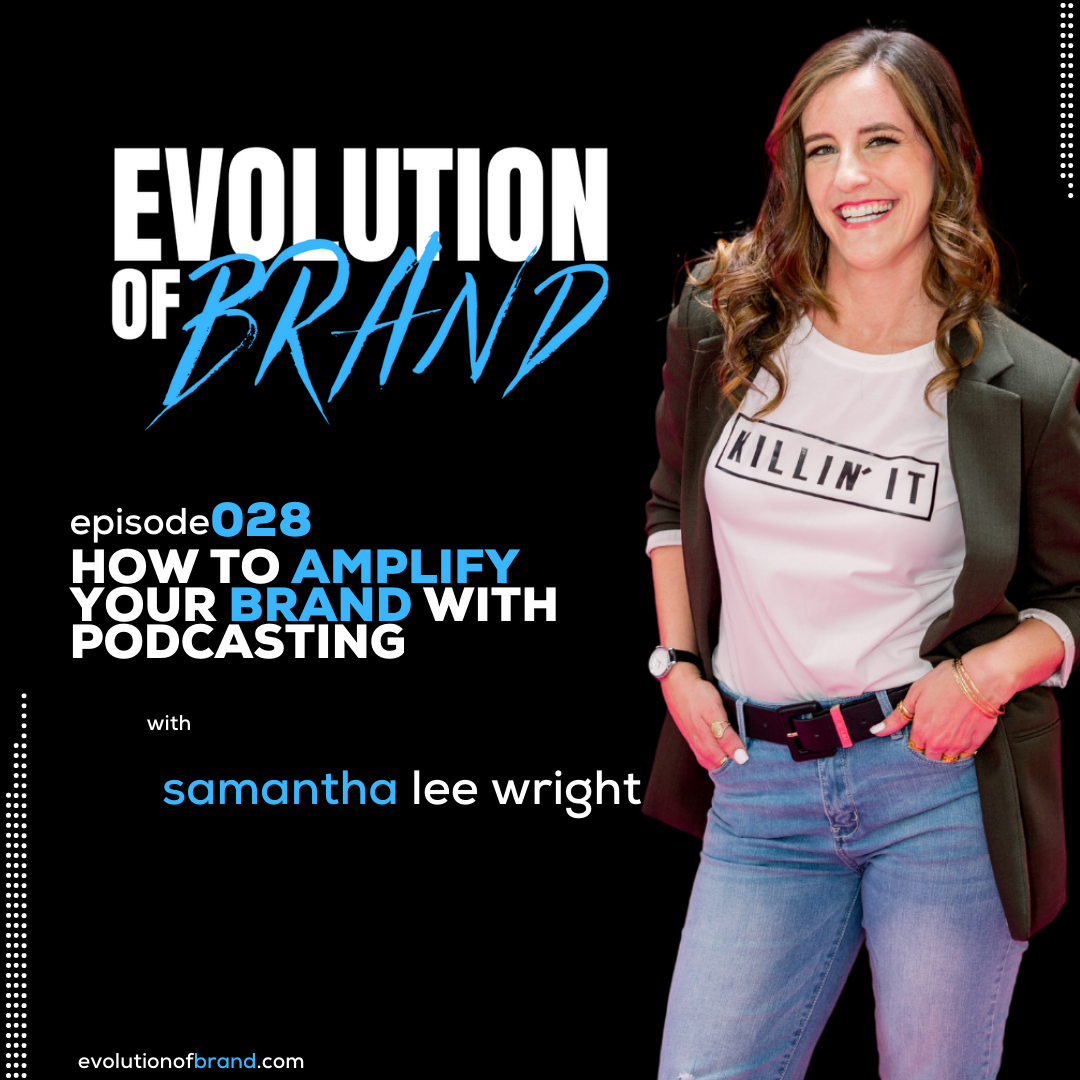 1:16 – A moment in Samantha's life when she listened to herself instead of what others told her was right and it led to a major accomplishment
2:30 – What led Samantha to put so much emphasis on podcasting in her professional path
4:29 – The importance of defining your audience and serving that audience only
– LESS IS MORE! You can gain much more by speaking to one specific group that can resonate with your message
– Focus on mastering one thing. Trying to master everything at the same time will lead to disaster AND you won't enjoy it
– What is something "gurus" leave out when it comes to the success they've reached? OUTSOURCING!
7:41 – How do you hone your skills as a podcast host AND guest?
– Practice practice practice!
– Study other podcasters, TV and radio personalities, newscasters, etc. You can learn a lot from what others do well and how they project and deliver their message
– Listening to other podcasts, you can also find things that you like and don't like for your own productions
– Attention spans are short – you need to grab attention fast!
– You need to pull people into your podcast fast. Don't use long intros and explanations – get to the value as fast as you possibly can!
14:08 – What is the most attractive element of podcasting that is making so many content creators gravitate to the medium?
– Accessibility
– Freedom to create, even for celebrities
– Easier to produce
– Low budget
– Passivity – listeners can consume a podcast driving, riding the bus, at the gym, walking the dog, etc. This is tough to duplicate on video and written mediums
18:42 – Why podcasting is a marathon, not a spring
– It takes time to build an audience, which can lead to sponsorships and other monetization strategies
– How long do you envision making the content that makes up your podcast? Being clear on this from the very beginning will dictate how you produce your content (weekly, seasonal, quick series)
– Podcasting is a great platform to start on if you have ZERO audience. You can build your audience as your produce more content and improve your skill set
– While practicing patience with growing your audience, be sure you're focusing on important items like keywords in your podcast title for help with SEO and discoverability. Samantha's example: If you're doing a podcast about dodgeball, be sure the word 'dodgeball' is in the title so people who want to listen to podcasts about dodgeball know you're catering to their desires
– Download numbers are a flawed vanity metric. You do not need millions of downloads to qualify your podcast as a "success"
– What is a subject you can talk about and stay passionate about when NO ONE is listening to you? Because in reality, that will be how it is at the very beginning
– At the end of the day, it comes down to the quality of the listeners of your show, not the quantity. Results come from having an audience that's as dialed in to your subject matter as you are
– You can't control how many listeners take in your show. But you can control the quality of the content. Focus on what you can control
27:06 – A major problem that Samantha has solved that added value to her community
31:51 – What Samantha does to help podcasters develop the right mindset and keep people engaged with their production
– Strong focus on your core concept – keywords, cover art, show description, content – having all of these ducks in a row will lead to a much smoother, seamless podcast production
– Emphasis on crafting a podcast description that leads people to pressing the play button
– Solid editing practices, confidence in how to construct a podcast episode
– Focus on launch and monetization strategies
– Weekly live coaching
– Samantha's course is designed to shave HUNDREDS of hours off the initial learning curve for aspiring podcasters!
37:13 – Will the podcast platform be changing any time soon?
– No matter what, it's still going to be about the quality of content
– One major change is a listener's tolerance for poor audio quality. With the number of podcasts one can consume, a person is more likely to turn off a podcast that doesn't sound as good as another show serving up the same content
– Will paywalls help or hurt the podcast medium?
40:10 – How do you define "success" in podcasting?
– Success is very subjective. It all depends on what your goals are in the podcast space