Find Evolution of Brand On Your Favorite Podcast Platform
Spotify | Apple Podcasts | iHeartRadio | Amazon Music | Stitcher | Podchaser | Google
The Goods From Nathaniel Brown
Top 3 Takeaways From This Value-Packed Conversation
"Fear is a tool that forms us into the greatest version of ourselves." Do not expect to grow and evolve if you put fear in the driver's seat. Pushing beyond your limits means vanquishing fear and stepping into the unknown ready to adapt to what presents itself

Storytelling has stood the test of time for thousands of years because remnants found within those stories carry over from one generation to the next. Our lives are shaped by the stories we're told at a young age and continue to evolve as we move forward

Bringing a coach into your world opens up numerous possibilities for growth, opportunity, advancement, and evolution
Show Notes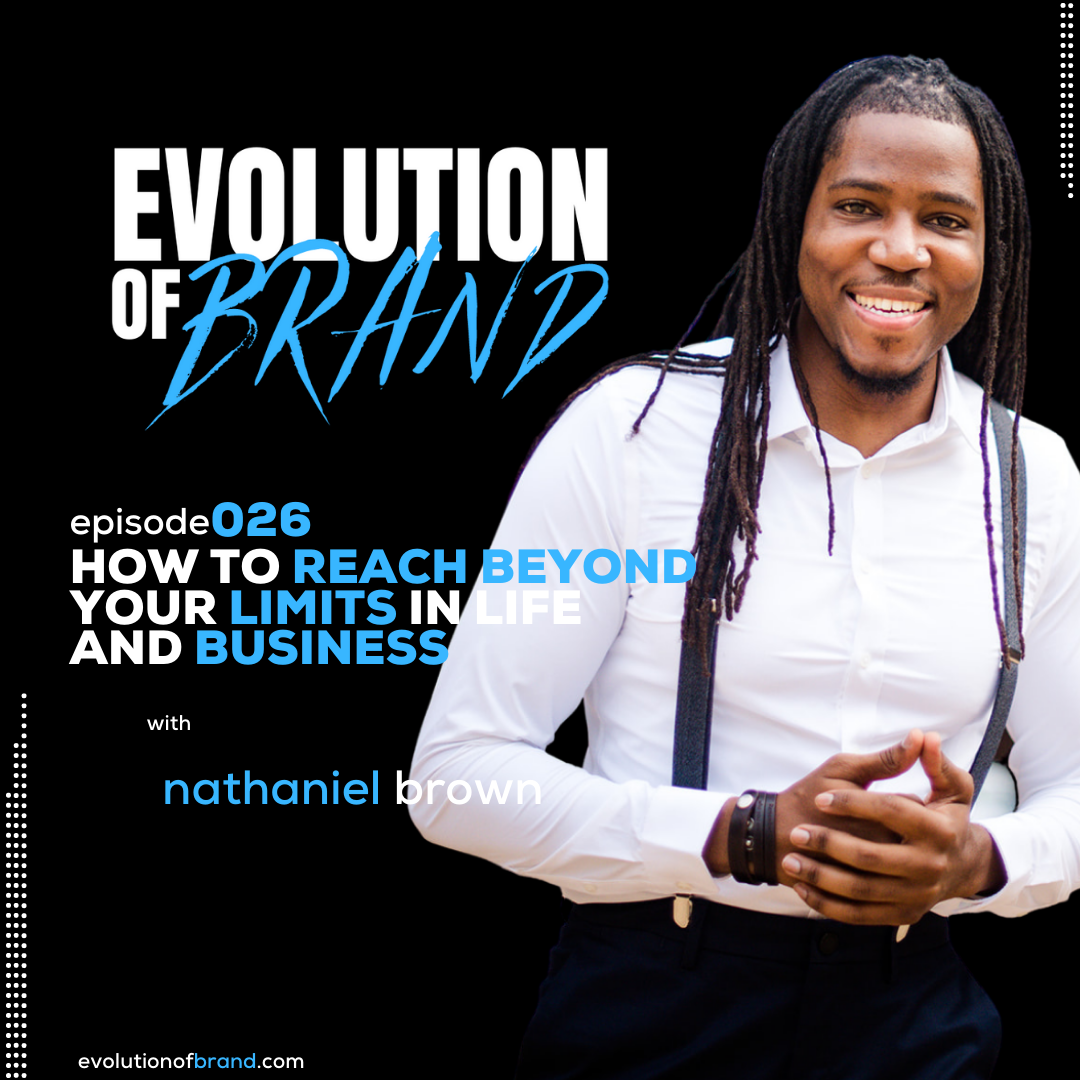 1:13 – A moment in Nathaniel's life where he listened to himself instead of what others told him was right and it led to a major accomplishment
1:52 – How Nathaniel uses his own life experiences to help others embrace their journey and live life beyond their limits
– How can you stretch yourself beyond where you've previously been?
– "Fear is a tool that forms us into the greatest version of ourselves"
– The only way to make an impact is to go beyond your limits
6:48 – How does storytelling allow you to make a deeper connection with people?
– Storytelling forms the world view of those who are receiving the story
– How does visualization aid storytelling? Discover an actual example experienced by Nathaniel
– There is no other way to experience one another without being able to tell our stories
14:12 – Why the podcast platform is the ultimate place for storytelling and great stories to unfold
15:05 – Storytelling goes back thousands of years!
– We are living manifestations of the stories our ancestors told for centuries
16:29 – How we see the world determines the world we experience as quantum observers of reality. Why is it critical to maintain this perspective as we evolve?
20:07 – The Creation Formula: Align, Attune, Agree, Allow
– Align: Where and how are you positioned? If you don't want to end up where you're heading, change direction
– Attune: Who and what are you listening to? How are you consuming what you're listening to?
– Agree: What are you saying yes and no to? What are you signing contracts for? You have no contract with anything you're experiencing…meaning you can cancel it (and make changes) at anytime!
– Allow: What are you surrendering to? What are you allowing to be in the space with you to become that experience?
21:48 – The L.E.A.D. Principle and how it brings clarity and direction to the forefront
– Leading is less about telling and more about being
– L: Listen – settling and allowing things to breathe. You can't be a good leader without the skill of listening
– E: Educate – What's in you that needs expression? What are you willing to give away to receive and become more?
– A: Assess – What are my values in this moment? Who am I comparing myself to? What are my pain points?
– D: Direct – Where you get clear and tell the truth ABOUT yourself TO yourself.
– If you lean into the L.E.A.D. Principle, you will always self-reflect before you self-destruct
27:53 – Why it's important to not fall into the feelings of self-doubt that social media can present
– Change the overall thought right from the start and cut out what isn't authentic or presenting a true representation of what real life is like
– Marketing is an abbreviation of an experiencing that mimics the whole. It can give the illusion that something was built overnight, but you and I both know that is NEVER the case. Marketing is a vital piece of the puzzle, but never forget to look deeper for the full meaning
30:36 – What is Nathaniel's Influencer Blueprint and how will it impact your goals?
– If you do this every day, you will find a way to articulate yourself in a way that's uncanny
– 1. Study – be resourceful. Do not allow social media to be the only means in which you learn and absorb knowledge
– 2. Understand – determine what principles you can extract from what you study that can become part of your life?
– 3. Apply – apply what you extract and determine how its application can make things easier or unnecessary (THE ONE THING)
– 4. Speak – communicate with clarity and be open to feedback
– 5. Reflect – looking back on what you study, what you understand, and what you apply
– 6. Become – be the change you want to see in the world from what you study, what you understand, and what you apply
35:36 – What advantages and possibilities does bringing a coach into your world open up?
– Coaching is caring. If you don't want to care about others, DO NOT GO INTO COACHING!
– The 5 C's of Influence
– 1. Coach – a coach is able to pull things to the surface that will truly help you evolve
– 2. Connect – what network do you want to build? How do you want to connect to people?
– 3. Contribute – what value will you bring to the table? The value you bring will determine the value you get
– 4. Collaborate – who do you want to work with and how do you join forces with those people?
– 5. Collect – get the reward! If you want to collect something, you have to give something
38:51 – One piece of consistent advice that Nathaniel gives to every person he coaches, inspires, and impacts