Find Evolution of Brand On Your Favorite Podcast Platform
Spotify | Apple Podcasts | iHeartRadio | Amazon Music | Stitcher | Podchaser | Google
Connect with Episode 038's Sponsor…
Episode 038 of Evolution of Brand is sponsored by Bonjoro! Discover how you can connect with leads, customers, and colleagues in a unique, dynamic, impactful way with personalized videos. Click here to learn more
The Goods From Rocky Buckley
Top 3 Takeaways From This Value-Packed Conversation
Begin building your brand with the end in mind. If your business can't function without you integrally involved, it will be extremely difficult to sell, pass down, or transfer ownership in the future

When it comes to building your personal brand, you have to put emphasis on mastering the inner game of success before all the pieces of the outer game puzzle will fall into place

Before you bring anything to market, whether it be a course, training program, or brand itself, take time to vet it and make sure it's something that people want. If you skip this step, you may waste massive amounts of time creating something that will inevitably fall flat
Show Notes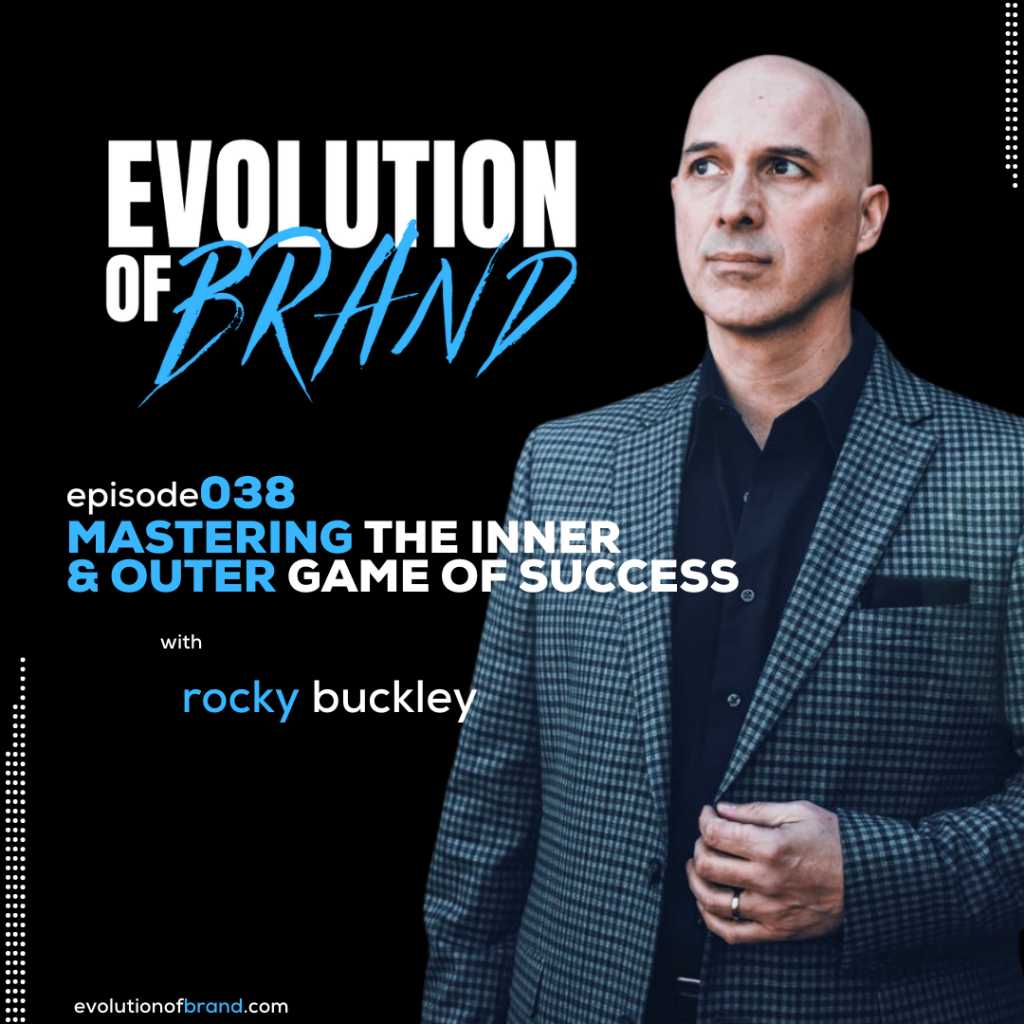 2:02 – A time in Rocky's life when he listened to himself instead of what others told him was right and it led to a major accomplishment
3:33 – A look at Rocky's evolution, some of the life-changing discoveries he made along the way, and how all of it has brought him to the value-driven life that he's living today
– Wasn't thinking about building his business to sell or to have his face in the public eye
– After building a successful business being an unknown other than his clients, he decided to go public and put emphasis on building his personal brand
– 10 years into the success of his business, he discovered that he hadn't built it as an asset that could be sold and ran by someone else. He built it with himself being essential to the operations, thus making it difficult to sell a turnkey business to another party
– This critical juncture in Rocky's evolution helped him realize new ways to do business and allow him to create assets and intellectual property that's transferrable when the time is right
9:25 – The importance of beginning your business/brand with the end goal in mind
– When you believe your brand is "your baby" and it'll be part of you forever, it affects how you ultimately build that brand and can put you in a position where it's hard for your business to function without you
– Can your brand thrive if you were on vacation for three weeks? Will it still generate revenue and not miss a beat even if you're absent? That's the kind of brand you need to focus on creating and growing
– Are you building a sandcastle or a solid building?
– If you're building a sandcastle, you can't sell, pass down, or transfer ownership and it will wash away when you're removed from the equation
– You've essentially created a job for yourself, and if that's your goal, so be it. But if you want to give yourself more freedom in the future, you have to build your brand to sell and have plans in mind of how to do that from the very beginning
12:14 – How Rocky has built the Platinum Path Mastermind and Power Persona Project
– Rocky put his focus on building Intellectual Property (IP), which would allow him to create sellable assets
16:42 – A lot of people think building a personal brand is tactical (putting out a ton of content, etc)…
– But…you may hear crickets when that content doesn't resonate and generate business
– When you build your personal brand in this fashion, you're focused on the outer game of success without the essential, necessary focus on the inner game first
– Focusing on the inner game means you're tapping into YOU and bringing all of it to the forefront – your identity, your purpose, your life story, your gifts, what you're passionate about
– Once you maximize the inner game, the external tactics and strategies kick in and you'll be a magnetic resource
– Some people may "pop" immediately due to their personality. But for most of us, there's a trial and error period that will help you find the best way to shine
– Tapping into your authentic personal story and passion makes you unique and gives you a foundation to build upon that no one can ever duplicate
20:38 – When you develop your ideal customer profile, you'll discover that you're speaking to yourself prior to the transformation you were seeking!
– This is the trend of the future. People want to know more about YOU (your values, who you are as a person, etc)
– In today's digital space, we are given more permission to share more about who we are and what we believe in
– The more of yourself you share, the more connection points you make
– If you can attract 1,000 people JUST LIKE YOU to be your raving fans, they will serve as the core for a white hot brand that has nothing to do but grow!
23:53 – Some risks you face if you DON'T take time to build a personal brand
– You can build your personal brand in different ways. Know yourself and move forward the best way you can
– If you want to build a legacy, make money, impact people, operate out of your gifts and talents on a daily basis, this is where developing a strong personal brand is integral to your evolution and success
– Only you can connect with people just like you in your own unique way
– If you hide your light, you'll never be visible to your potential raving fan base
– We are in a rapidly changing world (markets, products, businesses, platforms, etc), and the only constant in the face of all that change is YOU
– The more trust, likability, and stickiness you can build with a tribe of people, the better that will serve you over the course of your efforts
– The one fatal flaw in the personal brand model: If you're integral to it, you can't sell it. Be strategic about the properties you develop, to the point they can be spun off and transferred to someone else should you desire to do so
28:18 – One major problem that Rocky has solved in the evolution of his brand that's added value to his community
30:57 – The humanistic approach to brand building and conducting business
– At the end of the day, we are doing business with other humans, technology not withstanding
– In an online space, things may seem so regimented, we forget that the fundamental thing we are doing is MAKING FRIENDS!
– This is where sharing other aspects of your life with others can make you more attractive and generate incredible conversations
33:35 – Let's dive into the digital learning space
– According to thinkimpact.com, the global online learning market is going to be worth $375B by 2026
– The learning space has been completely disrupted over the last decade. Almost ALL of it is online-based
– That said, some people have gone TOO FAR online and forgot about the power of offline – building relationships and getting together in person
– As we continue to move into the future, online memberships and masterminds will rule the realm over courses. As the world changes, by time you create a course, test it, get results, then market it, it's already old
– Being in living, dynamic environments is the wave of the future!
– This bodes very well in the expert space. You can build a worldwide business from a spare bedroom in your house
– The focus should be on relationships and things that last with the platforms consisting of memberships and masterminds
39:00 – Given the current and projected value of the online learning space, is it difficult for someone to break into this space and find success?
42:07 – Common mistakes digital creators make when they bring a course or training program to market
– NOT VETTING IT! Before putting time into building and launching a course, discover if there's a market for it
– Not learning how to teach and connect with people in a way that educates them
– People are spending a lot of money on courses, but may not be getting results because said course is poorly designed
44:01 – A philosophy all digital creators need to keep front of mind as they bring learning materials to the world
– Take time to invest in learning how to teach people
– Put the needs of the clients and students first. And to do that, learn how they learn