Find Evolution of Brand On Your Favorite Podcast Platform
Spotify | Apple Podcasts | iHeartRadio | Amazon Music | Stitcher | Podchaser | Google
The Goods From Marques Ogden
Connect with Marques at marquesogden.com
Listen to The Lev & Marques Show
Find Marques on: Facebook | Instagram | Twitter | Linked In | YouTube
Top 3 Takeaways From This Value-Packed Conversation

You have to listen to yourself because you're the one who has to live your life. You are responsible for your results

If you develop a 'bend but don't break' mentality, you'll stay on a positive trajectory that will see you through even the darkest of scenarios you may encounter

Do not be afraid to delegate to other professionals that can help you grow and DO NOT MICROMANAGE THEM once you give them tasks to accomplish
Show Notes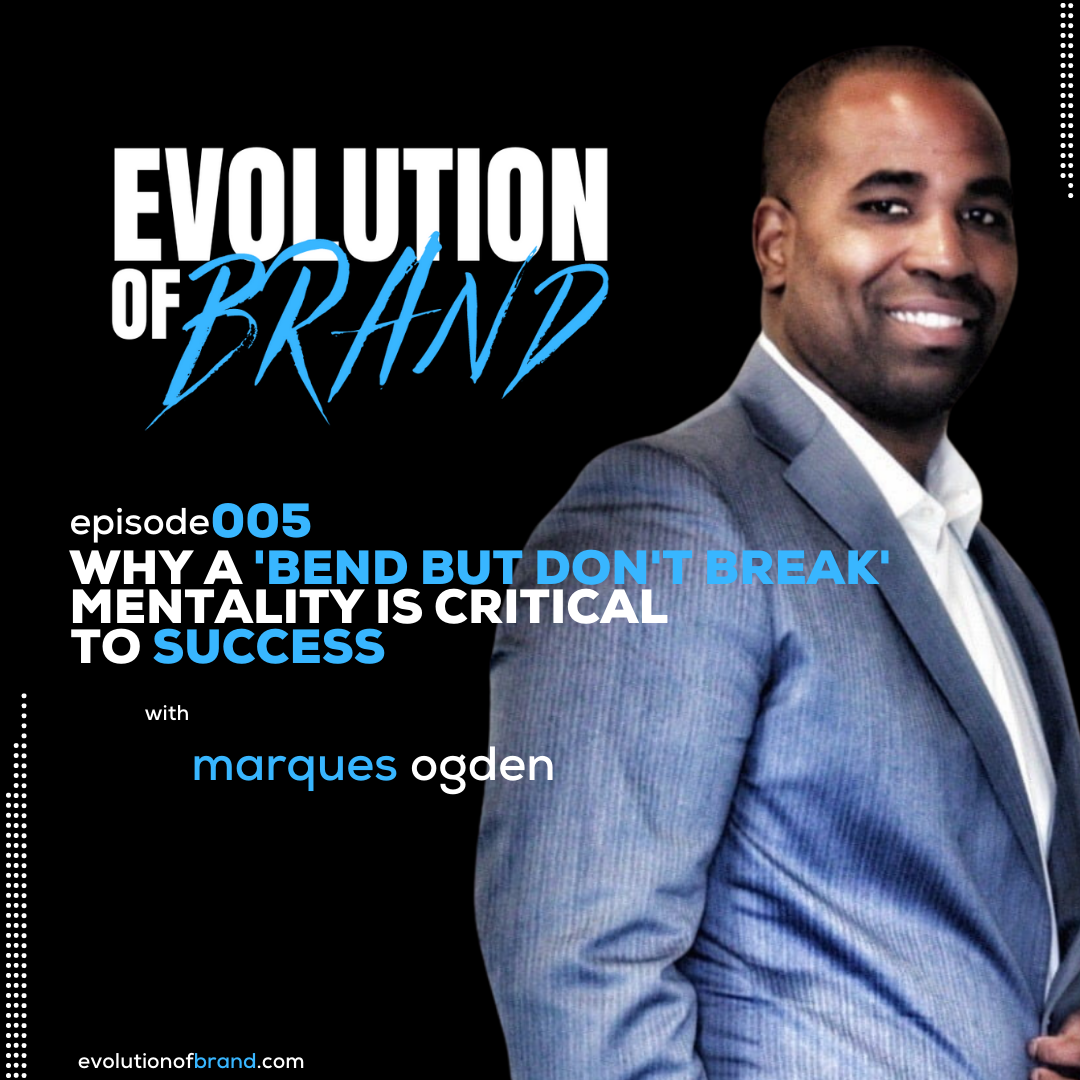 1:16 – A moment in Marques' life where he listened to himself instead of what others told him was right and it led to a major accomplishment
2:24 – "You have to listen to you because you're the one who has to live your life. No one can live your life for you."
3:08 – Your mindset has to be one of "bend but don't break."
– When you channel this mindset and put it to work in your world, it allows you to stay on a positive trajectory even when you reach your darkest points
– This mindset will allow you to hit rock bottom, but bounce back in the face of adversity
4:48 – What everyone needs to know about the mindset of a professional athlete
6:25 – Why it's important to properly manage your schedule and bring organization and time management into play every day
– This gives your day purpose and meaning, which is imperative to growth and success
8:36 – Partner with the right people and DO NOT BE AFRAID TO DELEGATE!
9:35 – How Marques made changes regarding how he impacted audiences through his motivational speaking in the face of COVID-19
10:55 – Successful, repeatable strategies that Marques uses to drive his brand
– Accountability and discipline
– Delegation
– Do not micromanage your people; trust them to do their job effectively and grow through the experience
14:10 – Values and philosophies that have contributed to the evolution of Marques Ogden's brand
– "In times of extreme darkness, focus on the light." — Aristotle
– "It's always hard in the beginning."
– You have to push passed all the negativity and keep going when things seem hopeless
– Embrace the struggle and use it to help you learn and grow
– You cannot fully appreciate how good a win feels unless you experience losses along the way
18:18 – When you're trying to "evolutionize" yourself, remember what you've done well, then determine what you want to improve upon. Put yourself in a positive mindset where you can remember how good you once were and where you can make necessary improvements
20:24 – Who will win Super Bowl LVI?!