Find Evolution of Brand On Your Favorite Podcast Platform
Spotify | Apple Podcasts | iHeartRadio | Amazon Music | Stitcher | Podchaser | Google
Episode 061 Sponsor
Episode 061 of Evolution of Brand is sponsored by Guest Accelerator! Discover how to build your brand and enhance your visibility as a fully-optimized, value-driven podcast guest today. Click here to learn more
The Goods From Julie Brown
Top 3 Takeaways From This Value-Packed Conversation
Networking isn't just about what you do. It's who you are. And tapping into your authentic self unapologetically will help the right people gravitate to you and your brand

Take your networking efforts to a different level by asking dopamine-inducing questions that go multiple layers below the standard surface level questions that people get asked all the time

"The hard work is the shortcut"
Show Notes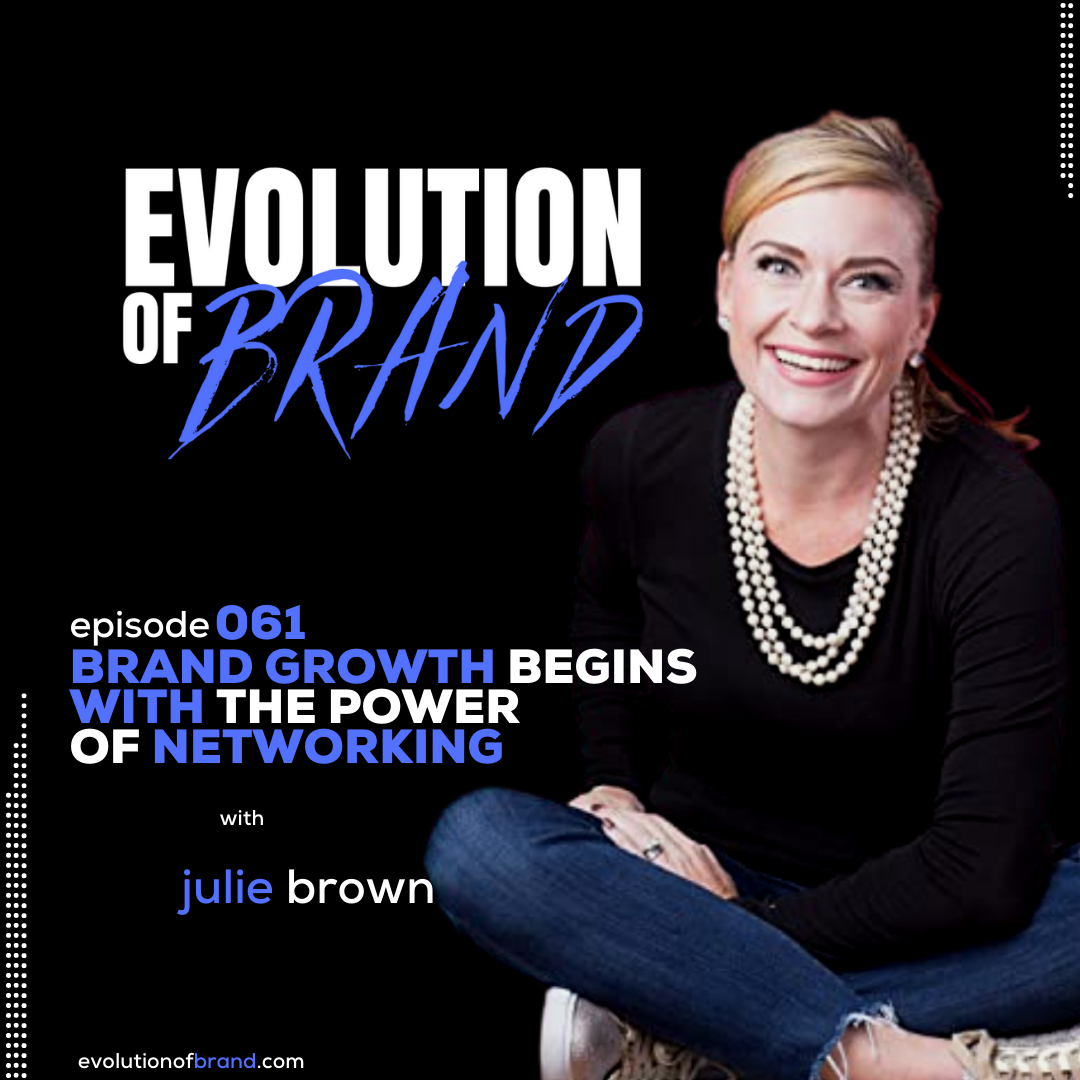 1:44 – A time in Julie's life when she listened to herself instead of what others told her was right and it led to a major accomplishment
3:38 – A look at Julie's professional path and how her and her brand have evolved over the years
5:10 – Why Julie wanted to be part of the Gorgeous Ladies of Wrestling (G.L.O.W.) and what we can learn about brand and business development from pro wrestling
9:59 – How Julie has helped countless professionals find their authentic selves and unapologetically be who they are and what they were meant to be
– In America, we have a tendency to define ourselves by what we do. Julie teaches people how to define themselves by who they are
– Tapping into your authentic self allows people to learn more about you and gravitate to you in a more human way
– Building those real, authentic relationships allows you connect and co-exist with others in a powerful, often times lucrative way – whether it be doing business together or referring others your way – and it's hard to get there if all you do is talk about what you do for a living
– It's so much easier to be yourself than to be someone who you are not. If you try to put up a facade and not be authentic, people will eventually figure it out and lose trust in you
12:40 – When Julie realized that injecting her own personality into her company, authenticity took over and everything fell into place
– It became so much easier when it was authentic. Content came easier, speeches were better, clients were more aligned with values
– By doing that, you can eliminate people you don't want to work with
18:11 – What are some major events that took place over the last six years that have helped Julie grow her company?
– Tapping into her networking skills to make the transition from the corporate world to entrepreneurship much smoother
– Thanks to years of networking, all those relationships allowed for Julie to go solo and have a solid base of clients to launch with
– Discovering that becoming a speaker would lead to huge opportunities
– Launching a podcast allowed Julie to expand her networking capabilities WORLDWIDE!
22:27 – Why building your personal brand (even if you're working for a company) cannot be overlooked
– It doesn't matter if you're really good at your job. What you need to do to establish your personal brand is figure out what you sets you apart from everyone else that's really good at the same thing you do
24:08 – A major problem that Julie has solved in the evolution of her brand that's added value to her community
25:00 – How does a person who's more reserved, shy, or introverted excel at networking?
– No one is 100% introverted or extroverted; we all fall on an ambivert spectrum and tend to lean more towards one side or the other
– Introverts are amazing networks because they go to events more well-prepared and introverts are more comfortable listening than talking and listening is the best skill for networking
– If you can get someone talking about themselves and learn about them, that's information you can use as avenues for follow-ups
– 80% of building and maintaining relationships is following up
27:58 – Julie's List Yourself approach
– Going beyond the conditioning that the only thing you should talk about at a networking event is what you do for a living
– Before you go to an event, you list all the things that make you 'you' without mentioning what you do for a living
– Then, look at the list and say, "How can I make dopamine-inducing, human-centric conversations out of this list?"
– When we illicit dopamine spikes in the brains of others, that's when great conversations unfold!
– The two questions that will make dopamine crash in the brain of a person you're talking to:
– How are you?
– What do you do?
– Opening up conversations beyond the surface area will allow you to connect with people on a deeper level
33:03 – The power and value of networking via the podcast platform
– Grow your client base with people who may only know you FROM THE PODCAST MEDIUM!
– Growing your network on multiple levels with like-minded professionals across the globe is extremely achievable when you network thru podcasting
– Take your personal brand to a new level by showcasing your expertise + all the things you do
– How "find-out-able" are you?
– Growing that presence takes time!
36:23 – "The hard work is the shortcut"
– Every overnight success took years. Trying to find a shortcut will inevitably make things harder and put much more work in front of you