Find Evolution of Brand On Your Favorite Podcast Platform
Spotify  |  Apple Podcasts  |  iHeartRadio  |  Amazon Music  |  Stitcher  |  Podchaser  |  Google
Episode 091 Sponsor
Episode 091 of Evolution of Brand is sponsored by Canva. Canva makes it easy to create remarkable, on-brand logos, graphics, and videos for any business owner at any skill level. Click here to get started with Canva
The Goods From Shay Wheat
Discover which phase your brand falls into as you prepare for your next event |

fivephases.info/evolution

Schedule a call to speak with Shay and put your event planning struggles behind you |

eventsarepowerful.com

Find Shay and her team on social media @graceandeaseproductions
Top 3 Takeaways From This Value-Packed Conversation
Even throughout the worldwide COVID-19 pandemic, events didn't go away. They just changed. And through two years of changing and adapting to new approaches, events still offer a powerful way to engage with your audience and deliver immeasurable value…whether the events unfold in-person or in a virtual setting

Hosting an event for your audience requires attention to many details, perhaps the most important being that you need to have realistic expectations of how you can raise awareness, reach a significant level of attendance, and deliver on the promise you set that motivates an individual to attend

If you've never done an event before, DO NOT DO A HYBRID EVENT (combined virtual AND in-person). To do this, you would need to handle the logistics of two events because you are communicating and will need to deliver value to two separate audiences…which can spread you incredibly thin, take focus of making one approach or the other its best, and not put you in a good position to host future events
Show Notes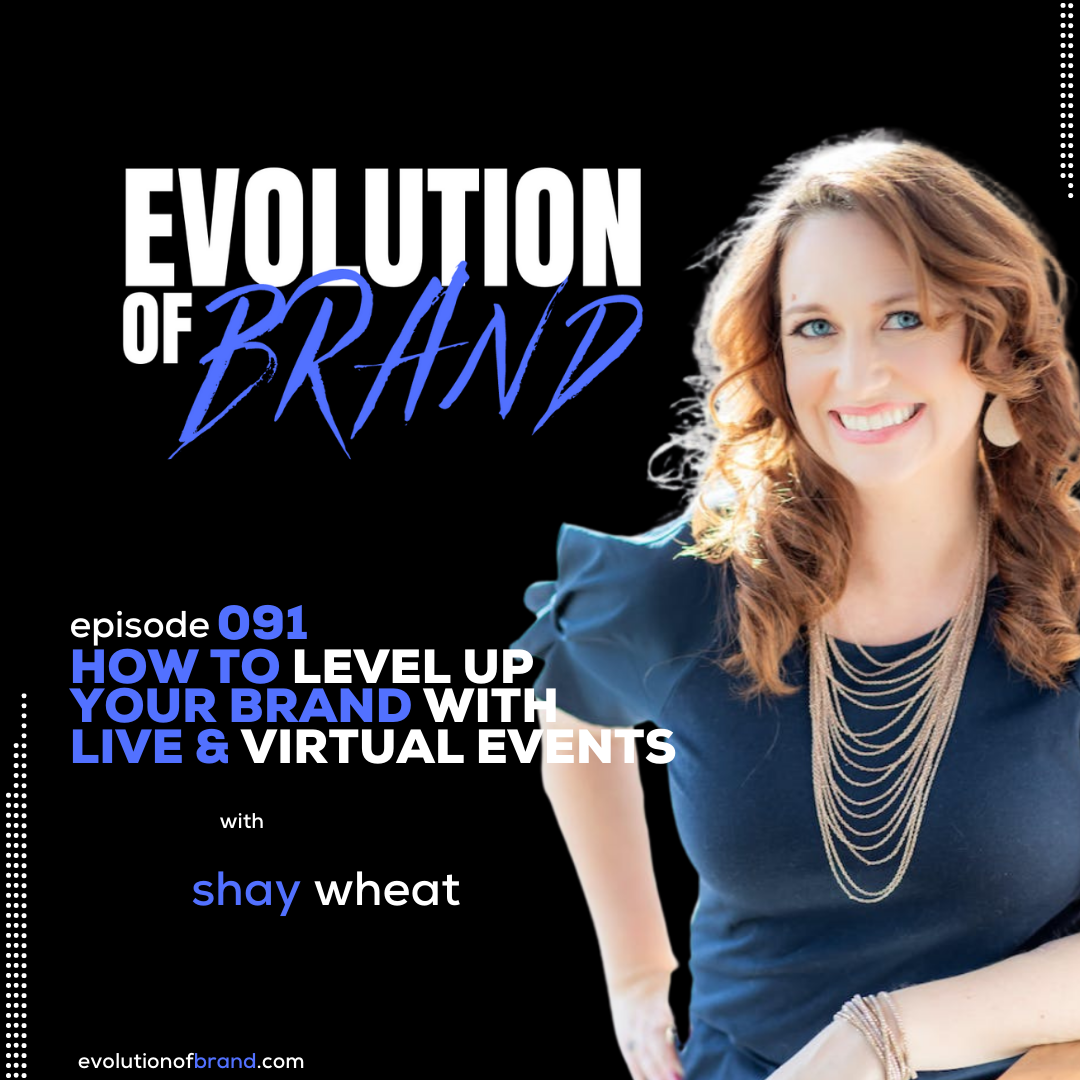 1:39 – A time when Shay listened to herself instead of what others told her was right and it led to a major accomplishment
3:17 – Shay shares her brand's evolution – where her entrepreneurial journey started and when she discovered she wanted to go all in on event planning
4:43 – "Events never died. They just changed." Shay explains how event planning and how her and her team support brands in their event planning and building efforts has changed forever due to the pandemic
7:24 – How adapting to virtual events has expanded reach to a worldwide audience and allows for a more intimate connection even if you aren't in the same room with one another
9:56 – What are some of the critical aspects of events that make them such a powerful business strategy for brands of all shapes and sizes?
     – There are actually 17 types of events you can be doing
     – Based on your brand size, objectives, etc, there are specific types of events you should be doing
     – Do not try to shoehorn as many themes and objectives into one event or else the focus will be lost 
     – Expectations must be managed properly. Shay uses a ticket map to organize all of the important aspects of building and planning the event with realistic expectations
     – Having a successful first event will create opportunities for larger events in the future
18:00 – How do you overcome the pricing hurdle and ensure you're offering the right product for the right price?
20:01 – How can you ensure you're getting a crowd through the door that's going to make for a well-received event?
     – Build your audience over time through ALL of your various platforms – social media, email, webinars, masterclasses, etc.
     – Share stages in your niche with brands that complement what you do, but aren't direct competitors
23:02 – Has Shay faced any instances where things simply weren't working, people weren't responding, and she had to change course completely?
26:39 – When does it make sense to do a virtual event, in-person event, or hybrid event, and how do you differentiate between the three to decide which is the best way to proceed for your brand?
37:39 – How do you keep the engagement level high for a virtual event during the planning and promotion processes, as well as the execution of the event?
     – Make sure the event is live! It's much harder to manage engagement if your virtual event is recorded
     – Make sure there's a lot of movement – keep the presentations and keynotes visually appealing
     – Take as many elements of a live event that you can present in a virtual environment, then embellish the hell out of it!
42:06 – How can a brand that's starting out fresh incorporate an event into their business plan and what will a successfully executed event do for them right out of the gates?
45:11 – If you are organizing an event, why should you hire a Certified Event Producer like Shay?
46:28 – If Shay could go back in time and share one thing with her pre-evolved self that would completely change the game today, what would it be?