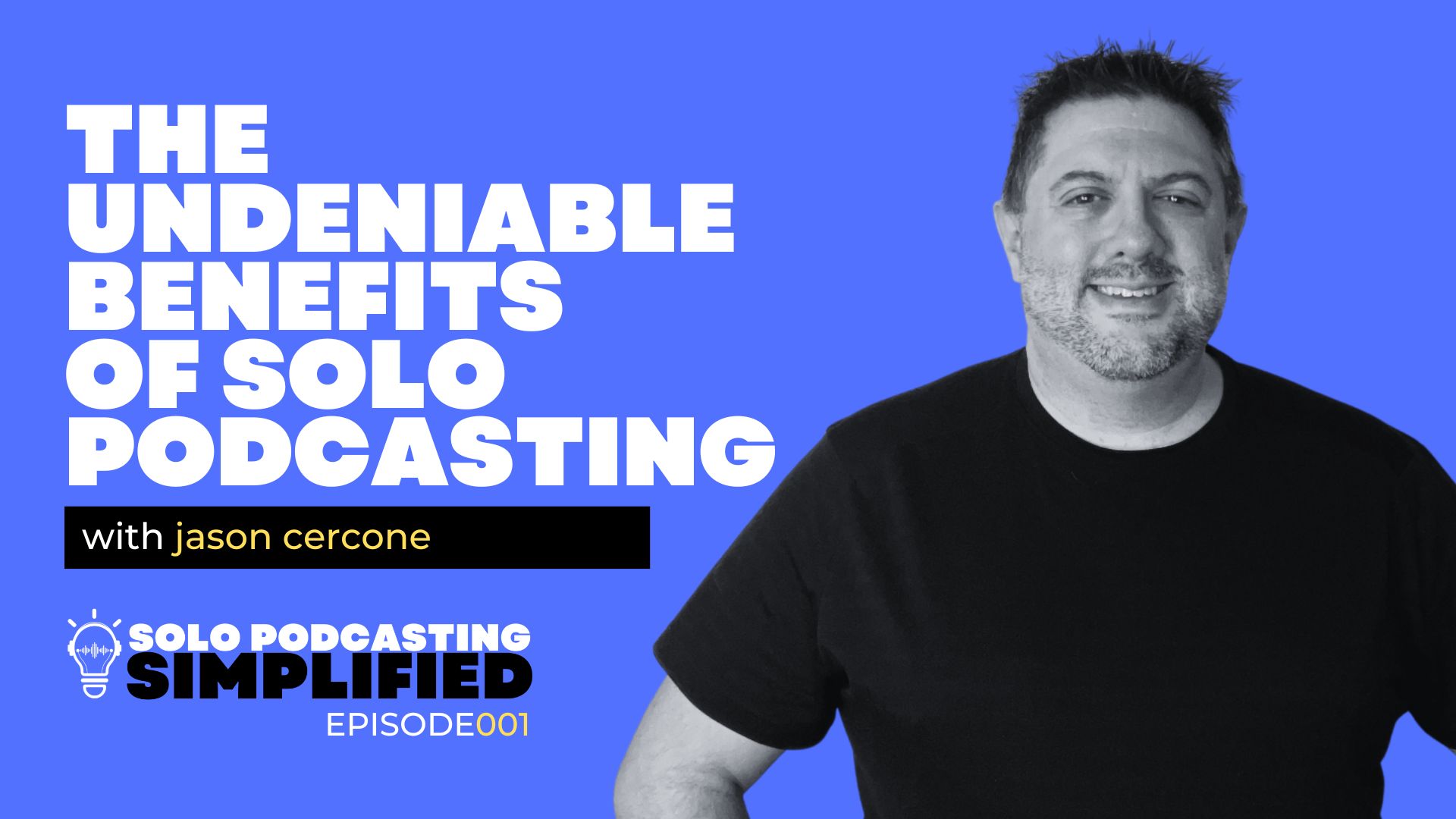 Table of Contents
Embracing the Benefits of Solo Podcasting
How Solo Podcasts Fuel Your Brand Growth
Other Benefits of Solo Podcasting
What to Expect From Solo Podcasting Simplified
---
In the premiere episode of Solo Podcasting Simplified, I share some of the undeniable benefits that make solo podcasting a juggernaut in the podcast creation space and set the table for what's to come on future episodes of this podcast.
Listen and Watch The Full Episode Here:
Or connect to this episode on:
Apple Podcasts | Spotify | Google Podcasts | Amazon Music | iHeartRadio | Podcast Addict | YouTube
Like This Episode? Give It ⭐️⭐️⭐️⭐️⭐️ Here
---
Embracing The Benefits of Solo Podcasting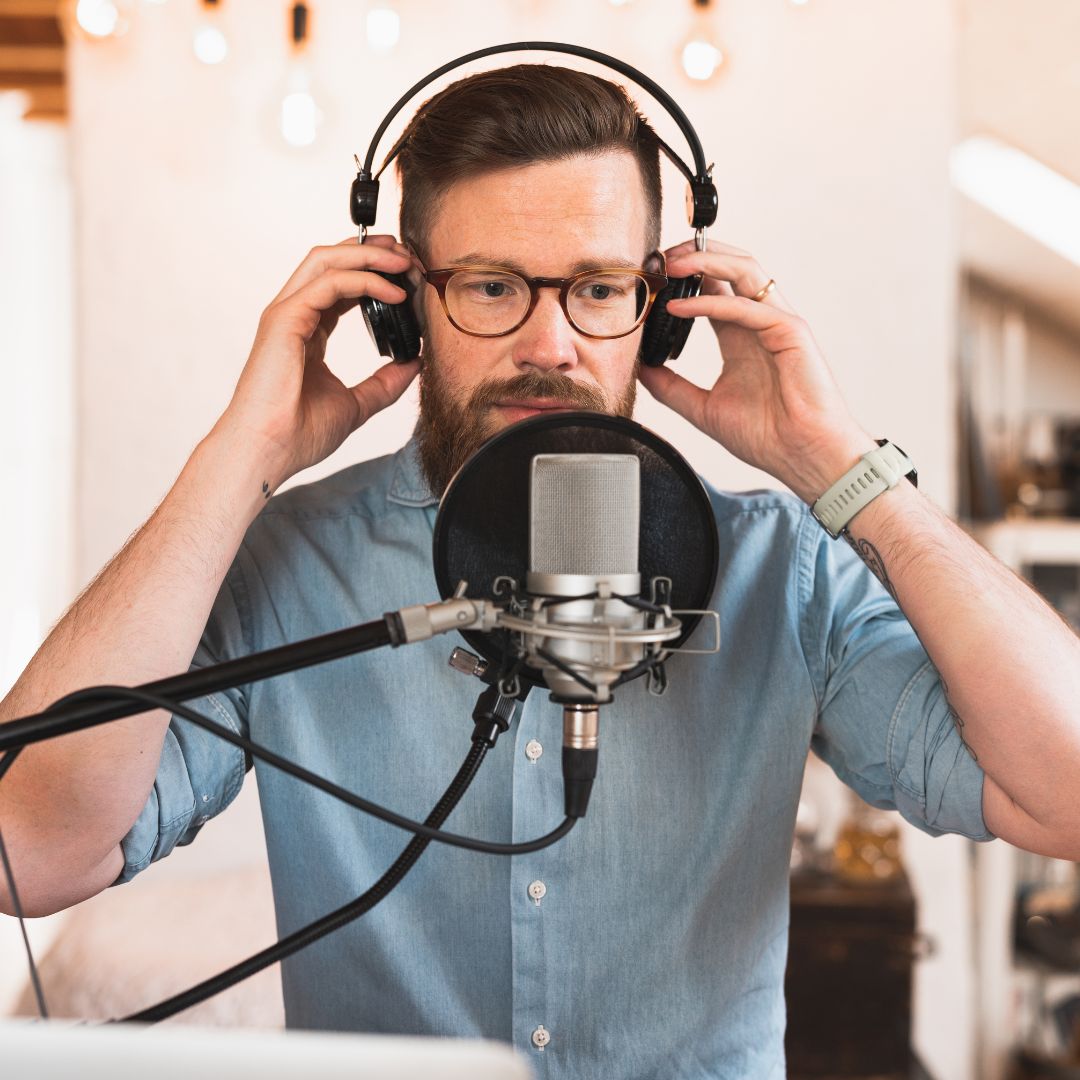 Of the millions of podcasts currently in existence on planet earth (both active as well as no longer producing content), the vast majority of them were built with the popular format of hosts welcoming guests onto their show for impactful conversation.
This approach, of course, has its benefits:
✅Guests help split the dialogue so the host doesn't have to do all the talking
✅Guests bring a new layer of insight and perspective to each episode
✅Guests give you an opportunity to tap into a new audience (as long as they share the content once it's live)
But often times, podcasters overlook some of the disadvantages of featuring guests on their show. Including, but not limited to:
⚠️The guest will be the featured thought leader for each episode
⚠️Finding guests and preparing for interviews can be time-consuming
⚠️Guests may go silent after your recording and do nothing to help you promote once it's live
My belief is this: since the majority of podcasts are built with a host-guest dynamic, new podcasters feel this is the best (maybe even the only) way to produce their soon-to-launch show.
And I get it. It's a template that's worked for years and it makes sense.
But what it really comes down to is your overall brand objectives.
Do you want to be the go-to thought leader that people in search of the transformation you know you can deliver turn to?
Do you want to use your podcast to build an unbreakable bond with your listeners, giving them an outlet to establish trust in you and your message?
Do you want more freedom and flexibility in your podcast production initiatives?
Then producing a solo podcast is the only way to fly!
How Solo Podcasts Fuel Your Brand Growth
Positioning yourself as thought leader in your niche is one of the most important steps you can take…and easily one of the biggest benefits of solo podcasting.
As you produce laser-focused content that resonates with your ideal listener, the more trust they build in your brand. This content not only strengthens the connection you have with your audience, but it also gives you a clear communication channel with current and potential clients/customers.
With each episode they consume, you move them closer to the transformation they seek. The closer they get, the more likely they take action and invest in your product, service, course, book, etc.
These results are elevated in a solo podcast recording environment because the focus stays on you, and you alone. 
With a guest, attention is pointed to them and Calls To Action shared within episodes typically point towards the guest's offer.
In no way am I downplaying the value a results-driven guest can bring to a podcast.
But if your objective is to bring people into your ecosystem and build relationships that lead to sales of your offers, a solo-based podcast is the best way to make that happen.
RELATED CONTENT: 5 Tips For Effective Solo Podcasting

Other Benefits of Solo Podcasting
While guests can bring a wealth of knowledge, insight, and notoriety to your production, there are other powerful advantages to carrying out your content solo you should know about.
Time
In order to produce the best content for your listeners, a substantial amount of time needs to be invested in preparation.
Finding the right guest for your podcast

Connecting with them, presenting the value of your show, and inviting them to join you

Scheduling

Sharing expectations for their guest appearance

Learning more about the guest

Generating compelling, captivating questions

Conducting the interview

Post-production and producing marketing assets

Maintaining some level of communication with your guest so their excitement about being on your show stay piqued

Promoting the podcast once it goes live
And to do this consistently, you have to lather, rinse, repeat these steps each and every week.
With a solo podcast, you can literally wake up with an idea, formulate it, record it, edit it, and publish it before you break bread for lunch.
One of the biggest benefits of solo podcasting: the amount of time you save.
In fact, depending on the length of your episodes, you could produce 4-5 solo episodes (at a minimum) in the time it takes you to prepare for one guest-driven interview!
Flexibility
Because it's just you steering the ship, you can dictate how you want to produce your content. 
Instead of just doing guest appearances every episode, you may choose to do a mini-series on a specific subject.
Or do a week's worth of content all dedicated to various tips and strategies that will help your listener move closer to that transformation they're after.
You can also feature a healthy mix of evergreen content and trending topics to give your audience more timely, valuable information to sink their teeth into.
Maybe you do want to bring a guest on from time to time that will serve your audience's needs. When you do this on a less frequent basis than putting your insights center stage with a solo-based format, you add a new layer to your portfolio while maintaining that strong connection you've built with each audience member.
The ability to be flexible will keep your production fresh and keep you motivated to continue producing episodes on a consistent basis.
Freedom
Building content with the solo approach allows you to batch record on your schedule, thus giving you an opportunity to get far enough ahead in your content production that a chance to unplug and recharge from your show becomes more realistic.
Even the most dedicated, most successful podcasters need a break. If you knock out a block of episodes in a sitting, you can now direct your attention to other initiatives in your business.
Or maybe just take a vacation and unplug altogether.
When you're constantly worrying about producing next week's episode, you push yourself against a wall and your attitude towards podcasting will change.
But if you take a strategic approach to building your content and do so with several episodes lined up to release, you will keep consistency at the forefront of your podcast – a trait your audience will be thankful for.
What to Expect From Solo Podcasting Simplified
As this podcast unfolds, my mission is to bring you the very best in tips, strategies, insight, and commentary around the benefits of solo podcasting. 
This is the only show dedicated to shining a spotlight on the advantages a solo podcast brings to the table.
Each episode will cover various aspects of solo podcasting to help you improve your skill set, add impactful solo episodes to an existing podcast, and assist you in launching a valuable, results-driven solo podcast centered around your zone of genius.
Each episode of Solo Podcasting Simplified can be found on your favorite podcast app, as well as my YouTube channel in video format.
If you like what you hear, please don't be shy in telling one person in your circle what they'll discover when they watch or listen as well.
And if you have any suggestions for content you'd like me to cover on a future episode, don't hesitate to shoot me an email to share your thoughts.
---
Want to learn more? We should talk.
---