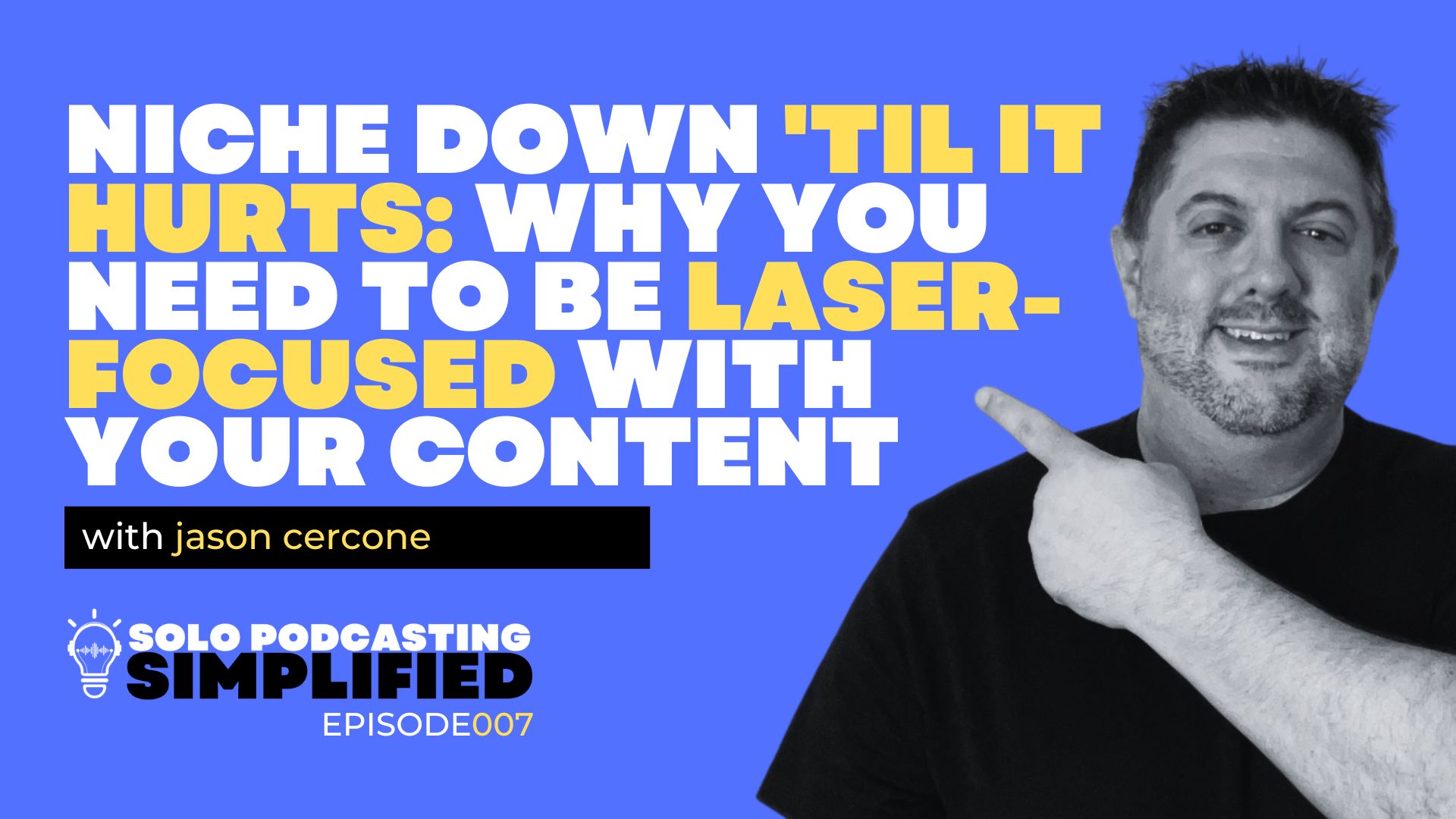 Table of Contents
Niching Down…In This Economy?
When You're Talking to Everyone, You're Talking to No One
I'm Lovin' It: Do It Like McDonald's Did It
The Benefits of Getting Laser-Focused With More Focused Content
---
In Episode 007 of Solo Podcasting Simplified, Jason Cercone helps you cut through the noise with laser-focused content and explains why getting incredibly specific with the transformation you bring to others will help you stand out in a crowded, noisy digital world.
Or connect to this episode on:
Apple Podcasts | Spotify | Google Podcasts | Amazon Music | iHeartRadio | Podcast Addict | YouTube
Like This Episode? Give It
Here
---
Niching Down…In This Economy?
The digital landscape you and I exist in today is filled with a plethora of answers and information as far as the eye can see.
What's good about this is the fact that answers are always at our fingertips.
What's bad is it can get incredibly difficult to filter through the minutia of content thrust upon us to find relevant information that resonates and brings game-changing wisdom into our lives.
If you're a coach or consultant who's adding content to the mix in any capacity, it's incredibly important not to get lost in the aforementioned minutia and, instead, generate content that serves a specific purpose and connects with people when they intentionally search for it.
Let's break that down…
Simply posting a link to your most recent podcast episode, blog post, etc. on Twitter, Instagram, LinkedIn, etc. will do little to bring new listeners over to your show…as you may have experienced.
With the sheer amount of content that's being spilled on to social media simultaneously, it can be next to impossible to even get your posts seen…let alone have them break someone free of their 'scroll hole' to listen to your podcast.
But if you build content for a specific purpose that's aimed at a specific person looking to solve a specific problem AND you build it in a way that's SEO-friendly and easy to discover when intentional search is conducted, your chances of making a genuine connection and gaining a loyal follower/listener/viewer/reader increases dramatically.
When you DO make connections on social media, your first step should be to move the conversation to a channel where you have more control (i.e., an email list).
And you have a much better chance of making that happen if you give your new connection exactly what they're looking for.
This can be accomplished with a solo podcast, but the philosophy of niching down, providing more focused content, and leaning into an area of specialization transcends the podcast medium and should be applied to everything you do.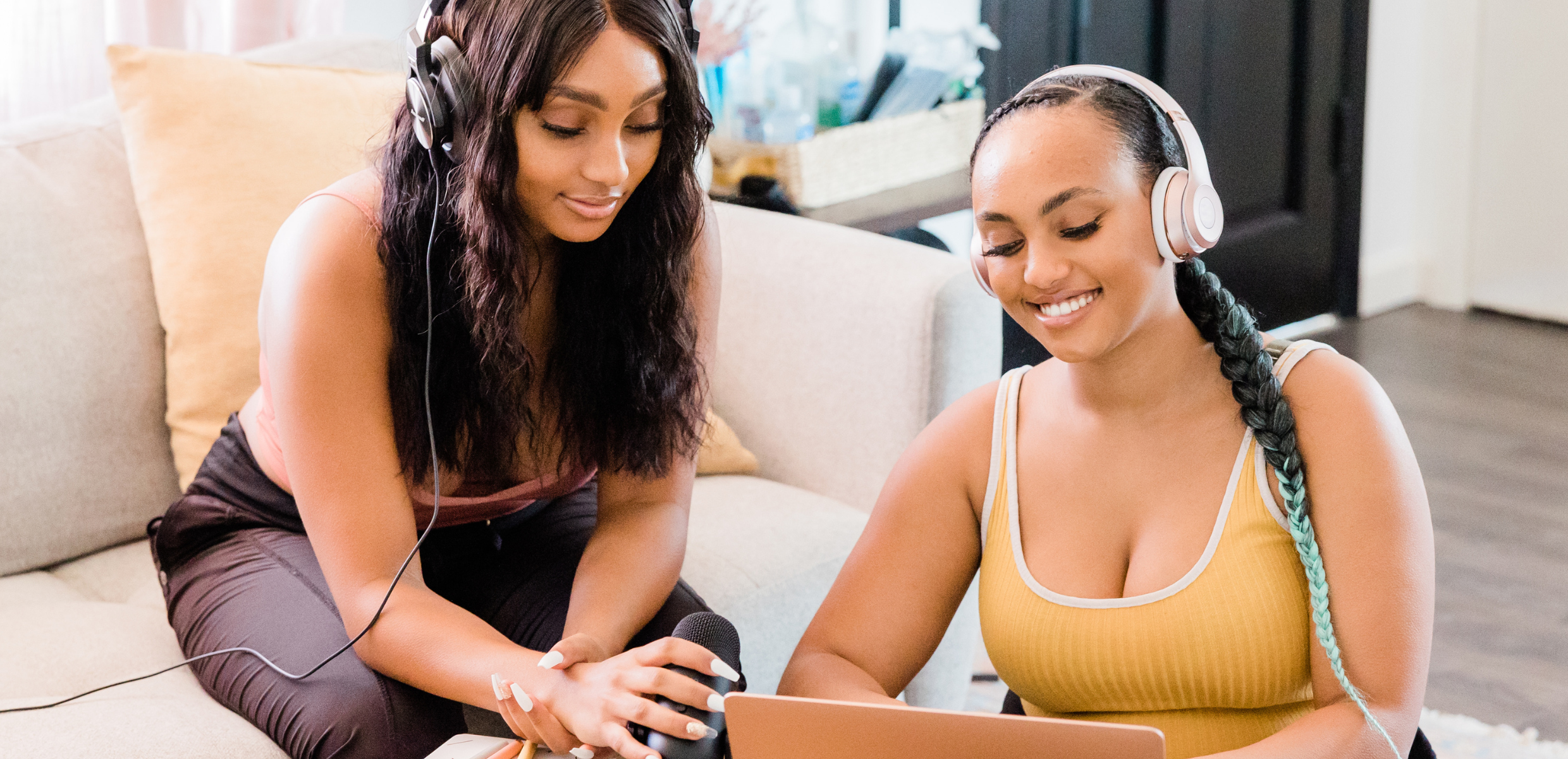 When You're Talking to Everyone, You're Talking to No One
It may seem logical to have multiple offerings or cover numerous subjects on your podcasts, on social media, etc.
That way, you don't experience FOMO (fear of missing out if you're not into the whole brevity thing) and can appeal to multiple groups of people.
But in today's world, attempting to do that is ritual suicide for your visibility.
As I said, it's noisy out there. And the amount of content that is pushed in front of us on a daily basis is mind-blowing.
Our mental capacities simply weren't built to consume content at this rapid of a frequency, so we naturally filter out the vast majority of what we see.
If you spend any time on the Internet today, you experience this and, consciously or unconsciously, partake in this same filtering process.
You scroll passed what doesn't hook you and get sucked in to what does.
Just like your target customers, clients, listeners, viewers, readers, and brand advocates.
Trying to stand out with no true focus is virtually impossible simply because you can't cut through the existing noise to establish your presence.
So why waste your time trying?
Instead, get zeroed in on your zone of genius and produce more focused content that gives the right people exactly what they're looking for WHEN they're looking for it.
I just Googled it: the number of Google searches conducted PER MINUTE is 2.4 million.
What can we learn from this? People are using Google…and using it frequently.
And Google wants their billions of users to have the best experience possible, so any content that's relevant to a user's search is going to get increased visibility and ranking the more people click and get what they asked for.
Case in point: Don't create content that attempts to speak to the masses. Instead, create content that speaks to ONE PERSON who needs the exact solution you're equipped to provide.
The more consistently you do this, the more love you'll get from the search engines…which will fuel discoverability, which will get you more love from the search engines, and so on, and so on…
YOU MAY ALSO LIKE: 4 Impactful Ways Coaches Can Stand Out With a Solo Podcast
I'm Lovin' It: Do It Like McDonald's
Today, McDonald's is a brand known the world over and consumed by the vast majority of the global population at one point or another.
But before it became the world's most recognizable restaurant, it was nothing more than a small burger stand in a small town in California started by…wait for it…the McDonald Brothers.
If you haven't already done so, I highly recommend watching The Founder starring Michael Keaton, Nick Offerman, and John Carroll Lynch. It tells the story of the rise of McDonald's and how Ray Kroc (played by Keaton) took the McDonald Brothers' (played by Offerman and Lynch) concept and built a global franchise corporation.
When the Brothers tell Kroc the story of how they turned their burger stand into the most popular destination in California, they revealed that when they were operating with the popular-at-the-time drive-in model, they had a full menu of options available to their customers.
But when they analyzed their numbers, they discovered 87% of their sales were in three items: burgers, fries, and soft drinks.
So, they decided to emphasize what sold most. They cut their menu back to those three items plus milk shakes.
They also made a bunch of additional changes, but I'll let you watch the movie to discover those.
The point is this: they saw what worked and they niched down.
They didn't try to force-feed offerings people had no interest in.
They got laser-focused on the product they offered and became the place to go if you wanted a burger.
This can be you. And your focused content will serve as the vehicle that tells people what you specialize in and how you can help them solve a specific problem.
Someone wants a burger? They go to McDonald's.
Someone wants the solution you offer? They come to you…because they know you're the one that specializes in delivering the exact transformation they're looking for because your content showcases this loudly and proudly!
The Benefits of Getting Laser-Focused With More Focused Content
I've already mentioned a few of the benefits getting laser-focused with your content, as well as what you offer your customers and clients, can do for your brand. But let's take a moment to reiterate because this matter is of the utmost importance.
Zeroing in on more focused content allows you to create from your zone of genius and produce valuable information that impacts targeted listeners/customers/clients/etc when they're intentionally looking for the solution you offer.
Getting laser-focused helps you cut through all the noise your targeted audience experiences on a daily basis.
Being specific with your offer helps reduce stress and lets you lean into your specialty. No longer do you have to try to perform dozens of tasks. Instead, your value comes from the one thing you do best.
Dialing in your content to one specialty and posting it on your website will boost your visibility, helping search engines get a better idea of what users will discover when they land on your site. With search engines continuing to get massive traffic every minute of the day, building content that's searchable and discoverable is something you don't want to ignore. Ever.
Keeping your content focused on your specialty means you'll be presenting it with passion, from a position of great wisdom and expertise. This will further cement you as a thought leader in your niche and attract more people to your brand.
Building a solo podcast just for the sake of having a podcast won't get the job done.
But creating solo-based content that dives into the various aspects of your specialty and shows your listeners exactly how you can help them achieve the transformation they're seeking WILL get the job done and then some.
Did this post bring some new perspectives into your life? If so, shoot me an email and let me know how you're going to get laser-focused going forward!
---
Let's Talk Podcasting! Schedule a Session Here.
---