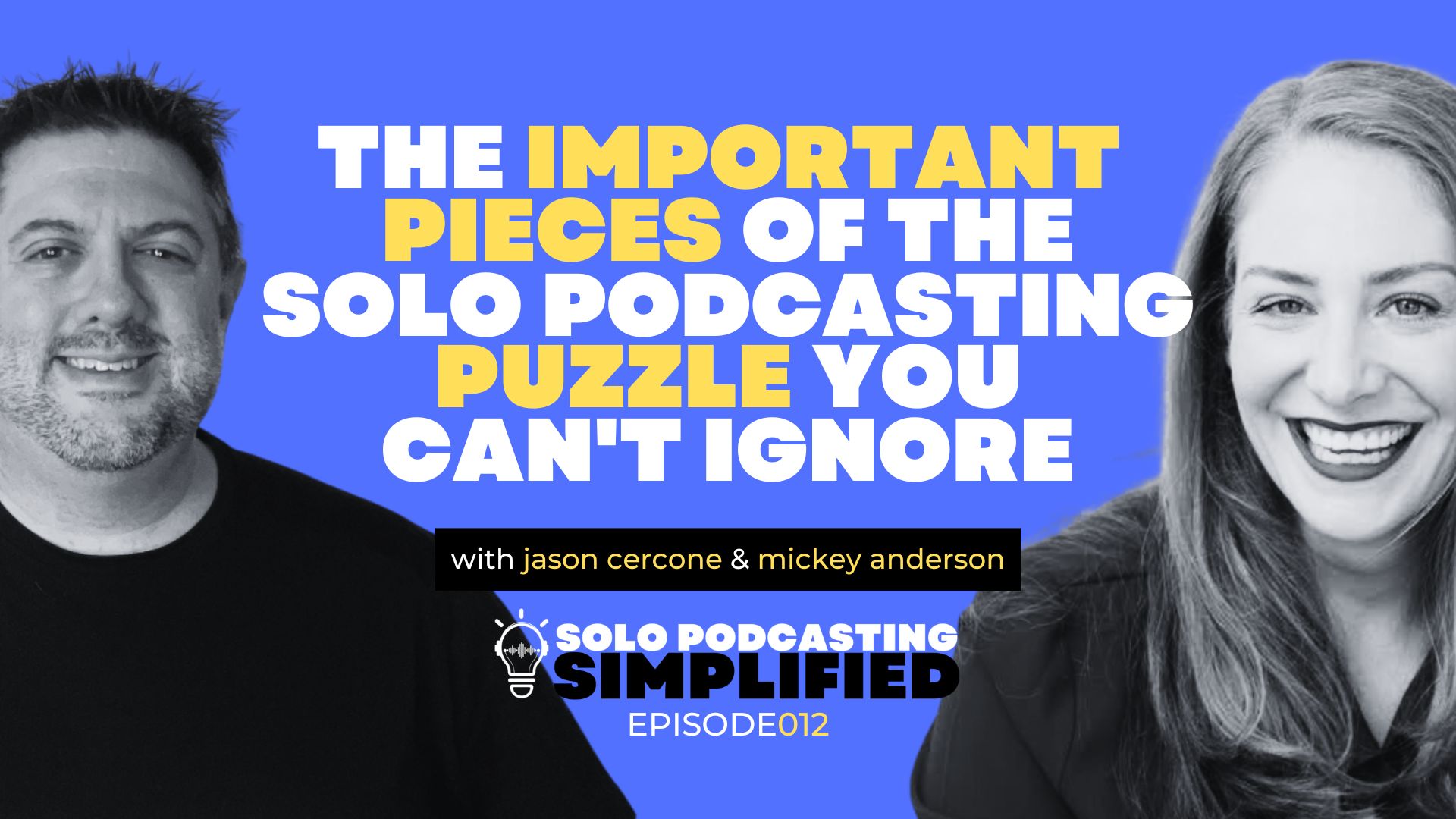 Table of Contents
Why Solo Podcasts Strengthen Your Brand Presence
The #1 Value Proposition of Solo Podcasting
The True Measurement of Success For Your Podcast Content
How Website Presence For Your Podcast Adds Value to Your Overall Brand
About Mickey Anderson
---
In Episode 012 of Solo Podcasting Simplified, Jason Cercone is joined by the one and only Mickey Anderson for an in-depth conversation about solo podcast strategy, how to use solo content to position yourself as a thought leader, the value a podcast adds to your brand, and the importance of using your content to amplify your website presence.
Or connect to this episode on:
Apple Podcasts  |  Spotify  |  Google Podcasts  |  Amazon Music  |  iHeartRadio  |  Podcast Addict  |  YouTube
Like This Episode? Give It
Here
---
Why Solo Podcasts Strengthen Your Brand Presence
Having a podcast is great. The value it brings to your brand cannot be overlooked or ignored.
The connection you build with current and potential clients is profound and each episode you publish provides further social proof that you're a true thought leader in your niche that people can learn from.
You also have an amazing opportunity to connect with fellow like-minded professionals, thus amplifying your reach and expanding your network.
A podcast serves as a consistent, reliable content distribution channel that allows you to effectively project your message to a targeted audience and communicate how you can help them achieve the transformation they seek.
The content found within your podcast can be repurposed and utilized on other channels, such as websites, blogs, YouTube, and social media. 
This, in turn, fuels the growth of your brand presence and moves you closer to closing new business, thus fueling more growth, and so on, and so on.
And when your podcast is of the solo variety (meaning you're the primary voice on the majority of episodes delivering value, wisdom, and transformative insight), listeners who resonate with your message will feel the impact from you…and you alone. 
Building a solo podcast directly related to your brand and leveraging the content you create to the fullest extent is going to provide you with a bona fide path to connectivity with current and potential customers the likes of which you've never experienced.
That type of impact is impossible to exclude from your overall brand-building strategy.
In Episode 012 of Solo Podcasting Simplified, I'm proud to share the mic with this podcast's first guest, the Marketing Closer herself, Mickey Anderson.
Mickey is a wealth of knowledge on content strategy, marketing concepts, and how to best use solo content to position yourself as a resource your industry needs.
Join Mickey and I for an in-depth conversation about:
Solo podcast strategy

How to use solo content to position yourself as a thought leader

The value a podcast adds to your brand

The importance of using your content to amplify your website presence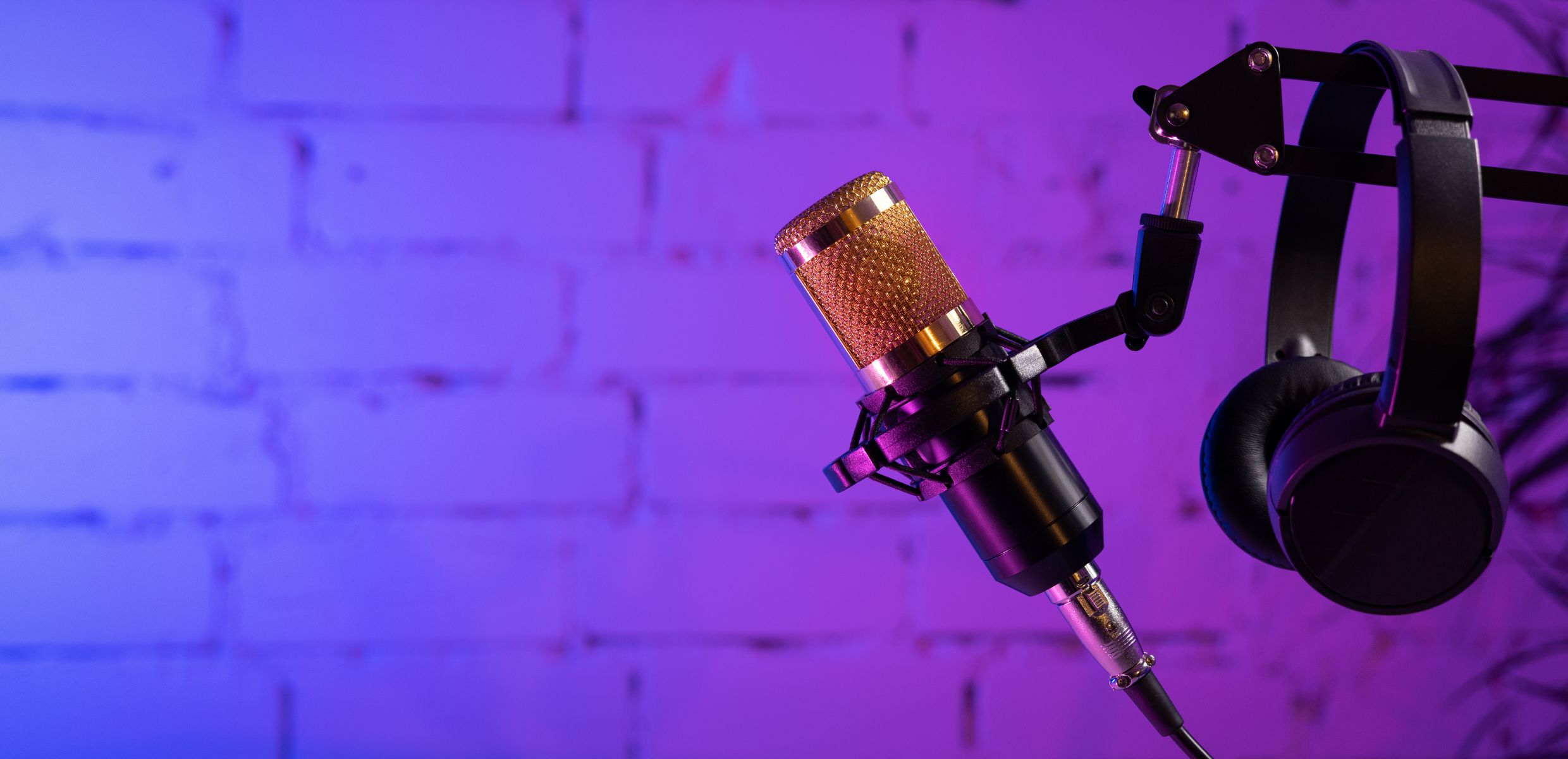 The #1 Value Proposition of Solo Podcasting
There are a number of benefits solo podcasting can deliver to you and your brand and, without question, the benefit that serves you the most will be the one you deem as your favorite.
That said, I think there's one valuable piece of the solo podcasting puzzle you, me, and everyone else building content in this capacity can agree is pretty damn sweet:
Time freedom.
From the outside looking in, podcasting looks very sexy.
It's fun, it's accessible, and seemingly everyone from the world's most popular celebrities to the guy who rang you up at Home Depot yesterday has a podcast.
But once you get into it, you discover podcasting…..is a lot of work.
And a large chunk of that work stems from the amount of time it takes to collaborate with guests each and every episode.
If your podcast strategy calls for ample guests to help you with exposure and positioning, that's fine. Just be ready to devote a lot of time to preparation and discovery.
With solo podcast content, you can batch out several episodes in advance, on your own schedule, whenever inspiration for impactful content may strike.
With guests, you're confined to recording on their schedule…and that schedule could be at various times based on their location in the world.
In no way am I knocking the potential value a guest can bring to your podcast. 
But leaning into the solo approach to podcast creation can free up a ton of time to dedicate to other priorities in your life, professionally and personally.
Laying on a beach sipping one of those colorful drinks with an umbrella, anyone? 
YOU MAY ALSO LIKE: The Truth About Consistency In Podcasting Revealed
The True Measurement of Success For Your Podcast Content
Acquiring a huge audience for your podcast can provide a nice boost to the ego. 
It may even lead to a sponsorship or increase revenue generated via advertising.
But massive download numbers should not be how you gauge success with your content.
When you're building out your foundational podcast strategy, you need to establish clear objectives for your efforts.
If your objective is to close more business, the true measurement of success for your solo podcast is how many of your listeners you convert into customers.
And you don't need to build a sold-out stadium-sized audience to make it happen.
Even a small audience can provide enough to satisfy sustainable growth.
In all likelihood, if you had the whole stadium beating down your door all at once, you'd never be able to handle the growth successfully.
Download metrics will fall into place as you consistently publish valuable content to your listeners because the more they resonate with your message, the more they'll recommend it to others who will as well.
Focus on building high-quality, engaging content for the right people and transform listeners into customers.
How Website Presence For Your Podcast Adds Value to Your Overall Brand
If you're leveraging podcast content for your brand, featuring it on your website is a must.
Above all, having your podcast featured on your website has undeniable SEO benefits.
When people search for a solution to a problem and find your podcast, it connects them to your website…bringing them one step closer to a transformation, thus bringing you one step closer to welcoming a new customer into your ecosystem.
Additionally, a blog post like you're consuming right now serves as a well-curated hub that gives consumers instant connection to audio, video, and the written word for each episode. 
A website presence also demonstrates how seriously you're taking this content and puts it in plain sight for website visitors to consume.
It also adds immense value to your content channel and can boost your coinage should you ever decide to make an exit.
Your content should be designed to establish a powerful connection with listeners. 
It should make the same connection with anyone who discovers your podcast via your website as well.

About Mickey
Mickey Anderson is a marketing strategist, consultant and speaker who helps service professionals stand out as thought leaders and maximize revenue without increasing workload. She is the Marketing Closer, a conversion specialist, campaign strategist, and conversion copywriter. She'll help you convert and retain more high-value clients who stay longer, spend more, and consistently refer.
Connect with Mickey on her website at heymickeyanderson.com
---
Let's Put the Puzzle Together…Together. Schedule a Call Today.