Find Evolution of Brand On Your Favorite Podcast Platform
Spotify | Apple Podcasts | iHeartRadio | Amazon Music | Stitcher | Podchaser | Google
Episode 076 Sponsor
Episode 076 of Evolution of Brand is sponsored by the FREE podcasting workshop that I'm co-hosting with Tristan Thibodeau on Friday, July 8th 2022 at 4:00pm EST/1:00pm PST. Join us and discover how podcasting can take your brand to the next level! Click here for details and registration
The Goods From Tom Antion
Top 3 Takeaways From This Value-Packed Conversation
In order to see tangible results from advertising, it's best to do some sort of training so your level of understanding increases and you don't waste a ton of money trying to learn on the fly

Social media is all about engagement. If your post doesn't get sufficient engagement in the first hour, the party's over and the platform's algorithm won't push your post to any new people

Embracing the digital economy is to embrace change. The platforms and the approaches through which you succeed on said platforms will continue to change and evolve as you move forward with your brand. Stay nimble!
Show Notes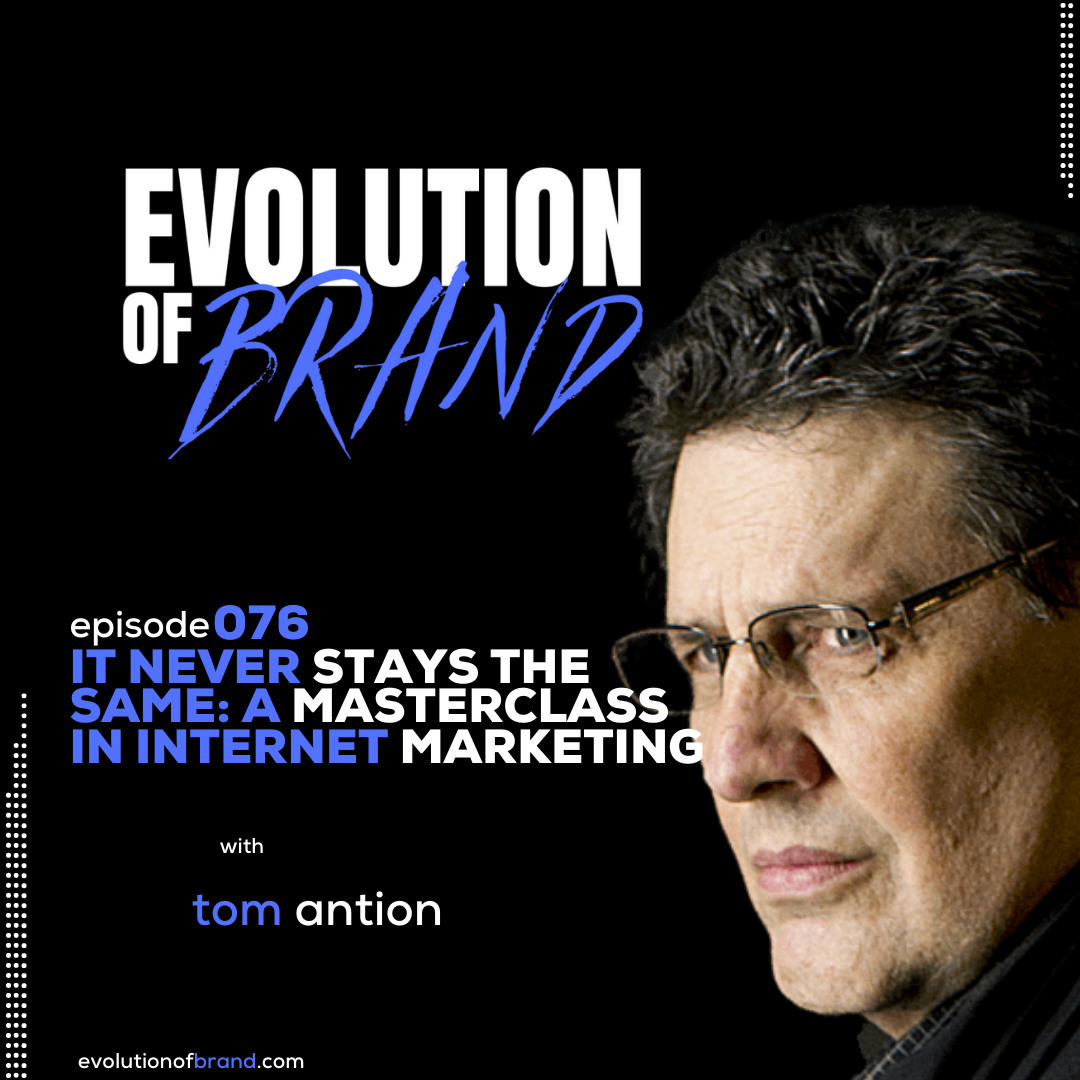 2:05 – A time when Tom listened to himself instead of what others told him was right and it led to a major accomplishment
2:53 – How Tom has built his brand over the years and what philosophies have helped him pave his personal path to success
6:00 – What advice does Tom have for anyone looking to escape their J-O-B?
– EMBRACE THE DIGITAL ECONOMY!
7:52 – How to effectively build a long-term business with growth and stability, taking into account your own website, as well as other platforms you can utilize across the web
– Get people from social media over to your email list
– When you don't own the platform, they can make changes that drastically impact your efforts. Use platforms like social media to connect and engage, then get them onto your website and/or your email list so you can control the narrative
– Don't feel like you need to spend thousands of dollars to have a website
11:34 – A look at social media today, whether or not you can succeed with organic strategies on platforms that have leaned heavily towards "pay to play," and paid methods you should be taking advantage of
15:19 – Two tips about Facebook advertising you DO NOT WANT TO MISS!
20:18 – Other than getting people from social media to your website or email list, is there anything that can still be gained from organic approaches on social media as it exists today?
– Yes! But…
– Don't worry about posting every day or on a frequent basis
– All social media platforms are all about engagement and the amount your content gets pushed will be based on said engagement
– A micro-test will determine the level of engagement your post gets and, thusly, how much it gets pushed
– Levels of engagement in the micro-test
– Like – lower-level engagement
– Comment – a level higher than a Like
– Share – a level higher than Comment
– Save – the highest level
– If you don't get a healthy amount of engagement in the first hour, it's over
– If you can consistently get engagement, the more love you'll get from the platform…because you're doing your part to keep people on their platform so they can show more ads
– DO NOT BUY ENGAGEMENT! You'll get caught almost instantly
24:05 – Can the "trick the algorithm" approaches work or will things change…just like everything else in the Internet Marketing world?
26:52 – A time Tom worked with someone trying to make money online, but their approach would not allow them to succeed and he was able to change their mindset
29:49 – What's a great way to get started with doing keyword research properly?
– Put focus on Buying Intent keywords and keyword phrases
– Google loves FAQs on websites. So…find out what people are asking on Google and put those questions on your website!
– Browser extension called Keywords Everywhere – tells you key metrics when you do a search right on your browser
34:39 – Tom's 3-pronged attack for building a substantial income on the World Wide Web