Find Evolution of Brand On Your Favorite Podcast Platform
Spotify  |  Apple Podcasts  |  iHeartRadio  |  Amazon Music  |  Stitcher  |  Podchaser  |  Google
Episode 083 Sponsor
Episode 083 of Evolution of Brand is sponsored by Canva. Canva makes it easy to create remarkable, on-brand logos, graphics, and videos for any business owner at any skill level. Click here to get started with Canva
The Goods From Alex Sanfilippo
Connect with Alex and everything he's doing |

podpros.com
Top 3 Takeaways From This Value-Packed Conversation
It's been said millions of times, but it always rings through with maximum strength: In order to make a splash in your niche, find a problem and provide the solution!

In order to succeed with building your brand in the podcast space, you need to love the journey and not get consumed with reaching the destination. The journey will provide you with so much in regards to content, relationships, and opportunities, it, in essence, becomes more important than the destination itself

Making simple changes in your vocabulary can have an immense impact on your mindset. For example, instead of waking up every day saying, "I HAVE to do something today…" say "I GET to do something today!" This will keep you engaged in the process and give you an appreciation for everything you get to do as you build your brand
Show Notes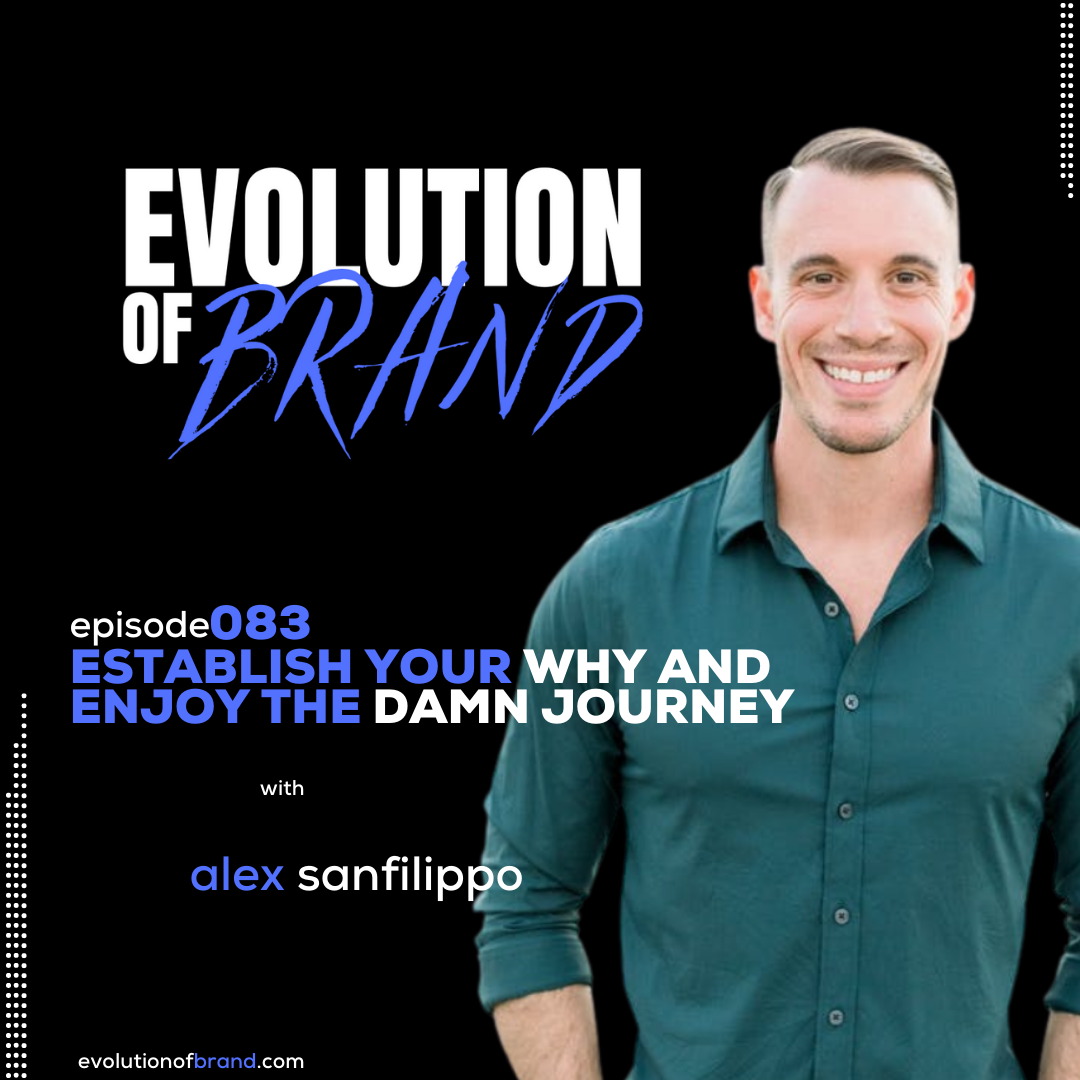 1:36 – A time when Alex listened to himself instead of what others told him was right and it led to a major accomplishment
3:59 – Alex tells how he first got bit by the entrepreneurial bug at the age of 10 and how all of the experiences he's had along the way have brought him into the world of podcasting
10:51 – I share my story of stumbling into the entrepreneurial world at the age of 13 flipping sports cards and gaining real experience that's stayed with me throughout my life
14:41 – What is PodMatch, what inspired it, and what does it do to help professionals in the podcasting space develop their own show and/or appear as value-driven guests on established shows?
     – PodMatch is like a "dating service" for podcasters – it allows you to connect with others to simplify booking opportunities. 
     – Within PodMatch, you get "matched" with other individuals and podcasters based on the info you provide. You can also chat, set up recording sessions, learn from others, and much more within the community
     – PodMatch was born from one of the biggest issues podcasters face: finding quality guests to collaborate with
     – Alex found a problem that existed in the podcast space and provided the solution for it
     – Learn more about PodMatch and try it for free!
21:57 – What are some of the common mistakes new and experienced podcasters continue to make today and how can these mistakes be overcome?
     – Getting caught up in growth and being unhappy when it doesn't happen instantaneously
     – Podcasters get wrapped up in vanity metrics like download numbers, which takes focus away from what's important: creating quality content on a consistent basis, as well as the value you're bringing to your audience and making an impact in your targeted niche
     – Not emphasizing the creation of recommendable content that inspires a listener to tell one person they should be listening, too. This is how exponential growth kicks in and how real, tangible audience growth works
     – When it comes to content creation as a whole, you have to be patient and consistent. There are no shortcuts, so don't waste time trying to find one. There are ways to work smarter and not harder, but you can't shortcut your way to instant success
     – COMMITMENT: If you're starting a podcast, commit to your project for a MINIMUM of one year
     – CHALLENGE: Do not look at your podcast download numbers for the first six months of your production
30:47 – Love the process, enjoy the journey!
     – If you don't love the game you're a part of, you most likely won't appreciate the destination once you reach it
     – You can learn so much during the journey that it makes the destination almost irrelevant
     – To enjoy the journey, you need to establish your Why. Without a Why, your efforts lack personal value and give you no aim or motivation to keep getting better
     – Change some words in your vocabulary. Instead of saying "I have to…" say "I get to…"
          – I GET to have three sales calls today!
          – I GET to record three podcasts today!
          – That shift of ONE WORD in your vocabulary can completely reset your mindset
34:55 – What is the craziest experience that Alex has had hosting his podcast and being a guest on another show?
38:59 – What are some of the most important factors you need to keep front of mind if you want to grow your brand as a podcast guest?
     – Do not look at the size of the show
     – EXAMPLE: Being a guest on a show with an audience of a million people may not serve you because listeners tune in because they've fallen in love with the host
     – The first step: determine WHY you want to be a podcast guest and how it's going to serve you and your brand
     – Design an avatar/ideal listener profile and find podcasts that are doing a great job talking to that avatar. When this happens, audience size is irrelevant because the content is geared towards your ideal listener and, therefore, providing an opportunity for you to make an impact
     – Even with the smallest of audiences, you never know how your message will resonate. AND…that show could blow up one day and you'll be part of that massive growth
     – Think about the message you want to share before you go on. Keep things brief and prime the audience to want to stay tuned in to the show
     – Listen to some of the content before reaching out to be a guest. You want to make sure the content aligns with your objectives
     – From the host side, be sure to prepare for your interviews/conversations. Do enough research to have a powerful conversation that truly showcases the guest's expertise
     – Be consistent. The more appearances you make, the better you'll get at your craft AND the more your reputation will grow
     – Set realistic expectations for your efforts
     – Always have a singular Call To Action. Don't provide 50 different directions for a listener to take. Give them something easy that allows you start the nurturing process and control the narrative