Find Evolution of Brand On Your Favorite Podcast Platform
Spotify | Apple Podcasts | iHeartRadio | Amazon Music | Stitcher | Podchaser | Google
Episode 069 Sponsor
Episode 069 of Evolution of Brand is sponsored by Leaders Press! Discover how you can build your authority and strengthen your credibility (even when you're not in the room) with your own best-selling book. Click here to learn more
The Goods From Chris Williams
Top 3 Takeaways From This Value-Packed Conversation
If you don't have a way to predictably generate on-profile leads, you don't have a business. You're just getting lucky

In order to launch and grow an effective mastermind, group training, or course, you need to be 1) an expert, 2) a good communicator, and 3) a natural giver

Your knowledge and expertise will always be valuable to the world. Even if many people have talked about it before you, people haven't heard you put your unique spin on things or inject your personal brand into the mix. If someone else is already talking about your area of expertise, that's a good thing!
Show Notes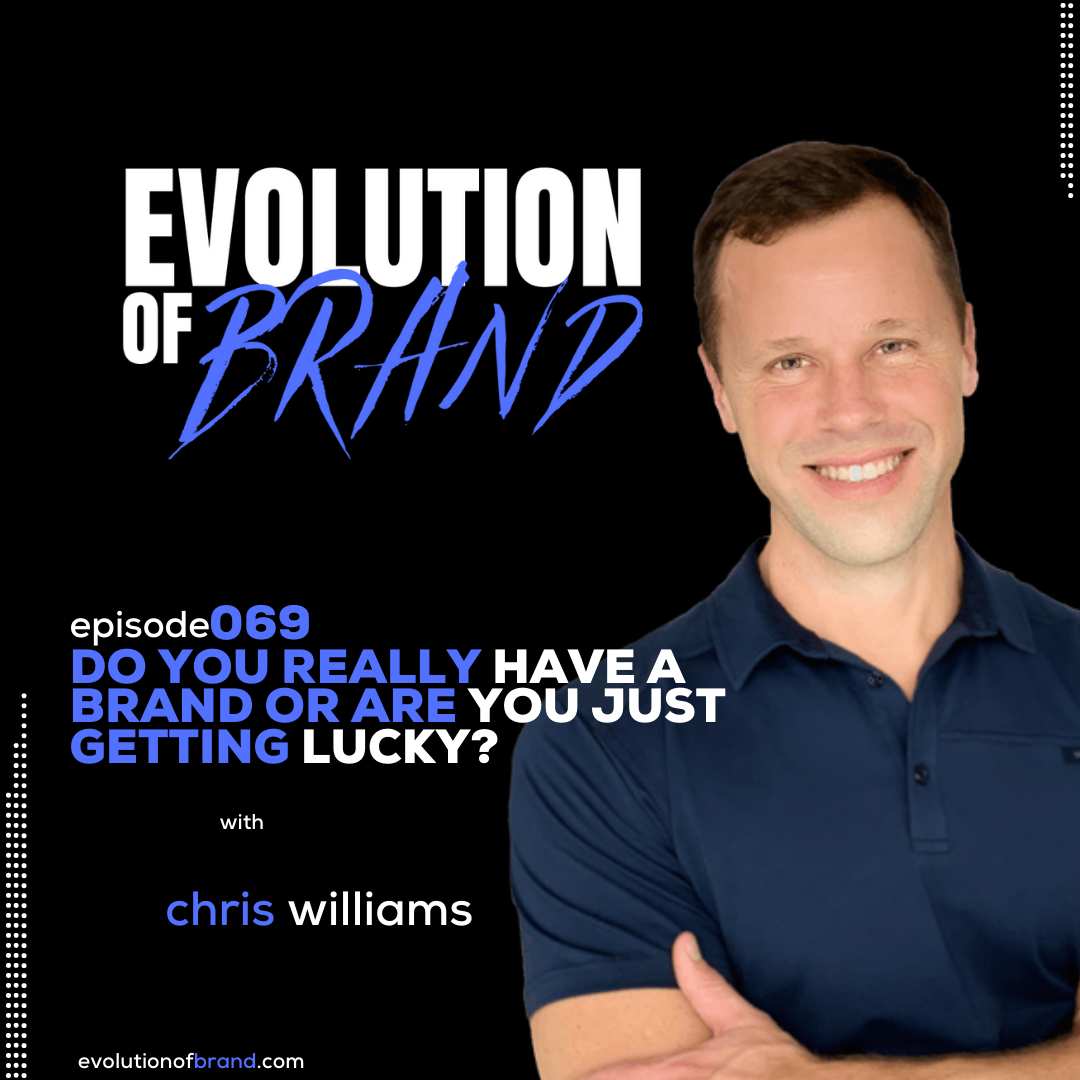 1:28 – A time when Chris listened to himself instead of what others told him was right and it led to a major accomplishment
5:11 – Chris tell us about the evolution of his brand and one vital lesson that he learned along the way that drives how he operates in his practices today
7:26 – What does a typical work week look like for Chris?
– Chris used to work 16 hour days…and then he discovered The 4-Hour Work Week by Tim Ferriss
– He used the blueprint Tim laid out to bring his hours down to four per day AND quadruple his income!
– Having a system frees you up and allows your brain be strategic and creative
– Moral of the story: build a system and hire someone to run it
10:06 – Chris provides the insight of how he executed Tim's blueprint and went from 16 to 4 hour work days
– Build a spreadsheet and map out everything you do over a two-week work period
– Determine where you need to keep your focus and what tasks you can delegate
– Create brief training videos to share with whoever you hire to help (VAs, in-person assistants, etc)
– Have that assistant watch the video and provide their thoughts on what they need to do to accomplish the task
15:08 – Chris explains why it's better to have your time freed up so you can bring more value to the world
18:11 – What's the best piece of advice Chris ever receive from an expert and how did that advice shape his practices?
23:30 – What environment do you learn the most in and how are you impacted the most?
– Some learn the most from a mastermind while others learn better from an e-course, book, podcast, etc.
– What will lead to the most transformation
24:18 – Why can your knowledge and skill set bring value to the world even if someone else has already covered your topic?
– If someone else is already talking about your area of expertise, GOOD! That means there's a market for what you've got
– If you think of something that you think is a great idea, Google it, and discover there's nothing to be found on the subject, you're most likely going to fail if you choose to move forward
– Your info may be the same as your neighbor's, but people are attracted to different personalities
– People aren't buying new information. They're buying YOU!
– There may be a lot of information available about your area of expertise, but you haven't put your unique spin on that information yet. And when you do, it could resonate with a new audience that may not have felt the impact from others
28:00 – What's a major problem that Chris has solved in the evolution of his brand that added value to his community?
31:45 – When it comes to building relationships, what are some the key aspects that Chris and his team put into practice that allowed them to get into a true zone with prospecting and have it serve their brand so well?
35:01 – When would launching a group coaching program be the worst decision you'd ever make?
– In order to run a group coaching program or running a valuable mastermind, you need to have the following three qualifiers, non-negotiable:
1. You need to be an expert
2. You need to be a good communicator
3. You need to be a natural giver
– If you don't have those three traits, you will be miserable leading a mastermind or group training!
40:48 – How do you position yourself to experience the benefits of a high-ticket mastermind, course, training program, etc?