Find Evolution of Brand On Your Favorite Podcast Platform
Spotify | Apple Podcasts | iHeartRadio | Amazon Music | Stitcher | Podchaser | Google
Episode 070 Sponsor
Episode 070 of Evolution of Brand is sponsored by Leaders Press! Discover how you can build your authority and strengthen your credibility (even when you're not in the room) with your own best-selling book. Click here to learn more
The Goods From Roy Osing
Top 3 Takeaways From This Value-Packed Conversation
Brands need to go the extra mile to express why people should do business with them and declare their differences versus the competition in a way that isn't aspirational, but impactful

People do not relate to aspirations, despite how they provide a temporary good feeling. Therefore, building your brand statement in an aspirational fashion will only go so far

Your "Only Statement" (and your brand statement) needs to address what your customers care about. Not what they need, but what they care about
Show Notes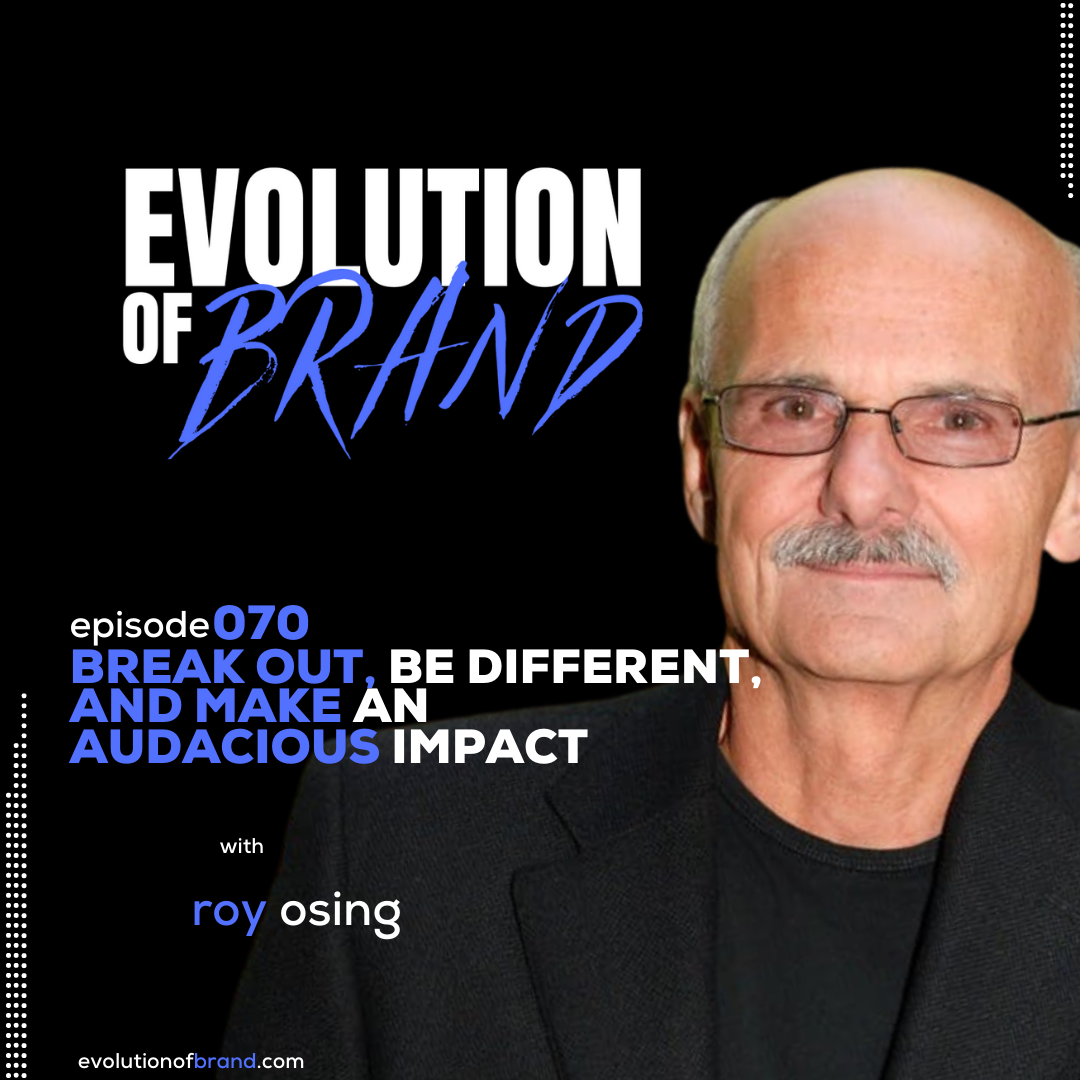 1:25 – A time that Roy listened to himself instead of what others told him was right and it led to a major accomplishment
4:16 – Roy takes us on a trip down his professional path and shares some of his most rewarding experiences and which philosophies have fueled his evolution over the years
8:44 – Where brands are missing the mark by just doing the status quo with their marketing approaches and not doing enough to stand out
– Using words like "best," "better," "premium," "most compelling" to describe what you do gets lost because it's aspirational and self-serving
– Many brand statements do not answer the question, "Why should I buy from you and not your competitor?"
– Brands need to declare their differences and not base those differences on aspirations
– The ONLY Statement – "I am the ONLY one who…" or "We are the ONLY company that…" this is binary and tells consumers that you are the only person/company that does a specific thing. If you make an Only Statement, be sure that you are, indeed, the only one who does it!
14:45 – How has the perception of brand statements and overall brand missions changed over the years?
– You need to express yourself not in terms of how you feel, but in terms of what will make someone do business with you and many companies do not
– People do not relate to aspirations. Aspirations may make you feel good, but they do little else
– People are interested in transformation and "what's in it for me"
18:11 – What are brands that are doing their brand statements and mission statements well?
22:40 – Unpacking The Only Statement (Rules of The Only)
– You need to test your Only Statement and always consider it a draft
– Test it by asking customers and asking employees
– To test, you need to answer two questions:
– Does the Only Statement address something that our customers care about? Not what they need, but what they care about
– Is the statement true and can we consistently deliver on it?
– If the answer is no to either of those questions, stop and start over!
28:19 – The "ugly sweater" analogy and how it relates to brand building today
31:58 – The role of an influencer in the branding space and the strategy you need to capitalize on to make money on trends and fads
37:48 – Does it make sense to grab hold of a trend to get looks, but not establish any long-term engagement, or reverse engineer things and put more quality content in place for when people DO discover you?
– Fundamentally, marketing today has become lazy because it's being driven by tactics (trends) instead of originality, creativity, and strategy
– There is a gap between uniqueness and specialness in a lot of marketing approaches today
41:09 – What is audacious leadership and what benefits does this approach bring to the forefront?