Find Evolution of Brand On Your Favorite Podcast Platform
Spotify | Apple Podcasts | iHeartRadio | Amazon Music | Stitcher | Podchaser | Google
Episode 068 Sponsor
Episode 068 of Evolution of Brand is sponsored by Leaders Press! Discover how you can build your authority and strengthen your credibility (even when you're not in the room) with your own best-selling book. Click here to learn more
The Goods From Mark Herschberg
Top 3 Takeaways From This Value-Packed Conversation
Take control and ownership of your path. Learn the valuable items that Mark covers in The Career Toolkit to put yourself in a better position to excel and exceed

Use imagery and/or iconography to strongly brand yourself and give people a visual aesthetic that will help them make a powerful connection to you and your brand

Apps and additional complementary items are becoming the norm for authors and content creators today. It's important to give your audience something that takes their experience with your content to another level and helps them absorb, recall, and utilize the information they learn in a more efficient manner
Show Notes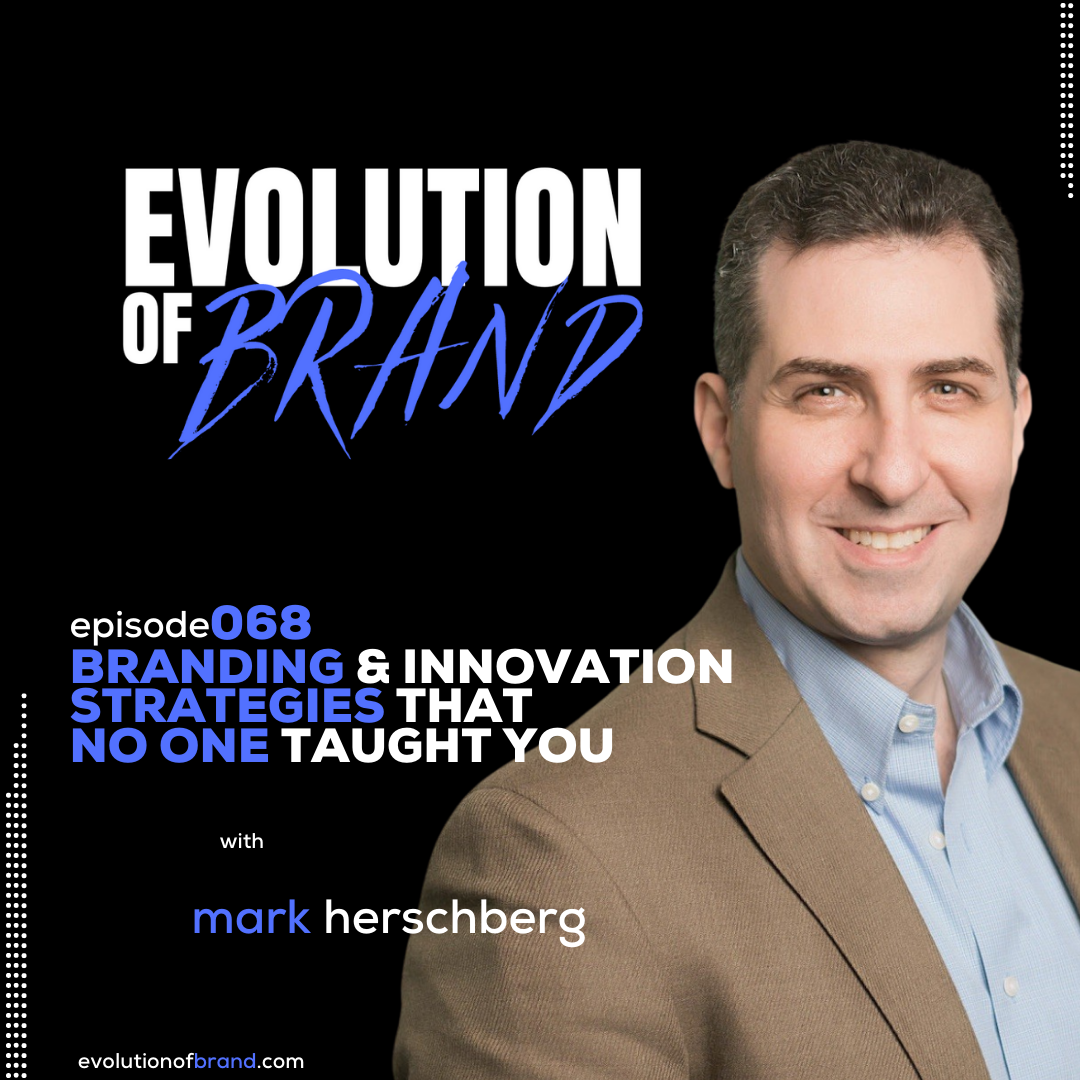 1:28 – A time in Mark's life when he listened to himself instead of what others told him was right and it led to a major accomplishment
2:20 – Some background on Mark's brand, how his professional background has evolved over the years, and some of the unique traits that make him an expert in his field
4:32 – Mark gives some insights about the Career Success Accelerator at MIT and the tools and skills students obtain once they complete it
– The program identified 10 skills companies want:
1. Career planning
2. Managing Your Manager
3. Understanding Corporate Culture
4. Interviewing
5. Leadership skills
6. Management skills (people and project/process management)
7. Communication
8. Networking
9. Negotiation
10. Ethics
6:33 – Some of the skills Mark teaches in his book The Career Toolkit and why they've been overlooked by so many people in the past
– The items listed above haven't been taught because, historically, they have not been items that colleges have focused on
– Why don't high school and colleges teach important items like managing credit or balancing a checkbook?
– Many people are looking at college differently these days. Will universities be forced to change their structures in the upcoming years?
– Mark encourages many people to go to college, as well as encourages many people not to go to college depending on the career path you're looking to take. The important factor is you need to take ownership of your path and what decisions you make
15:39 – As Mark was creating The Career Toolkit, was there ever a point where he felt he needed to take the content in a different direction and how did the complementary apps come into play?
19:50 – Will authors need to take advantage of technology such as apps as they continue to publish books and bring thought-leading content into the world?
– These types of approaches are changing how we consume and interact with content
21:59 – Why did branding with icons play such a critical role in the creative process of The Career Toolkit?
– The icons being used across all platforms establishes consistency and helps people make connections to The Career Toolkit
– Icons on apps and websites tell the story and do a tremendous job directing people where they need to go
– To make your brand recognizable, you don't need to specifically use icons. But some type of imagery used in consistent fashion is highly recommended
27:18 – Where are companies missing the mark when it comes to branding products, services, apps, and any offers they're bringing to consumers?
29:49 – A look at Facebook, their name change to Meta, and whether that name change will hurt their brand equity
32:21 – If Mark were launching a brand from scratch today, where would branding fall in the initial priorities and how would he execute it?
– Start with understand what your product is, value proposition, who your customer is, product roadmap, and capitalization
– Branding would come after the aforementioned items are addressed
– Pick up Alexandra Watkins' branding book called Hello, My Name Is Awesome (and keep your ears peeled for Alexandra on Evolution of Brand in the near future)
– Create a survey and let your audience help you make branding decisions. Make sure you share the survey with your target market!
36:24 – If Mark could go back in time and share one thing with his pre-evolved self that would completely change the game today, what would it be?