A look at Boowa & Kwala!
Find Evolution of Brand On Your Favorite Podcast Platform
Spotify | Apple Podcasts | iHeartRadio | Amazon Music | Stitcher | Podchaser | Google
Episode 080 Sponsor
Episode 080 of Evolution of Brand is sponsored by Canva. Canva makes it easy to create remarkable, on-brand logos, graphics, and videos for any business owner at any skill level. Click here to get started with Canva
The Goods From Jason Barnard
Google "Jason Barnard" and let Google do the rest!
Top 3 Takeaways From This Value-Packed Conversation
Google has transcended the idea of a basic search engine by expanding into other areas of multimedia, providing the most relevant information to your search within the first few results, and, most importantly, always focusing on the user experience

"Google is a child that's trying to learn." It's a machine that's trying to learn the world and your job is to explain to Google what you do and who your audience is. The more you teach it, the more it will know to present you to your audience when they perform searches

People will more than likely do a Google search on you versus relying on any information on your business card. This will give them a more well-rounded look at who you are, what you do, and how you can help them. Thus…Google is your new business card
Show Notes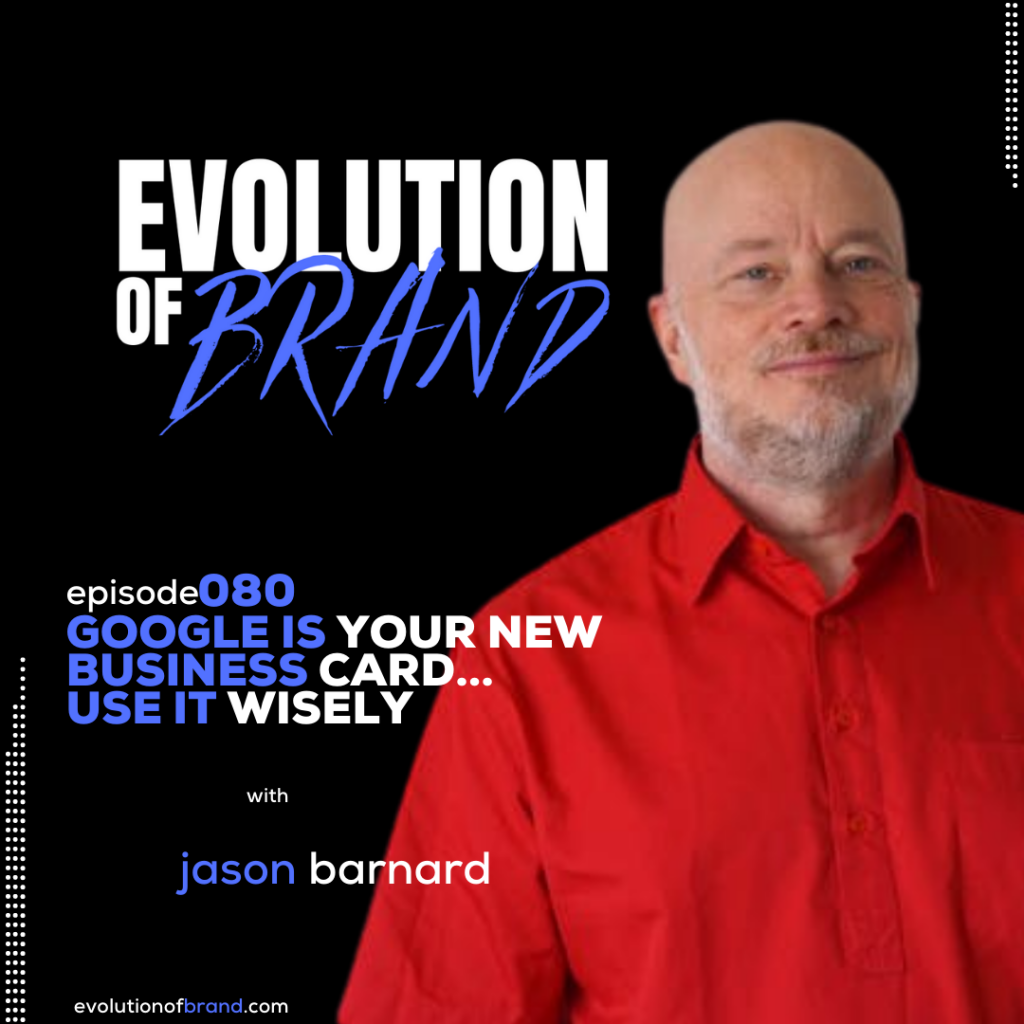 1:40 – A time Jason listened to himself instead of what others told him was right and it led to a major accomplishment
3:12 – Some background on Jason, his professional journey, lessons he learned as he evolved, and how it's all led to what he does today
5:54 – Jason tells the story of Boowa & Kwala, the cartoon series he and his wife made years ago
13:15 – What is Google, how does it work, and what does SERP stand for?
– Google is more than just a search engine – it's an answer engine, as well as an assistive engine as it assists in finding solutions to our problems
– SERP = Search Engine Results Page
– SERPs have evolved over time – from 10 blue links to images, videos, podcasts, social media accounts, basic business information
– A good SERP will give you answers to your questions without you even needing to click thru to a website
15:48 – What was Google's big focus that made them become the world's #1 search/answer engine and make all other search engines an afterthought?
– First, they went beyond word count and started looking at inbound links to gauge a website's authority and popularity
– Expanded into multiple verticals – Google News, Google Podcasts, Google Maps, Google My Business, etc.
– Google was first search engine to branch into multimedia
– Google understood the world that was coming and started prioritizing it before anyone else
– They've fine-tuned getting us answers to our problems as quickly and efficiently as technologically possible
– To summarize, Google focused on the user experience and made it as engaging and extremely easy to use
24:29 – What does "Google is your new business card" mean and what should you focus on to build your Google SERP presence?
– When people "google" you, it's important they find information that speaks to what you're doing now. If someone is trying to make a decision whether to work with you, finding relevant content that will help them with their decision is critical
– In essence, your Google SERP serves more purpose than a business card…especially in today's digital age
– "Google is a child that's trying to learn." It's a machine that's trying to learn the world and your job is to explain to Google what you do and who your audience is. The more you teach it, the more it will know to present you to your audience when they perform searches
– Your job is to not only make sure Google understands, but to back up that understanding with relevant information that continues to propel your presence forward
29:53 – What is "Darwinism in search?"
33:20 – How have podcasts become more of a focal point in Google searches over the past few years?
– Podcasts and Google are just getting started!
– Google is getting better at analyzing sound, as well as voice recognition. This is just another factor Google looks at in regards to search queries
– Podcasts appear in more general search as Google continues to get more confident in voice recognition
37:23 – If a brand is just getting started and has zero digital presence, what is the best way to claim some of that SERP real estate?
– Have a very solid website that's organized in a way that's logical for your business
– Google likes information to be organized in chunks, making it easier for them to index those pages – it's helpful for Google, but it's also logical for human beings as they discover you and visit your website
– Look at your digital ecosystem and build it out according to your industry and geo-region
– Evaluate your brand SERP page on a consistent basis and determine the best direction to take as you build that ecosystem