Find Evolution of Brand On Your Favorite Podcast Platform
Spotify  |  Apple Podcasts  |  iHeartRadio  |  Amazon Music  |  Stitcher  |  Podchaser  |  Google
Episode 071 Sponsor
Episode 071 of Evolution of Brand is sponsored by Leaders Press! Discover how you can build your authority and strengthen your credibility (even when you're not in the room) with your own best-selling book. Click here to learn more
The Goods From Pete Mohr
Top 3 Takeaways From This Value-Packed Conversation
YOU own your business. It should not own you. If you don't have healthy habits in your life, you won't have healthy habits in your business either

Clarity creates confidence. Confidence ignites momentum

In order to be an effective leader, you need to be a strong communicator. Without communication, your message will get lost and the flow of your business will quickly derail
Show Notes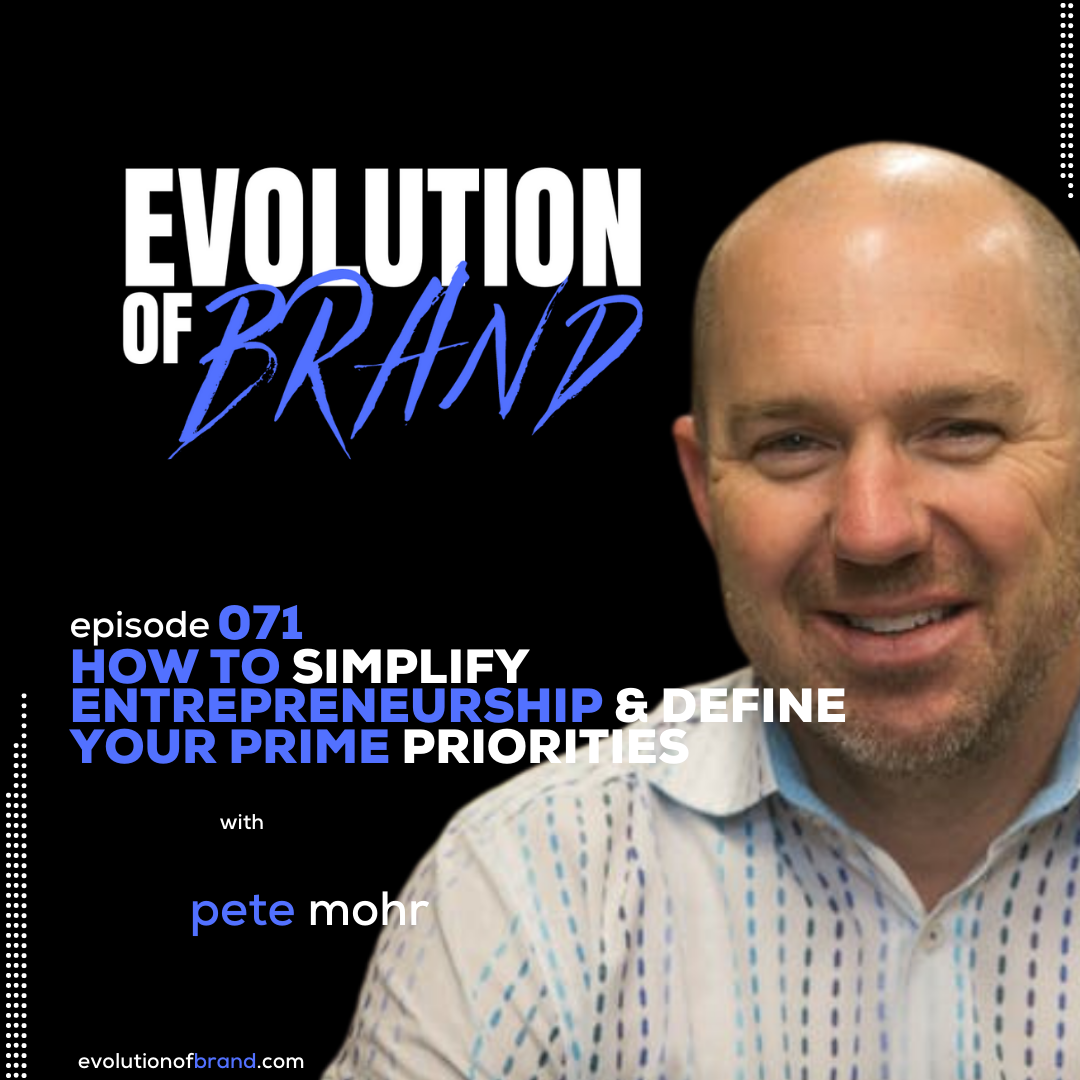 1:25 – A time when Pete listened to himself instead of what others told him was right and it led to a major accomplishment
2:34 – An inside look at Pete and how he's evolved as an entrepreneur, podcaster, and coach over the years
5:14 – The importance of striking a balance with work and life so you don't burn out and aspects like health, sleep, and freedom are also emphasized
     – YOU own your business. It shouldn't own you
     – If you don't have your health (physically and mentally), you can't run a healthy business
     – If you're not in a healthy place yourself, chances are your business is not running at its healthiest either
     – Morning rituals help set you up for a better day and give structure to your attack
9:19 – What are some of the biggest lessons Pete has learned and has been able to apply to his practices over the years?
     – The importance of mental and physical health
     – Time management – being productive in the time you allocate as productive time
     – Also work free time/flex time into your daily schedule so you can refuel your creative juices
     – Time blocking is an asset that's been talked about on Evolution of Brand several times…and it's all for a great reason!
     – Time blocking allows you to establish your prime priorities and secondary priorities
     – Your prime priority is your guiding light and will keep you zeroed in on the most important aspects of your business
13:21 – Where do brands miss the mark when it comes to communicating their company promise and why is it so important to do this with clarity in today's noisy, competitive landscape?
18:08 – What are some valuable habits we can develop to spend more time working ON our businesses instead of IN our businesses?
     – If you're spending too much time working in your business, you have an accountability issue – you either don't have anyone to turn tasks over to or you are unwilling to turn tasks over to someone else
     – If you don't release control, you will spiral and potentially burn out
     – You need to set up processes in your business and hand tasks off whenever necessary
     – Having processes in place will allow you to free up time to focus working ON your business
     – Try to carve out half an hour a week to begin planning these initiatives and taking action on them
     – When you start handing tasks off to others, you'll discover that many people are very good at what they do and can help you much more than you think!
25:24 – What's one major problem Pete has solved in the evolution of his brand that's added value to his community?
28:17 – What is Pete's Wheel of Momentum?
     – "Clarity creates confidence. Confidence ignites momentum"
     – In regards to momentum, EVERYTHING starts with clarity
     – The Wheel of Momentum has six spokes:
          1. Clarity
          2. Confidence
          3. Competence
          4. Cooperation (or Collaboration)
          5. Capacity
          6. Creativity
33:13 – What is a turn-key business and how do we set ourselves up for our operations to be more self-managing long-term?
     – A turn-key business is when a business can run without your involvement or an extremely limited amount of your involvement
     – You also need to have the right people to have a turn-key business
     – Who are the right people?
          1. Ideal customers
          2. Ideal teammates
          3. Best outsource partners
      – All of these people help you deliver on your promise
      – It's OK to attract the right people AND repel the wrong people
40:26 – What do leaders need to surround themselves with to reach optimal levels of performance?
     – The right people, as mentioned before
     – Be a strong communicator
     – Health
     – Be conscious of what you truly want out of your business