Find Evolution of Brand On Your Favorite Podcast Platform
Spotify | Apple Podcasts | iHeartRadio | Amazon Music | Stitcher | Podchaser | Google
The Goods From Tom Schwab
Connect with Tom, discover his social media, and grab copies of his book
Top 3 Takeaways From This Value-Packed Conversation
You may be just one conversation away from your next big breakthrough or accomplishment. Do not pass up opportunities that could potentially lead you to new levels of success
Being a guest on a podcast is not an opportunity to sell. It's an opportunity to make an impact, provide value, and connect with the audience so they go from passive listener to website visitor to warm, qualified lead that you can nurture as your brand evolves
Bigger is not always better. More is not always better. Better is better
Show Notes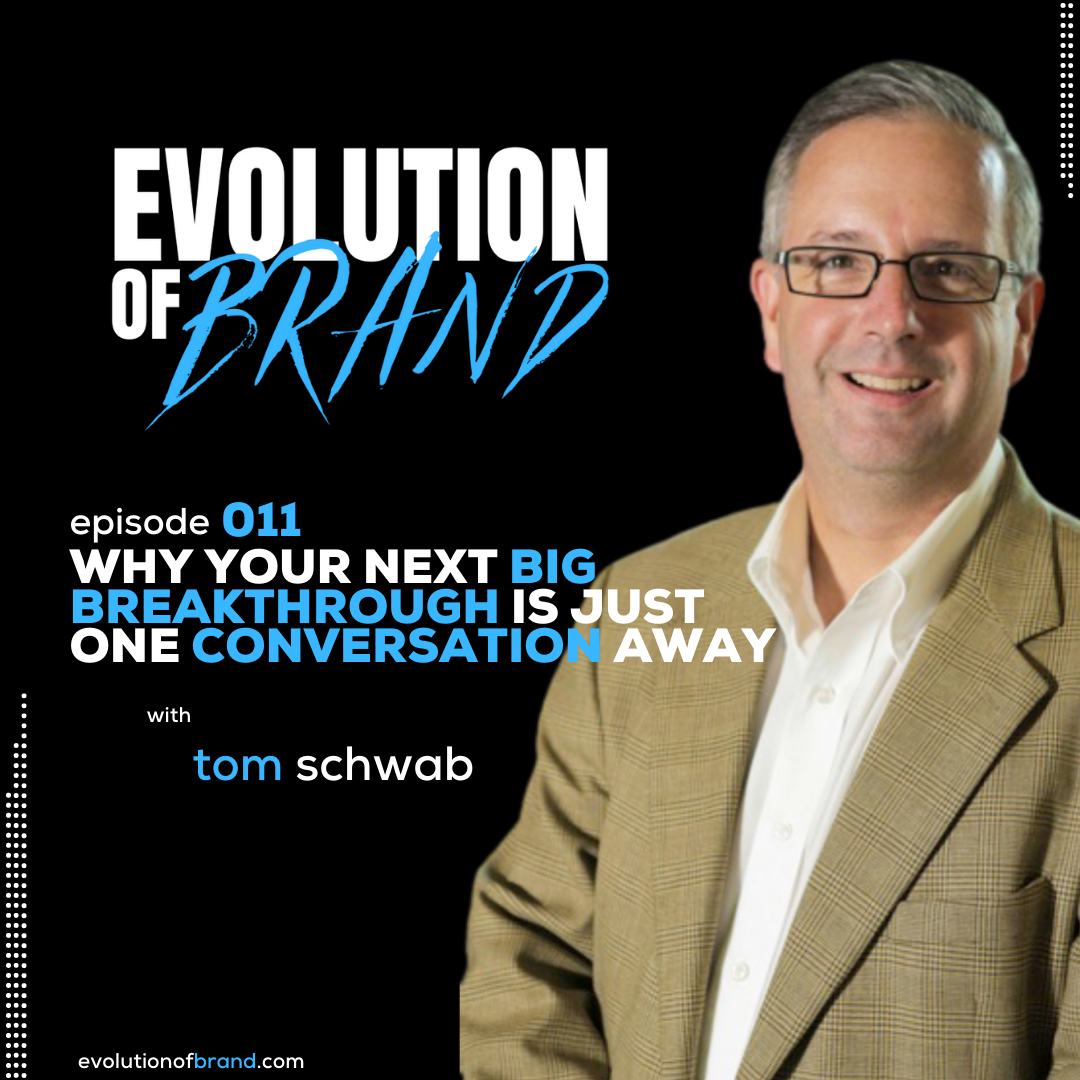 1:28 – A time in Tom's life where he listened to himself instead of what others told him was right and it led to a major accomplishment
2:49 – "The heart of marketing is starting a conversation with someone who can be an ideal customer." Why being a guest on the RIGHT podcast can be valuable to leaders and professionals in all spaces
– We buy the best that we know about. Podcast interviews increase your exposure…therefore helping people know and learn about you
5:02 – What is the difference between an "interview" and a "conversation" when it comes to podcasting?
6:43 – Where is podcasting headed in the next five years and will it impact being a guest?
– In five years time, will podcasting still be called podcasting?
– The 'pod' in podcasting is connected to iPods, which are not as relevant as years past
– "Audio is powerful. Audio is the future."
– People love the podcasting medium because it's passive. You can get engaged in a podcast while you're driving, taking a walk, at the gym, etc. It's hard to do that with other mediums like blogs and videos
– Podcasts are on-demand, making them convenient to listen to whenever you're ready to consume.
– Some podcasts now contain a video element to accompany audio
– One of the silver linings of COVID-19 was that it normalized the virtual recording setting
– Doing an interview virtually through programs like Zoom, Riverside, Squadcast, etc. allows people to interview from their own setting, thus adding a layer of comfort to the process
15:10 – What mistakes are people making when they approach other podcasts for guest opportunities?
– Pitching vs. Introducing
– Once they're on the show, trying to sell too much versus making an impact and providing value for the audience. Position yourself as a resource that people want to learn more from and you can turn passive listeners into website visitors…and then into warm leads for your brand.
– If you do a good job on a podcast, you don't have to promote yourself. The hosts will promote you because you did such a great job impacting their audience!
18:54 – How can you pick up copies of Tom's books "Podcast Guest Profits" and "One Conversation Away?"
– Click Here to connect with Tom and get copies of both books!
23:39 – A major problem Tom has solved that's added value to his community
25:51 – Where are people falling short with their podcast guest presentations?
– "More is not better. Better is better."
– Quantity over quality when it comes to podcast interviews will not grow your presence. You have to make an impact on the right podcasts that align with your mission and message or else you're wasting your time
– "Bigger is not better. Better is better."
– A podcast may have thousands of listeners. But if those listeners aren't relevant to your mission, it won't matter
– Never disqualify a podcast with a smaller audience because that small audience may be overflowing with qualified listeners who will turn into customers for you
– Being a guest on podcasts that are parallel to your mission allows you to make a significant impact with each conversation you have. And, in most cases, you can do it from the comfort of your own home and won't need to travel
32:29 – What comes after the interview? What should you be looking for?
– Qualitative – was it a good discussion? Will people listen to that interview?
– Quantitative – how many listens/downloads did the interview get? Did traffic come to your welcome/landing page from the podcast? Did you earn more social media followers? Did sales increase when the podcast went live?
– Even if the aforementioned questions don't supply answers immediately, remember that podcast interviews are evergreen. Your conversation can make an impact on someone and deliver results for weeks, months, even years after that interview first gets released.
35:28 – Advice for someone looking to embark on their very first podcast interview
– Start with the end in mind
– Make sure that you're present to provide value
– Start curious
– Before the conversation begins, ask the host what you can do to best serve their audience and provide value
– Show up prepared and with a purpose